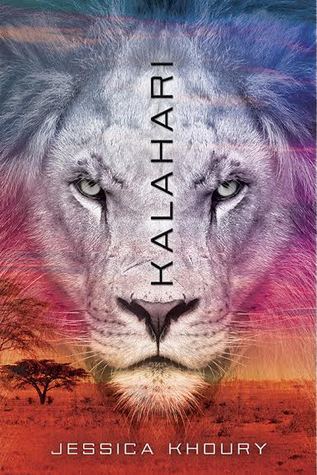 People are like stars, but it's stories that turn us into constellations. If we don't tell our stories, we burn alone in the dark.
Title: Kalahari
Author: Jessica Khoury
Series: Corpus # 3 (Can be a standalone)
Publication: January 19th 2016 by Razorbill
Pages: 384
Source: Library
Summary from Goodreads:
When an educational safari goes wrong, five teens find themselves stranded in the Kalahari Desert without a guide. It's up to Sarah, the daughter of zoologists, to keep them alive and lead them to safety, calling on survival know-how from years of growing up in remote and exotic locales. Battling dehydration, starvation and the pangs of first love, she does her best to hold it together, even as their circumstances grow increasingly desperate.
 
But soon a terrifying encounter makes Sarah question everything she's ever known about the natural world. A silver lion, as though made of mercury, makes a vicious, unprovoked attack on the group. After a narrow escape, they uncover the chilling truth behind the lion's silver sheen: a highly contagious and deadly virus that threatens to ravage the entire area—and eliminate life as they know it.
---
My Thoughts:
I finished this a few days ago, but it's taken me until this moment to figure out what I have to say. I'm, in all honesty, still not one hundred percent sure that I love this book. I like it, I like it a lot – to be exact. It was fun, entertaining, nerve wracking, heart pounding, and thought provoking. However, despite how much I loved everything about this book, one small thing is holding me back – characterization.
Like I said, I adored Kalahari. Once I started it, I couldn't put it down. But, something I noticed from the moment the side characters were introduced was the stereotypes. It wasn't bad, it wasn't horrible by any means – but the characters, save for Sarah and Sam, were one dimensional plot devices. There was rich girl with a twist meant to make her seem okay after being a bitch, "I'll tell my father about this" lawyer obsessed rich dude dating rich girl, know it all, and nerdy but super hot jock type. I loved this book, but the characters tore it down a few notches for me – and it was sad.
There was so much potential in this story, and it is still amazing – else I wouldn't have finished it like I did ( eyes glued to the page, heart racing, inner fangirl screaming in terror for a certain character's fate). Despite all of the characterization issues ( at least things I feel are issues), Kalahari is fantastic. It is an exciting survival read, and it's also surprisingly educational at certain points. I feel that if the story had been more character based rather than plot based, Kalahari would have been stunning rather than just another exciting book.
---