"Everyone is afraid of something. We fear things because we value them. We fear losing people because we love them. We fear dying because we value being alive. Don't wish you didn't fear anything. All that would mean is that you didn't feel anything."
Title: Lord of Shadows
Author: Cassandra Clare
Series: The Dark Artifices # 2
Publication: May 23rd 2017 by Margaret K. McElderry Books
Pages: 701
Source: Purchased
Summary from Goodreads:
A Shadowhunter's life is bound by duty. Constrained by honor. The word of a Shadowhunter is a solemn pledge, and no vow is more sacred than the vow that binds parabatai, warrior partners—sworn to fight together, die together, but never to fall in love.
Emma Carstairs has learned that the love she shares with her parabatai, Julian Blackthorn, isn't just forbidden—it could destroy them both. She knows she should run from Julian. But how can she when the Blackthorns are threatened by enemies on all sides?
Their only hope is the Black Volume of the Dead, a spell book of terrible power. Everyone wants it. Only the Blackthorns can find it. Spurred on by a dark bargain with the Seelie Queen, Emma; her best friend, Cristina; and Mark and Julian Blackthorn journey into the Courts of Faerie, where glittering revels hide bloody danger and no promise can be trusted. Meanwhile, rising tension between Shadowhunters and Downworlders has produced the Cohort, an extremist group of Shadowhunters dedicated to registering Downworlders and "unsuitable" Nephilim. They'll do anything in their power to expose Julian's secrets and take the Los Angeles Institute for their own.
When Downworlders turn against the Clave, a new threat rises in the form of the Lord of Shadows—the Unseelie King, who sends his greatest warriors to slaughter those with Blackthorn blood and seize the Black Volume. As dangers close in, Julian devises a risky scheme that depends on the cooperation of an unpredictable enemy. But success may come with a price he and Emma cannot even imagine, one that will bring with it a reckoning of blood that could have repercussions for everyone and everything they hold dear.
---
A Brief Explanation of All the Feels:
"Lex malla, lex nulla," said Julian with a regretful wave of his hand. It was the Blackthorn family motto: A bad law is no law.

This was me when reading this massive and beautiful mess of pain, suffering, and giggles:

(Just in case)
"Fiction is truth, even if it is not fact. If you believe only in facts and forget stories, your brain will live, but your heart will die."
How I feel about the lovely little murder babies that run rampant in this book. I adore all of the characters – I really do. I didn't think Cassandra Clare could best herself after Will, Tessa, and Jem from TID, but alas, I think I may be quite wrong. Oops.
Anytime Mark said, did, or thought about anything: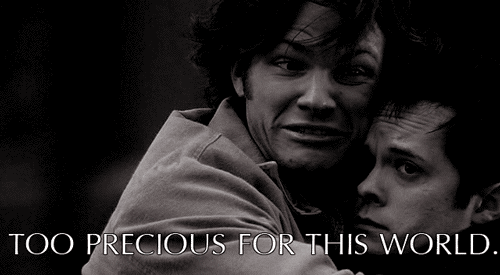 My precious Julian, whom I love, cause he's awesome:
I feel like this is Emma in a nutshell – sort of:
I love Emma. She is so strong, and brave, and inspiring. I'm pretty sure she is my favorite Cassandra Clare heroine yet.
ALEC AND MAGNUS WITH THEIR KIDS WINS THE DAY:
I just want to wrap Ty up in a soft blankie and tell him everything is going to be okay:
There are so many amazing characters in this book series, not to mention the wonderful diversity of their backgrounds and stories. Diana is such an inspiration, and so is Ty. I am at a loss for words with this book, honestly. I laughed, I cried ( a lot), I wanted to slap some people with a spiked chair and I wanted to hug others until the darkness went away. There is such a wide variety of emotions throughout the book. Everything is a tangled web, but the plot is so complex and well thought out at the same time it's like watching everything fall into a single file line while you're still screaming for it to slow down.
Also, I totally get that this review is more of a fangirl screaming party, but oh well. Read these books, seriously. Get started on the Infernal Devices and then move on to TMI asap. The books are worth it. These book series have been close to my heart for years, and my love for them has never faded. I will always highly recommend them, always.