The best part about October is Halloween. Not really (yes really, but still). No, the best part about October is the insane amount of long awaited books now available for the unlimited consumption of book nerds and the like. Get ready to make the first page of that Christmas wishlist!
Everyone We've Been by Sarah Everett
Summary from Goodreads:
For fans of Jandy Nelson and Jenny Han comes a new novel that asks, can you possibly know the person you're becoming if you don't know the person you've been?
Addison Sullivan has been in an accident. In its aftermath, she has memory lapses and starts talking to a boy that no one else can see. It gets so bad that she's worried she's going crazy.
Addie takes drastic measures to fill in the blanks and visits a shadowy medical facility that promises to "help with your memory." But at the clinic, Addie unwittingly discovers it is not her first visit. And when she presses, she finds out that she had certain memories erased. She had a boy erased.
But why? Who was that boy, and what happened that was too devastating to live with? And even if she gets the answers she's looking for, will she ever be able to feel like a whole person again?
October 4th 2016 by Knopf Books for Young Readers
Spare and Found Parts by Sarah Maria Griffin
Summary from Goodreads:
Nell Crane has always been an outsider. In a city devastated by an epidemic, where survivors are all missing parts—an arm, a leg, an eye—her father is the famed scientist who created the biomechanical limbs everyone now uses. But Nell is the only one whose mechanical piece is on the inside: her heart. Since the childhood operation, she has ticked. Like a clock, like a bomb. As her community rebuilds, everyone is expected to contribute to the society's good . . . but how can Nell live up to her father's revolutionary idea when she has none of her own?
Then she finds a mannequin hand while salvaging on the beach—the first boy's hand she's ever held—and inspiration strikes. Can Nell build her own companion in a world that fears advanced technology? The deeper she sinks into this plan, the more she learns about her city—and her father, who is hiding secret experiments of his own.
October 4th 2016 by Greenwillow Books
Last Seen Leaving by Caleb Roehrig
Summary from Goodreads:
Flynn's girlfriend has disappeared. How can he uncover her secrets without revealing his own?
Flynn's girlfriend, January, is missing. The cops are asking questions he can't answer, and her friends are telling stories that don't add up. All eyes are on Flynn—as January's boyfriend, he must know something.
But Flynn has a secret of his own. And as he struggles to uncover the truth about January's disappearance, he must also face the truth about himself.
October 4th 2016 by Feiwel & Friends
Replica by Lauren Oliver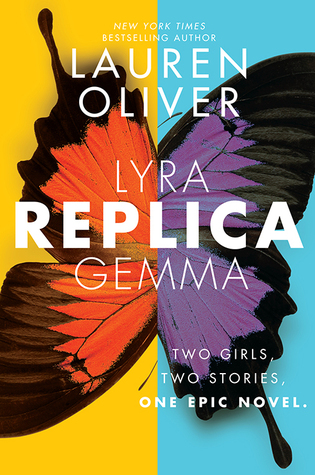 Summary from Goodreads:
Gemma has been in and out of hospitals since she was born. 'A sickly child', her lonely life to date has revolved around her home, school and one best friend, Alice. But when she discovers her father's connection to the top secret Haven research facility, currently hitting the headlines and under siege by religious fanatics, Gemma decides to leave the sanctuary she's always known to find the institute and determine what is going on there and why her father's name seems inextricably linked to it.
Amidst the frenzy outside the institute's walls, Lyra – or number 24 as she is known as at Haven – and a fellow experimental subject known only as 72, manage to escape. Encountering a world they never knew existed outside the walls of their secluded upbringing , they meet Gemma and, as they try to understand Haven's purpose together, they uncover some earth-shattering secrets that will change the lives of both girls forever…
October 4th 2016 by HarperCollins
The Lovely Reckless by Kami Garcia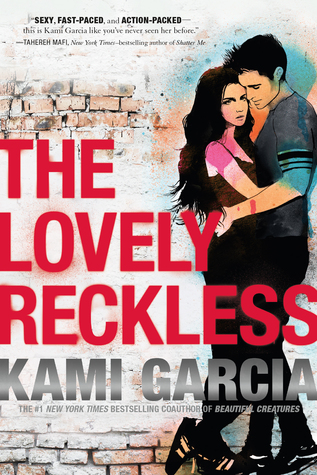 Summary from Goodreads:
Seventeen-year-old Frankie Devereux would do anything to forget the past. Haunted by the memory of her boyfriend's death, she lives her life by one dangerous rule: Nothing matters. At least, that's what Frankie tells herself after a reckless mistake forces her to leave her privileged life in the Heights to move in with her dad—an undercover cop. She transfers to a public high school in the Downs, where fistfights don't faze anyone and illegal street racing is more popular than football.
Marco Leone is the fastest street racer in the Downs. Tough, sexy, and hypnotic, he makes it impossible for Frankie to ignore him—and how he makes her feel. But the risks Marco takes for his family could have devastating consequences for them both. When Frankie discovers his secret, she has to make a choice. Will she let the pain of the past determine her future? Or will she risk what little she has left to follow her heart?
October 4th 2016 by Imprint
When the Moon Was Ours by Anna-Marie McLemore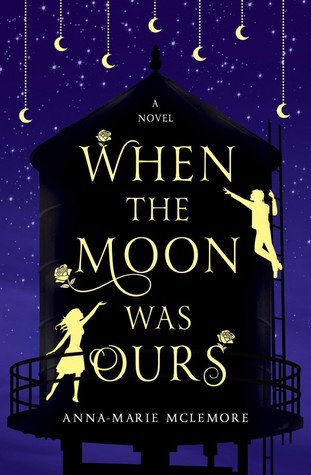 Summary from Goodreads:
When the Moon Was Ours follows two characters through a story that has multicultural elements and magical realism, but also has central LGBT themes—a transgender boy, the best friend he's falling in love with, and both of them deciding how they want to define themselves.
To everyone who knows them, best friends Miel and Sam are as strange as they are inseparable. Roses grow out of Miel's wrist, and rumors say that she spilled out of a water tower when she was five. Sam is known for the moons he paints and hangs in the trees, and for how little anyone knows about his life before he and his mother moved to town.
But as odd as everyone considers Miel and Sam, even they stay away from the Bonner girls, four beautiful sisters rumored to be witches. Now they want the roses that grow from Miel's skin, convinced that their scent can make anyone fall in love. And they're willing to use every secret Miel has fought to protect to make sure she gives them up
October 4th 2016 by Thomas Dunne
Speed of Life by J.M Kelly
Summary from Goodreads:
Twins Crystal and Amber have the same goal: to be the first in their family to graduate high school and make something of their lives. When one gets pregnant during their junior year, they promise to raise the baby together. It's not easy, but between their after-school jobs, they're scraping by.
Crystal's grades catch the attention of the new guidance counselor, who tells her about a college that offers a degree in automotive restoration, perfect for the car buff she is. When she secretly applies—and gets in—new opportunities threaten their once-certain plans, and Crystal must make a choice: follow her dreams or stay behind and honor the promise she made to her sister.
October 11th 2016 by HMH Books for Young Readers
Every Hidden Thing by Kenneth Oppel
Summary from Goodreads:
The hunt for a dinosaur skeleton buried in the Badlands, bitter rivalries, and a forbidden romance come together in this beautifully written new novel that's Romeo and Juliet meets Indiana Jones.
Somewhere in the Badlands, embedded deep in centuries-buried rock and sand, lies the skeleton of a massive dinosaur, larger than anything the late nineteenth century world has ever seen. Some legends call it the Black Beauty, with its bones as black as ebony, but to seventeen-year-old Samuel Bolt it's the "rex", the king dinosaur that could put him and his struggling, temperamental archaeologist father in the history books (and conveniently make his father forget he's been kicked out of school), if they can just quarry it out.
But Samuel and his father aren't the only ones after the rex. For Rachel Cartland this find could be her ticket to a different life, one where her loves of science and adventure aren't just relegated to books and sitting rooms. Because if she can't prove herself on this expedition with her professor father, the only adventures she may have to look forward to are marriage or spinsterhood.
As their paths cross and the rivalry between their fathers becomes more intense, Samuel and Rachel are pushed closer together. And with both eyeing the same prize, their budding romance seems destined to fail. But as danger looms on the other side of the hills, causing everyone's secrets to come to light, Samuel and Rachel are forced to make a decision. Can they join forces to find their quarry—and with it a new life together—or will old enmities and prejudices keep them from both the rex and each other?
October 11th 2016 by Simon & Schuster Books for Young Readers
What Light by Jay Asher
Summary from Goodreads:
Sierra's family runs a Christmas tree farm in Oregon—it's a bucolic setting for a girl to grow up in, except that every year, they pack up and move to California to set up their Christmas tree lot for the season. So Sierra lives two lives: her life in Oregon and her life at Christmas. And leaving one always means missing the other.
Until this particular Christmas, when Sierra meets Caleb, and one life eclipses the other.
By reputation, Caleb is not your perfect guy: years ago, he made an enormous mistake and has been paying for it ever since. But Sierra sees beyond Caleb's past and becomes determined to help him find forgiveness and, maybe, redemption. As disapproval, misconceptions, and suspicions swirl around them, Caleb and Sierra discover the one thing that transcends all else: true love.
What Light is a love story that's moving and life-affirming and completely unforgettable.
October 11th 2016 by Razorbill
Still Life with a Tornado by A.S King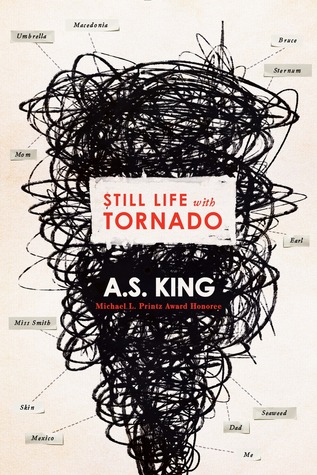 Summary from Goodreads:
Sarah can't draw. This is a problem, because as long as she can remember, she has "done the art." She thinks she's having an existential crisis. And she might be right; she does keep running into past and future versions of herself as she explores the urban ruins of Philadelphia. Or maybe she's finally waking up to the tornado that is her family, the tornado that six years ago sent her once-beloved older brother flying across the country for a reason she can't quite recall. After decades of staying together "for the kids" and building a family on a foundation of lies and violence, Sarah's parents have reached the end. Now Sarah must come to grips with years spent sleepwalking in the ruins of their toxic marriage. As Sarah herself often observes, nothing about her pain is remotely original —and yet it still hurts.
October 11th 2016 by Dutton Books for Young Readers
Gemina by Jay Kristoff and Amie Kaufman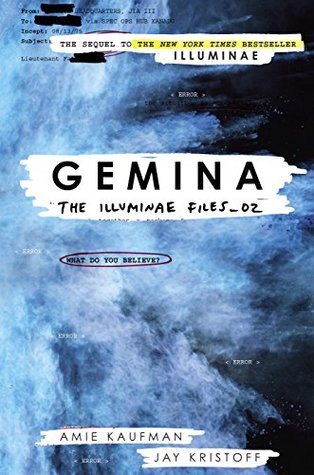 Summary from Goodreads:
Moving to a space station at the edge of the galaxy was always going to be the death of Hanna's social life. Nobody said it might actually get her killed.
The sci-fi saga that began with the breakout bestseller Illuminaecontinues on board the Jump Station Heimdall, where two new characters will confront the next wave of the BeiTech assault.
Hanna is the station captain's pampered daughter; Nik the reluctant member of a notorious crime family. But while the pair are struggling with the realities of life aboard the galaxy's most boring space station, little do they know that Kady Grant and theHypatia are headed right toward Heimdall, carrying news of the Kerenza invasion.
When an elite BeiTech strike team invades the station, Hanna and Nik are thrown together to defend their home. But alien predators are picking off the station residents one by one, and a malfunction in the station's wormhole means the space-time continuum might be ripped in two before dinner. Soon Hanna and Nik aren't just fighting for their own survival; the fate of everyone on the Hypatia—and possibly the known universe—is in their hands.
But relax. They've totally got this. They hope.
Once again told through a compelling dossier of emails, IMs, classified files, transcripts, and schematics, Gemina raises the stakes of the Illuminae Files, hurling readers into an enthralling new story that will leave them breathless.
October 18th 2016 by Knopf Books for Young Readers
Pushing Perfect by Michelle Falkoff
Summary from Goodreads:
How far would you go to be perfect?
Kara has the perfect life. She gets perfect grades. She never messes up. Until now. Because perfection is an illusion, and Kara has been struggling to maintain it for as long as she can remember. With so much pressure to succeed, it's hard not to do whatever it takes.
But when Kara takes a new underground drug to help her ace the SATs, she doesn't expect to get a text from a blocked sender, telling her to follow a set of mysterious instructions—or risk her dark secret getting out. Soon she finds herself part of a group of teens with secrets of their own, who are all under the thumb of the same anonymous texter. And if they don't find a way to stop the blackmailer, their perfect futures will go up in flames.
This dark, emotionally resonant contemporary YA novel is perfect for fans of We Were Liars and The Secret History.
October 25th 2016 by HarperCollins Publishers