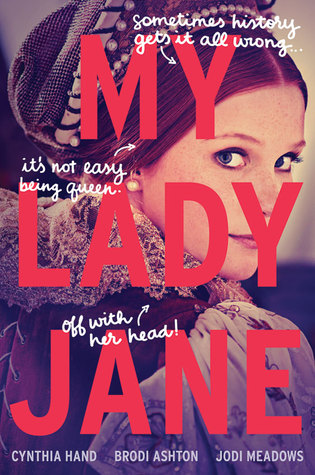 "You're wrong," Lord Dudley said. "You've always been a fool."

"The fool thinks he is wise," G retorted. "But the wise man knows himself to be a fool."
Title: My Lady Jane
Authors: Cynthia Hand, Brodi Ashton, and Jodi Meadows
Series: Standalone
Publication: June 7th 2016 by HarperTeen
Pages: 491
Source: OwlCrate
Summary from Goodreads:
The comical, fantastical, romantical, (not) entirely true story of Lady Jane Grey. In My Lady Jane, coauthors Cynthia Hand, Brodi Ashton, and Jodi Meadows have created a one-of-a-kind fantasy in the tradition of The Princess Bride, featuring a reluctant king, an even more reluctant queen, a noble steed, and only a passing resemblance to actual history—because sometimes history needs a little help.
At sixteen, Lady Jane Grey is about to be married off to a stranger and caught up in a conspiracy to rob her cousin, King Edward, of his throne. But those trifling problems aren't for Jane to worry about. Jane gets to be Queen of England.
---
A Listical of Feelings about My Lady Jane:
A brilliant satire with a masterful mix of history and fantasy
Jane loves books. The end.
"Put down the book." She wanted to look away, as he seemed distracted from holding the trousers in place, but she couldn't take her eyes off the book. What if he hurt it? What if he followed through with his threat?
"No horse jokes,"he said.
"My lord, I apologize for the horse joke. If you put down the book—unharmed!—I will give you a carrot."
Alternate history that is more entertaining than actual history – but still awesomely historical.
Gifford wins best horsey-husband of the year award.
Hilarious narration/author commentary as part of the actual book.
They collapsed into each other, and although it would be indelicate to detail what happened next, these narrators will tell you that a "very special hug" does not begin to describe it.
P.S. They totally consummated.
A creative cast of creatures that put all zoos to shame. I never would have thought of a skunk or a ferret, just sayin'.
An adorable, slow-burning romance that both adds to the overall hilarity and will make your heart go all pitter-patter
While it is very long, it doesn't drag and, by the end, all you want is more.
The whole thing is freakishly charming. It sucks you in, like a good pie that you don't realize you're eating until it's all gone.
My Lady Jane is a book I did not expect to like. I love historical fiction, and the book had raving reviews, but I was nervous because of how much I love history. But, have no fear, My Lady Jane is a brilliant, engaging, and unique masterpiece of rehashed history with a bit of magical flair thrown in. I was in love by the time I'd finished the prologue. If you're a fan of The Princess Bride or Monty Python and the Holy Grail, you will fall head over heels in love with this motley cast of misfits.
---