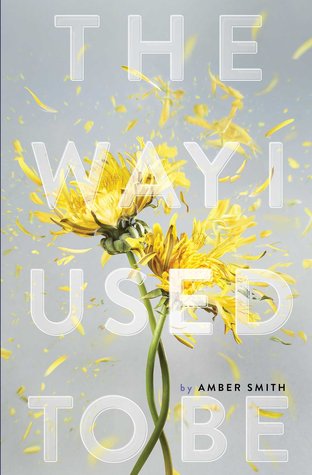 As the girl closes her eyes, she was thinking of him. Thinking that maybe he was thinking of her, too. But he wasn't thinking of her in that way. He was holding her in the palm of his hand, wrapping her around his fingers, one at a time, twisting and molding and bending her brain.
Title: The Way I Used to Be
Author: Amber Smith
Series: Standalone
Publication: March 22nd 2016 by Margaret K. McElderry Books
Pages: 384
Source: Purchased
Summary from Goodreads:
Eden was always good at being good. Starting high school didn't change who she was. But the night her brother's best friend rapes her, Eden's world capsizes.
What was once simple, is now complex. What Eden once loved—who she once loved—she now hates. What she thought she knew to be true, is now lies. Nothing makes sense anymore, and she knows she's supposed to tell someone what happened but she can't. So she buries it instead. And she buries the way she used to be.
Told in four parts—freshman, sophomore, junior, and senior year.
My Thoughts:
The Way I Used to Be is a hard book to read because it is a missed opportunity. What could have been a poignant novel following in the footsteps of Courtney Summers' All The Rage and Aaron Hartzler's What We Saw ended up becoming a one way road of self destruction and a lack of care for a serious subject.
The opening scene was powerful. It was heartbreaking, terrifying, and it puts you right into Edy's shoes when Kevin, her brother's best friend, sneaks into her room that night and brutally rapes her. The instant Edy chooses to take her mother's lie, the instant she lets her abuser frighten her into silence, is the moment her life turns upside down – not for the better. I have never read a book that has pissed me off so much. I finished it, of course I finished it – I needed to see if she could take charge of her life. Edy, after the attack, starts smoking, sleeping around, and doing everything in her power to disobey her parents and push everyone away – even her closest friends.
My biggest problem with the book was this: Edy's complete and utter disregard of what happened to her. It wasn't realistic in any way, shape, or form. It wasn't like she told herself to forget it and then fought with herself over the memories – because I could have gotten behind that and rooted for her. No. Eden completely forgets, but I think it was more of an author forgetting the plot sort of situation. Edy goes from thinking about it and her bruises to all of a sudden being dandy. It never crosses her mind again. It never haunts her. She acts out in a way that makes you assume that her motive is her assault. But she never talks about the assault, even with herself. I might not be explaining this right. What I mean by saying the author forgot the plot was that the assault Edy suffered and endured was never brought up or thought about until it meant something to the plot – and by that I mean it was only in the beginning and the end of the novel.
While, The Way I Used to Be is brutal and honesty and raw – what it accomplished was not what it set out to do. What it accomplished was, in fact, the opposite of what it should have done. It took a victim of assault and the chance to show strength and growth and turned it all into an excuse to drink, smoke, and sleep around without any repercussions. The issue with that was the way the character handled it. Sometimes it was better, sometimes it was a cop out. There were moments when you could really see Edy crumble and struggle with what she went through, but those were not in the places they should have been. While she was out partying, or having sex, you never see it affect her – not like it would have.
The Way I Used to Be suffers from a case of too many bad events, bad choices, and no character development because of them. I could see the drugs and the sex as being useful to Edy's healing if she had been using them to heal or if the author had shown the repercussions. It is a good book, it is a powerful book – but I can also see it being called insensitive, uncaring, and downright hurtful. It did not handle the sensitive topic of rape with grace or in a such a way that shoves it brutally down your throat. Rather, it says something happens and then does nothing with that topic ever again until absolutely necessary.
---