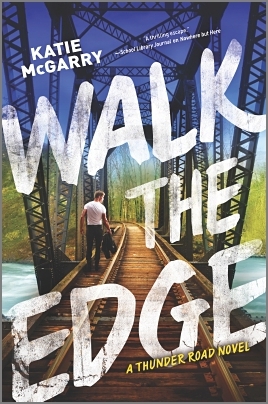 "If you want out of the box you hide in, then you need to crack open the flaps and bask in some sunlight."
Title: Walk the Edge
Author: Katie McGarry
Series: Thunder Road # 2
Publication: March 29th 2016 by Harlequin TEEN
Pages: 426
Source: Purchased
Summary from Goodreads:
Smart. Responsible. That's seventeen-year-old Breanna's role in her large family, and heaven forbid she put a toe out of line. Until one night of shockingly un-Breanna-like behavior puts her into a vicious cyber-bully's line of fire—and brings fellow senior Thomas "Razor" Turner into her life.
Razor lives for the Reign of Terror motorcycle club, and good girls like Breanna just don't belong. But when he learns she's being blackmailed over a compromising picture of the two of them—a picture that turns one unexpected and beautiful moment into ugliness—he knows it's time to step outside the rules.
And so they make a pact: he'll help her track down her blackmailer, and in return she'll help him seek answers to the mystery that's haunted him—one that not even his club brothers have been willing to discuss. But the more time they spend together, the more their feelings grow. And suddenly they're both walking the edge of discovering who they really are, what they want, and where they're going from here.
---
My Thoughts:
My love for Katie McGarry and her novels is no secret. I've been obsessed with her writing since Pushing The Limits and I fell even more head over heels in love with her after reading the first Thunder Road book, Nowhere But Here. I have been eagerly awaiting Walk The Edge, and by eagerly I mean salivating and chomping at the bit. Walk The Edge brings us right back into the crazy world of the Reign of Terror Motorcycle Club, and boy am I glad to be back.
Much like with the first book, Walk The Edge focuses on two people coming together and realizing the meaning of family, acceptance, and love. Unlike the first book, though, both of our main characters look at the Reign of Terror with skepticism. While Razor is a member, he also knows the club is keeping secrets – and that doesn't sit well with him. Not at all. Breanna, on the other hand, is pretty much petrified of the club because she grew up in Snowflake and has heard all those nasty rumors that seem to circulate anything and everything that is different. I honestly cannot tell you if I liked this book more than the first, or visa versa. Both are self contained – you technically don't have to read Nowhere But Here to understand Walk The Edge, but I do recommend it. On their own, each book is wonderful, swoon-worthy, and action packed – though, in Walk The Edge we get to see more of the action firsthand. I am in love with both. I adore Oz and Emily and Razor and Breanna, I couldn't pick between the two if you asked.
Breanna is a lot different from Emily, and I appreciate that. One of the reasons I love Katie McGarry's writing so damn much is that none of her characters ever feel the same. You would think with a multitude of contemporary novels she would slip into a certain mold and stay there, but nope! Every character is so different yet so real and so easy to relate to even if you have nothing in common. Breanna is just like that. She is freakishly smart, her brain works on a different frequency – that's what she tells herself. She loves puzzles, she loves solving codes and riddles and once she starts she cannot stop or rest until it is solved – it would drive her mad. She would kick ass at Jeopardy because she remembers weird, random-ass facts that no one would ever think of learning – and I think it's awesome. Breanna is also cautious, brilliant, thoughtful, and caring. She is patient, she is kind, and she learns from her mistakes as well as admits when she is wrong. One of my favorite part of Breanna's story line was seeing her shift from a smart girl terrified of the Reign of Terror because of rumors to someone who learned to respect their world and even begin to love them like family. My other favorite part of her arc, besides seeing her learn to stand up for herself, was watching her with her siblings. I have to say, at the beginning of the novel I absolutely despised Breanna's family. They treated her like nothing more than working trash and had a total disregard for what she wanted and what she needed. It was heartbreaking, and even more so, in my eyes it was unforgivable the way they treated her. Especially when she came to them needing their help and they shut her out, and then they punished her for the very thing she was going to ask for help on later. Assholes, the lot of them. By the end, though, there was a moment with Elise – the youngest, that sort of made my heart melt (and Breanna's too).
Now for Razor, oh my goodness gracious. I do have to say, I think I actually like him more than Oz. I don't know what it is. Maybe it was his unending faith in Breanna, maybe it was his sheer protectiveness and stubbornness. Maybe it was that edge in him that was missing in Oz. Razor is unpredictable when angry, but when with Breanna he was like a giant teddy bear. It was the cutest thing, I swear. From that first moment when he came up and fixed her phone, then tricked her into saying he could be her body guard, I was lost. Razor isn't perfect, let me tell you. He has his moments, but his angsty tantrums are so understandable it was hard to fault him for it. I love Razor, I really, really do love Razor. I mean, he offered to help Breanna – without involving the club – which could cost him everything. He could have been kicked out and who knows what else, but he did it really without a second thought. So yea, Razor is my cuddly grizzly bear and you can stuff it. Also, I think it was Razor's character arc that really made this book as fantastic as it was. Talk about knight in shining armor and all that jazz. Just, yummy.
Overall, Walk The Edge has definitely earned a place on my shelf of fame. It was perfect. It was the perfect balance between loyalty and self discovery. It was a carefully crafted masterpiece full of twists and turns and moments that will turn you into a sobbing puddle of fangirl – or boy. It is a must read, it is a book that will last generations and appeal to a variation of audiences. Walk The Edge is the type of book that you will struggle to put down. It is the type of book that will suck you in completely and you won't even know you are lost until it is too late. Katie McGarry is the queen of contemporary and she keeps on feeding my addiction. We're going to need a Thunder Road Support Group.
"He means what he says. Without knowing me…without really understanding me…he's already accepted me…he's suggesting I belong."
---