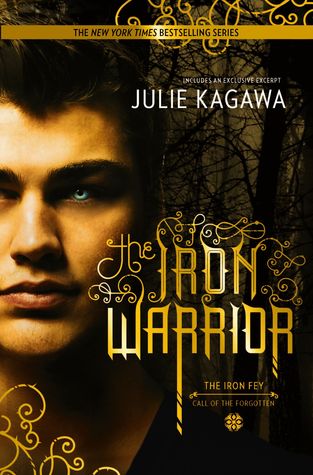 "This is a war, Ethan Chase. And you are not like your sister. You do not commend the power of Summer and Iron. You do not have the son of Mab and the infamous Robin Goodfellow at your side. You are a mere mortal with no power of your own, a girl who is dying and a gremlin. How do you expect to make things right, Ethan Chase? How do you expect to stand against the Forgotten and their queen?"
Title: The Iron Warrior
Author: Julie Kagawa
Series: The Iron Fey: Call of the Forgotten # 3
Publication: October 27th 2015 by Harlequin Teen
Pages: 330
Source: Purchased
** I'm not including a summary because it contains spoilers for the rest of the series
---
My Thoughts:
Hoooollly shiiit batman. I have been putting this book off for quite some time now. I started The Iron Fey series years ago, when it was nothing more than a trilogy that could. I fell in love then. Head over heels in love with Meghan, Ash, Puck, Grimalkin… the entire NeverNever or Faeryland. I have a soft spot for Mab and Oberon, Titania is on her own (but still). And now it has come to a close. I have put off reading The Iron Warrior for two reasons. One: finishing The Iron Warrior would mean the end of the Iron Fey. It would be over. I know there is always hope, but it was the end of something I held very dear and I wasn't quite ready for it just yet. Two: I was and am still infinitely pissed off at Kierran and I had a hard time convincing myself everything was going to be okay.
Ooookaaay, as Grimalkin would say, it's time for the human to stop wasting time and get on with it. Because he knows everything. Because he is a cat. Anywho, The Iron Warrior was everything I hoped it would be. It ripped out my heart and force fed me back the pieces. It made me laugh and cry, it made me squeal with glee and scream in pain – and everything else in between. There were old, beloved faces and a new group whom I have come to love just as much. The Iron Warrior showcases some of the NeverNever's biggest nasties, its biggest battle yet, and so, so much more.
I can't talk about much without spoiling everything, so, you have to trust me when I say The Iron Fey series is one for the ages. Read it. Love it. Cherish It – just as I have. It is one wild adventure that I will never forget and forever hold dear. Robin Goodfellow, Ash, Meghan and Ethan Chase, Kenzie, Grimalkin, The Wolf, Glitch, Kierran (the little, loveable shit) – all of them, every last character has an indisputable place in my heart. The Iron Warrior brings them all together for one last time, at least for now.
Overall, The Iron Warrior did just what it needed to do. It wrapped everything up, it left some openings, it let the reader love the characters and the world one last time. It was exciting, non-stop action and scheming and faeries. I never wanted to see this series come to an end, but, all things must at some point in time.
I just have to say, Julie Kagawa, thank you. Thank you for creating a story, for creating characters and a world I have been able to lose myself in over and over again. Thank you for creating an escape – for making the real world seem not as crazy, if not only for a little while. Thank you for Meghan, for Ash, and for Puck. Thank you for Ethan, and Kenzie, and Razor. Thank you for making the little guy think they could stand up to the big bad nasties when all odds are stacked against them. Thank you, from the bottom of my heart.
---