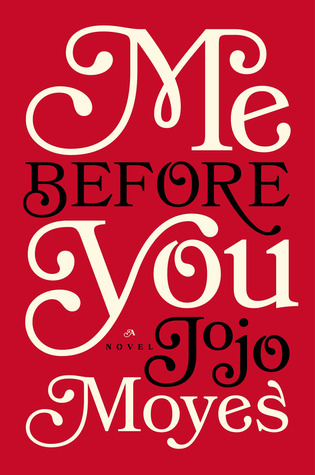 "Some mistakes… Just have greater consequences than others. But you don't have to let the result of one mistake be the thing that defines you. You, Clark, have the choice not to let that happen."
Title: Me Before You
Author: Jojo Moyes
Series: Me Before You # 1
Publication: December 31st 2012 by Pamela Dorman Books/Viking
Pages: 409
Source: Purchased
Summary from Goodreads:
Lou Clark knows lots of things. She knows how many footsteps there are between the bus stop and home. She knows she likes working in The Buttered Bun tea shop and she knows she might not love her boyfriend Patrick.
What Lou doesn't know is she's about to lose her job or that knowing what's coming is what keeps her sane.
Will Traynor knows his motorcycle accident took away his desire to live. He knows everything feels very small and rather joyless now and he knows exactly how he's going to put a stop to that.
What Will doesn't know is that Lou is about to burst into his world in a riot of colour. And neither of them knows they're going to change the other for all time.
---
My Thoughts:
Although I adored Me Before You, it also illustrates the dangers of an over-hyped book. All I have heard for the past few months is how Me Before You is a sob story, a heart-breaking and gut-wrenching love story about a quirky young woman and a man who has lost his will to live after a terrible accident. And while the novel delivered on the quirkiness of Lou and the dreadfull Will, I found it to be sorely lacking in the romance and sobbing department. Well, there is one part where I cried – but it's not what you're thinking. I cried when Lou went back to the maze for the first time, and that was it.
See, the problem here is a simple one: the book is marketed as a romance but, in reality, that is not what it is at all. The romance is miniscule and barely there. The first inklings of it don't appear until near the very end. I did not like Me Before You because it was a heart-felt romance. Nor did I like it because it handles the delicate topic of assisted suicide with poise and grace. No, I fell in love with Me Before You for one very singular reason – Louisa Clark.
Lou is the highlight of this book through and through. The novel is not about her falling in love and all of these typical rainbow and sunshine moments. Rather, Me Before You is about a young woman who never thought she could amount to anything, who sank deeper into herself after a horrific night, realizing that she can take control of her life and be her own person. It is about her realizing that while her family unfairly relies on her, she doesn't have to let them bully her. It is about her realizing that she doesn't have to settle because she is afraid she will never have anything more than she already does. Louisa Clark is amazing because she is brave, but it is her journey to accepting herself and standing up for herself that is truly breathtaking – not the romance.
Honestly, I couldn't care less about Will Traynor and all that nonsense. I think he is an asshole. I understand him, but he is an asshole for no reason other than the fact that he is miserable. That's no excuse to be deplorable. But, like I said, I understand him and why he chooses to do what he does or why he acts a certain way. In his defense, he does get better as time moves on – but I still don't like him as a person. What I liked, though, was how in helping him Louisa helped herself. I have to give Will props for making Lou realize she can step out of her safety box. I have to appreciate how it was Will's stubbornness to do anything that made Lou get off her ass and try. So, while I don't think the romance (because there is barely any) is relevant – I do have to give credit where credit is due.
In all honesty, it took me a long while to get into Me Before You. I had a hard time sinking into the setting and getting a feel for the characters. Also, it didn't help that there were only two people in the whole novel whom I did not hate: Nathan and Lou. The pace was slow, which makes sense for the subject matter and the way it progresses, but that slowness also made it difficult to really let myself go. I had to put it down and then pick it back up a little while later. Soap. Rinse. Repeat. That sort of thing. If you really want me to be brutally honest, and I apologize in advance, the only reason I kept reading the stupid thing was because I wanted to see if Lou would finally take charge of herself and do something other than make tea or vacuum. Everyone in this novel is helpless to a degree that was absolutely ridiculous. Plus, there is a shit ton of bullying – and that is something I cannot stand. I despise Lou's family and Patrick. I hate, hate, hate them. No one should treat their own kid like that, just sayin'. Back to the main point here, though. Me Before You suffers from a case of "Oh no! A movie is coming out so now everyone must read it and love it or else suffer the consequences of internet shunning." I'll admit, the only reason I read it was because I wanted to read it before I saw the film. Plus, everyone said it was fantastic and a must read. Yay for peer pressure! And, once again, it did have its moments. It was wonderful in its own right, not because it was a cutesy romance – but because a story about discovering your inner strength. A word of advice, don't go into this book thinking it will give you all the feels. Cause it won't unless you force yourself to feel them.
Overall, Me Before You fell flat on my expectations scale. I went into it with the wrong frame of mind and ruined it for myself. I kept waiting for this amazing thing to happen, and it never did. Instead, I found myself rooting for the underdog because I wanted her to prove everyone wrong. I wanted Lou to realize she was not some idiot like everyone always calls her and makes her feel. I liked Me Before You. I liked it, I did not love it. Nor did I hate it. I do recommend it, though. Hopefully you'll find something in it that I missed.
---