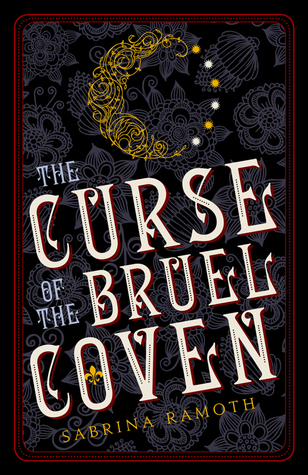 Title: The Curse of the Bruel Coven
Author: Sabrina Ramoth
Series: Standalone?
Publication: June 3rd 2016 by Exit 80 Publishing
Pages: 184
Source: Author in exchange for a honest review
Summary from Goodreads:
When secrets from the past collide with the present, the consequences may be deadly.
Vivienne Davenport is an ordinary teenager—at least, she thinks she is. Then the untimely death of her mother reveals a family secret. She's adopted . . . and her real mom is a witch.
The truth only complicates Vivienne's life further. Buried deep within her family's history of magic is a deadly curse that has plagued them for generations.
When her birth mom disappears, Vivienne must tap into her suppressed powers to save her long-lost mother—and herself.
Can Vivienne become the witch she needs to be? Or will her newfound powers prove too much for her to handle? Only one thing is certain: She will soon learn that all magic comes at a price.
---
My Thoughts:
First of all, I want to make myself clear. Witches are way out of my comfort zone. I will read books about them and stuff, but there is sometimes a line that is crossed that makes me want to run and hide. So, me reading a book like this is a rare thing – and, I have to say, I am glad I did it. The Curse of the Bruel Coven is a quick and easy read, not too heavy on the witchcraft and things that go bump in the night. Rather, it is a story of coming into oneself and embracing your own potential – and I can dig that.
Vivienne discovers she has powers, incredible powers. She learns of her heritage, of how her birth mother is a witch, and then the adventure beings. Vivi was an interesting character. While her magic use and control grew, I don't feel like there was a lot of actual character development. Character development does not equal a character learning to master their powers, though that can certainly be a part of it. Character development should be a shift in personality or mannerisms, a clue showing the reader that this is not the same person from the start of the novel. I felt as though Vivi lacked growth in anything but her powers. I think the problem was that she was kind of a take it day by day, pushover, whatever happens was meant to happen sort of person. Which I don't have a problem with, if there were more to her than that. Don't get me wrong, I still liked her and the story. I just think it missed the mark on depth and meaning.
The story itself is a bit rushed, but considering the short page length, that's understandable. The true gem of this story is that, despite its minuscule length, I was sucked in and I found myself wanting more. It was hilarious, intriguing, intelligent, playful, and wonderfully twisted. I found it to be a quirky and lovely take on a story that has been told a million times before. Ramoth managed to make it feel new again.
Overall, The Curse of the Bruel Coven is a playful, quick, and entertaining read. There is mystery, salvation, and magic. It is a tale of learning to embrace who and what you are. It will grab your attention and hold it till the very end. It is a creative, imaginative, and enlightening story about a girl who stumbles upon a secret that changes her life forever.
---