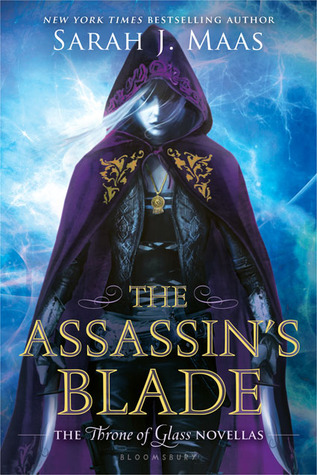 If you can learn to endure pain, you can survive anything. Some people learn to embrace it- to love it. Some endure it through drowning it in sorrow, or by making themselves forget. Others turn it into anger.
Title: The Assassin's Blade
Author: Sarah J. Maas
Series: Throne of Glass # 0.1-0.5
Publication: March 4th 2014 by Bloomsbury Childrens
Pages: 448
Source: Purchased
Summary from Goodreads:
Celaena Sardothien is Adarlan's most feared assassin. As part of the Assassin's Guild, her allegiance is to her master, Arobynn Hamel, yet Celaena listens to no one and trusts only her fellow killer-for-hire, Sam. In these action-packed novellas – together in one edition for the first time – Celaena embarks on five daring missions. They take her from remote islands to hostile deserts, where she fights to liberate slaves and seeks to avenge the tyrannous. But she is acting against Arobynn's orders and could suffer an unimaginable punishment for such treachery. Will Celaena ever be truly free? Explore the dark underworld of this kick-ass heroine to find out.
---
My Thoughts:
ARGH! The feels, I cannot handle all the damn feels right now. I just finished this before I sat down and started banging away at my keyboard and my brain cannot compute. If you've read Throne of Glass (which I'm about to go reread), you know how it starts off. Our beloved Celaena in the Salt Mines… but ever wonder how she ended up there? The Assassin's Blade is a collection of five novellas in which Celeana's past is illuminated in excruciating detail. It was so painfully beautiful. I don't know how to talk about my feelings, this is the kind of pain you can only experience for yourself.
This collection details five of Celaena's – my favorite precious cinnamon roll of an assassin – adventures and the road leading her to Endovier.  Some are shorter than others, but all pack one hell of a punch. After reading this collection, and even though I already loved Celaena, these stories have completely changed my views of her. She has always been amazing, and I love her even when she is being a bit of a bitch (but that's part of the reason I love her), but this book has shot Celaena into new heights in my eyes. In this collection, you really get to see within the cracks. You get a peek at the girl who loved and who trusted, who was betrayed in more ways than should be humanly possible, and who was feared but soon became the thing of nightmares we see in Throne of Glass. She is so strong, so, so strong and independent. But, even Celaena Sardothien needs someone every now and then.
I really don't know how else to describe what I just read. You need to read it, but I would recommend waiting to read it at least until after you've read Throne of Glass. Though this is a prequel to the actual series, Throne of Glass introduces Celaena as you're supposed to see her – The Assassin's Blade softens the edges and makes it easier to understand her motives. I'm in love, honestly. Sarah J. Maas can do no wrong in my eyes. I could let myself ramble, try to come up with ridiculous metaphors while attempting to explain just why these books, this series, are so amazing – but that's an impossible feat. You must read these. Sheer perfection, that's what The Assassin's Blade is. Sheer perfection, heart-break, and otherworldly amazingness.
---