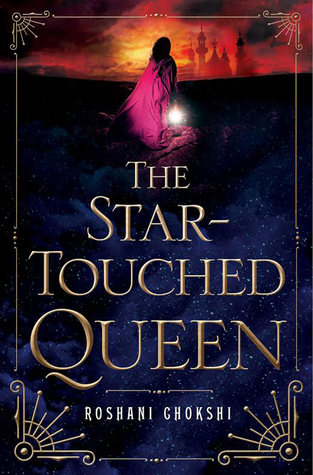 "The worms do not take heed of caste and rank when they feast on our ashes," the Raja said. "Your subjects will not remember you. They will not remember the shade of your eyes, the colors you favored, or the beauty of your wives. They will only remember your impression upon their hearts and whether you filled them with glee or grief. That is your immortality."
Title: The Star-Touched Queen
Author: Roshani Chokshi
Series: Standalone
Publication: April 26th 2016 by St. Martin's Griffin
Pages: 352
Source: Publisher in exchange for a honest review
Summary from Goodreads:
Fate and fortune. Power and passion. What does it take to be the queen of a kingdom when you're only seventeen?
Maya is cursed. With a horoscope that promises a marriage of Death and Destruction, she has earned only the scorn and fear of her father's kingdom. Content to follow more scholarly pursuits, her whole world is torn apart when her father, the Raja, arranges a wedding of political convenience to quell outside rebellions. Soon Maya becomes the queen of Akaran and wife of Amar. Neither roles are what she expected: As Akaran's queen, she finds her voice and power. As Amar's wife, she finds something else entirely: Compassion. Protection. Desire…
But Akaran has its own secrets — thousands of locked doors, gardens of glass, and a tree that bears memories instead of fruit. Soon, Maya suspects her life is in danger. Yet who, besides her husband, can she trust? With the fate of the human and Otherworldly realms hanging in the balance, Maya must unravel an ancient mystery that spans reincarnated lives to save those she loves the most. . .including herself.
A lush and vivid story that is steeped in Indian folklore and mythology. The Star-Touched Queen is a novel that no reader will soon forget.
My Thoughts:
Well, the summary was certainly on point when it said that The Star-Touched Queen is not easily forgotten. A vivid tale told through lyrical, striking, and breathtaking prose, The Star-Touched Queen is not a book easily ignored. It will grab your attention, hold fast, and refuse to let go until you have reached the end and your heart is racing. It will draw you in slowly with it's flowery language, do an enchanting dance, and then strike. This is a magical story, so magical – in fact – that it hardly felt real.
This is unlike anything I have ever read before. The Star-Touched Queen is so vibrant it could put peacocks to shame. It shines, it sings, it takes an amazing myth and transforms it into something I have never seen before and will probably never see again. Hades and Persephone meets a mythological, fantastical setting? HELL YES.
Princess Mayavati is cursed by the stars. Her horoscope promises death and destruction, and she is hated for it. She is a princess trapped within a golden palace where everyone wants her dead. I really loved Maya. She was so strong. She was a force to be reckoned with, and not just because of the reputation her horoscope gave her. She took what she was given and she fucking owned it. She wanted to be educated, she sniffed at those who focused on silks and tralalalala-like nonsense. She treats people with respect when earned, she gives her trust when earned – she doesn't follow blindly nor does she let her own thoughts and feelings blind her to what is going on. I mean, honestly, YOU GO GIRL! Yea, she's awesome. My favorite scenes were with here and Gauri, though. Gauri is one of her younger sisters, and she is the only sister who couldn't care less about horoscopes and simply enjoys Maya's company. I loved seeing Maya tell her stories, I loved that Maya's worries were primarily for Gauri rather than herself. As an older sister with a younger sibling roughly the same age, I both identified with that part of Maya and inexplicably wanted more.
The rest of the characters were just as wonderful, which was unsurprising. Amar… oh my goodness. I didn't think I was going to like him, I mean, knowing the whole Hades/Persephone thing. BUT, I adore him. While I am extremely annoyed at the insta-love and withholding of information thingy kicking around in the plot, Amar was such an amazing character I found myself able to overlook some of my biggest pet peeves. He is intense, swoonworthy, mysterious, and all sorts of other things that are impossible to describe. HE'S SO INTERESTING! From his first introduction, I was like, what the hell is going on and can I have seconds please? Just, exhibit A:
"What do you want from me?

He stopped, the smile was gone from his lips.

"I want your perspective and honesty," he said, before adding in a softer voice, "I want to be humbled by you. My kingdom needs a queen. It needs someone with fury in her heart and shadows in her smile. It needs someone restless and clever. It needs you."
So, yea. I love me some Amar, thank you very much.
Now, onto my one gripe with the whole thing. While I loved the writing, it could sometimes be a bit too much. I like flowery language and lyrical prose, but at some points it felt unnatural and way too forced. I couldn't get into it and I found myself annoyed, especially in moments where the prose covered up action and I had to sit there for, like, five minutes asking myself what the hell had just happened. No no, not okay.  The writing of a story is a very important thing, and if that writing shuts me out, well now we have a teensy bit of a problem there, don't we? I did love it, don't get me wrong. But there are times when saying: "A soldier's hand grasped for me, but Amar pulled me away. Arrows zoomed past, but each time one came near, he would whirl me out of the way. He moved fluidly, dodging javelins, always a few steps behind me, a living shield..." could be done differently to show actual action. It shut me out, it feels closed off and made me feel like I was watching this all through a silk screen or a fuzzy TV rather than being there and in the moment – which is what I love. Some people enjoy the other version, which is fine, it's just not my personal preference.
Overall, The Star-Touched Queen shines as brightly as the constellations in Mayavati's hair. It sings an enchanting tale that leaves a pleasant echo in your ears and a sweet taste on your tongue.