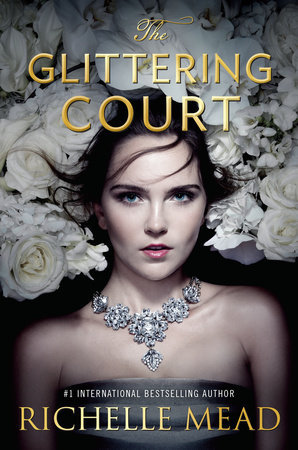 "Do you think my being someone else's wife will change anything? Don't you know that I'd lie with you in the groves, under the light of the moon? That I'd defy the laws of gods and men for you?"
Title: The Glittering Court
Author: Richelle Mead
Series: The Glittering Court # 1, but also a standalone
Publication: April 5th 2016 by Razorbill
Pages: 416
Source: Purchased
Summary from Goodreads:
Big and sweeping, spanning from the refined palaces of Osfrid to the gold dust and untamed forests of Adoria, The Glittering Court tells the story of Adelaide, an Osfridian countess who poses as her servant to escape an arranged marriage and start a new life in Adoria, the New World. But to do that, she must join the Glittering Court.
Both a school and a business venture, the Glittering Court is designed to transform impoverished girls into upper-class ladies who appear destined for powerful and wealthy marriages in the New World. Adelaide naturally excels in her training, and even makes a few friends: the fiery former laundress Tamsin and the beautiful Sirminican refugee Mira. She manages to keep her true identity hidden from all but one: the intriguing Cedric Thorn, son of the wealthy proprietor of the Glittering Court.
When Adelaide discovers that Cedric is hiding a dangerous secret of his own, together they hatch a scheme to make the best of Adelaide's deception. Complications soon arise—first as they cross the treacherous seas from Osfrid to Adoria, and then when Adelaide catches the attention of a powerful governor.
But no complication will prove quite as daunting as the potent attraction simmering between Adelaide and Cedric. An attraction that, if acted on, would scandalize the Glittering Court and make them both outcasts in wild, vastly uncharted lands…
My Thoughts:
Can Richelle Mead do no wrong? I can tell you that it is safe to assume this is true. I have been in love with Richelle Mead's writing ever since the Vampire Academy series caught my eye back in grade school. I have followed her through The Dark Swan series, Succubus Blues, Gameboard of the Gods, Soundless, and everything else. The Glittering Court is not Mead's first bought of fantasy, but it is by far my favorite. It is a sweeping tale of romance that intertwines the old and the new. It is full of historical influences, serious swoon-worthy moments, and so, so much more. It is a tale of friendship, of discovery, and of freedom and what it takes to survive. It is fascinating, all encompassing, adorable, complex, and sheer perfection.
Elizabeth Witmore, Countess, servant, diamond, pioneer. She has quite a lot of different titles, that Elizabeth – who, for the majority of the novel, goes by the name of Adelaide (WHICH I LOVE). Elizabeth is fleeing. Her family is in ruins despite it's great name and she is about to be forced into marriage with her cousin to attempt to save herself. When all hope is lost, a man appears at the door – a man offering a chance at something greater. A chance at an adventure girls never would have dreamed of yet that makes all their dreams come true. This man is offering an invitation to The Glittering Court, a place where common girls receive a high-born education, a new wardrobe, and a new chance at life in the New World of Adoria. She jumps at the chance. Elizabeth assumes the role of her servant, Adelaide, and starts the biggest adventure of her life.
Adelaide was an interesting character, to say the least. Richelle Mead has this ability to create characters who echo others of her creation all the while being completely original – completely themselves. Adelaide is Rose Hathaway and Sydney Sage merged, as well as being herself. She is headstrong from her noble birth and upbringing, and self righteous for that same reason. She is smart, cunning, and well suited to a cutthroat life. She is also kind, willing to help others at cost to herself, and brave. I have to admit, I didn't like her – not at first. But, throughout the course of the novel, she kind of grew on me. Her loyalty to the people she cares about is admirable, even though she is far from perfect and had her moments where I wanted to rip her hair out. She is willing to do anything to protect her friends, even throw the tests in The Glittering Court so that her friend can have the top spot. Some of my favorite parts in the book, well, actually – all of my favorite parts in the book were when she was at finishing school and she had to learn how to do everyday, mundane things. It was hilarious, but also – again – admirable. She never gave up.
The other characters, as usual in a Mead novel, were just as engaging. I have to admit, Cedric was my favorite. While I enjoyed Tamisin and Mira, I was more interested in their friendship with Adelaide than anything else. Cedric was a hoot, to be honest. He made me laugh, he made me cry. I think, by the end of the book, I was just as in love with him as Adelaide was. He was kind, humorous, and unafraid. Tamsin was a cutthroat bitch, which is also a trait I admire. Like I said, I enjoyed her friendship with Adelaide – but I also disliked her as a person. She was far too focused on herself without thinking of others, which annoyed me to no end. I did like her character arc, though, and I can't wait to see more from her in the subsequent novels. Mira, I loved Mira. She is so, so strong. She is independent, kind-hearted, wise, and gentle (until the end, of course. You go girl!).
Overall, the plot was interesting. Now, something cool about this series is the fact that each book is a standalone. So, technically, you only have to read the one. If I understand all of this correctly, each book will be the same timeline from a different point of view – a version of Cubism, if you will. So, Adelaide's story is over – now it's the other girl's turn. But, back to the point at hand, the plot of The Glittering Court is sort of a conglomerate of all sorts of things. The beginning is like The Selection only in the aspect of a pageant to compete for marriage – but then it changes. Things happen, bridges burn, chaos ensues sort of thing, and then the story turns into some sort of Oregon trail/gold rush adventure. It wasn't my favorite part of the book, I much preferred the fantastical elegance of the society rather than the historical aspect. BUT! (notice, that is a big but) I did like it. It was very entertaining and it completely caught me off guard. So, applause for doing something I didn't see coming in any way, shape, or form.
The Glittering Court was an amazing read. It was not only something unexpected, but it was also very, very enjoyable. If you're a fan of The Selection, Matched, Pride and Prejudice, or any other book dealing with high society, marriage, and the other frivilous aspects of our ridiculous lives – I highly recommend it. If you like adventure, forbidden romance, witty and intelligent women, or just like a good story -simple as that – this is the book for you. The Glittering Court might not be as much of a fantasy novel as I had hoped, but it was sure as hell worth reading.