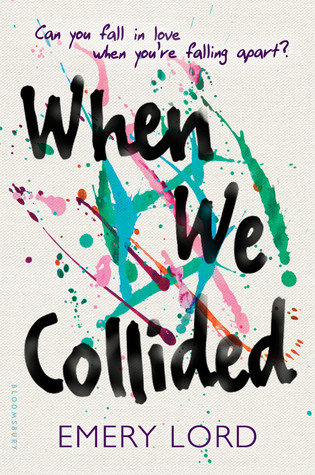 "Life surprises you sometimes. Life tells you to close your eyes and blow out the candles, and sometimes life smashes your face into the cake before you can even make a wish. But! Sometimes, every once in a while, you get your wish in. You wish for a boy to spend the summer with, and instead life gives you his whole beautiful family."
Title: When We Collied
Author: Emery Lord
Series: Standalone
Publication: April 5th 2016 by Bloomsbury USA Childrens
Pages: 352
Source: Publisher in exchange for honest review
Summary from Goodreads:
We are seventeen and shattered and still dancing. We have messy, throbbing hearts, and we are stronger than anyone could ever know…
Jonah never thought a girl like Vivi would come along.
Vivi didn't know Jonah would light up her world.
Neither of them expected a summer like this…a summer that would rewrite their futures.
In an unflinching story about new love, old wounds, and forces beyond our control, two teens find that when you collide with the right person at just the right time, it will change you forever.
My Thoughts:
It's not very often that I read a book simply for the romance or for the fact that the cover caught my eye – but boy am I glad I broke my usual system to snag a copy of this beauty. When We Collided is not something I would normally pick up, in fact – I've never heard of Emery Lord before this. I can honestly tell you that this is, by far, one of the best contemporary romances I have ever read. While it is a romance-centered novel, the romance in no way overshadows the deeper, underlying message. It was this message, this meaning of family and fighting when your worst enemy is yourself, that made this book blow my mind.
I have no idea what to say right now besides telling you that you need to pick this book up as soon as it hits shelves tomorrow. It is breathtakingly honest, heartbreaking, and heartfelt. It is a startlingly real portrayal of mental illness, personal strength, and the unbreakable bonds of family. It is an eye-opening read, and it is an experience I hope I can share with all of you.
Vivi Alexander is a little bit.. different. She is loud, outspoken, brave, and she is quite possibly the biggest personality I have ever had the pleasure of running into in literature. She isn't afraid to be herself, she isn't afraid to go crazy or do things that would make most of us introverts cringe. She is a ball of light shining so bright you might just burn your eyes out of their sockets. She is also bipolar. The world threatens to drown her in its darkness and she tries her darnedest to keep on kicking and spread the light she can she wherever it is she goes. She is an inspiration and a girl whom I will never forget.
Then we have Jonah Daniels. Middle brother. Caretaker. Chef. I love Jonah, love, love, love him. He is so sweet, caring, responsible, and perfectly playful. The way he handles his siblings, especially little Leah, is so heartwarming it literally made me melt in my chair more than once. He is dad-for-a-day all day, everyday. He takes care of everyone. He is… I don't know. He just is – and that is everything. Him and Vivi meet by chance one day, and it changes their lives forever – and mine too, I think.
The two of them together was sort of like chocolate and green apples, a little bitter and perfectly sweet – a beautiful balancing match. But, sometimes that match can be the slightest bit overwhelming. They are a whirlwind and Vivi is the little engine that could. She never stops kicking, and Jonah is sort of her two-for-one deal companion. Their romance is a little fast, but it is oh so sweet… and salty (shh, don't judge the food analogies. I'm hungry.) The romance in this novel is about learning to care for someone and then learning to let go of little things that hold the rest of us back. It is about learning to accept yourself, dirty baggage and all, through learning to accept and love someone else with theirs. It was breathtaking.
When We Collided is not a story with plot and action, it is a story of growth and watching two people come together in a way that will make your heart go into overdrive and your mouth dry. It looks at mental illness, bipolar disorder and depression, with unflinching honesty and clarity. There are no curtains to hide behind, no smoke and mirrors. It's in your face and there is nothing you can do to hide from it – just the way it should be. When We Collided takes an eye-opening approach to something most people shy away from or don't know how to handle. It makes you think, it makes you wonder, and it makes you go "wow".
Overall, When We Collided is by far one of the best books I have had the honor of bringing into my life. It is the book the world, our world, needs. It is the type of book you will read and then force into the hands of your friends, and so on. It will be shared, it must be shared – it must be read.