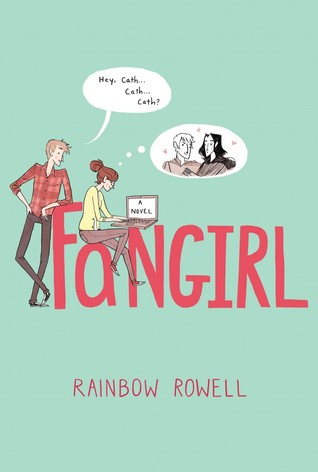 "I don't trust anybody. Not anybody. And the more that I care about someone, the more sure I am they're going to get tired of me and take off."
Title: Fangirl
Author: Rainbow Rowell
Series: Standalone
Publication: September 10th 2013 by St. Martin's Press
Pages: 445
Source: Purchased
Summary from Goodreads:
Cath is a Simon Snow fan.
Okay, the whole world is a Simon Snow fan…
But for Cath, being a fan is her life—and she's really good at it. She and her twin sister, Wren, ensconced themselves in the Simon Snow series when they were just kids; it's what got them through their mother leaving.
Reading. Rereading. Hanging out in Simon Snow forums, writing Simon Snow fan fiction, dressing up like the characters for every movie premiere.
Cath's sister has mostly grown away from fandom, but Cath can't let go. She doesn't want to.
Now that they're going to college, Wren has told Cath she doesn't want to be roommates. Cath is on her own, completely outside of her comfort zone. She's got a surly roommate with a charming, always-around boyfriend, a fiction-writing professor who thinks fan fiction is the end of the civilized world, a handsome classmate who only wants to talk about words… And she can't stop worrying about her dad, who's loving and fragile and has never really been alone.
For Cath, the question is: Can she do this?
Can she make it without Wren holding her hand? Is she ready to start living her own life? Writing her own stories?
And does she even want to move on if it means leaving Simon Snow behind?
My Thoughts:
ALL THE FEELS! Oh my goodness…this book, this freaken book. I can't believe I hadn't read it before this – stupid Sammi. Someone should have knocked some sense into me sooner. Fangirl was the book I have been waiting for and never knew it. Fangirl is the type of book that speaks to you. It breaks down your defenses and breaks your heart, makes you feel things you never even knew existed, and it opens your eyes. This is one of those books that resonates deep down within you and you have no idea until it's all over and you're left with this feeling in your gut that you can't describe but you just.. know.
"It's just… everything. There are too many people. And I don't fit in. I don't know how to be. Nothing that I'm good at is the sort of thing that matters there. Being smart doesn't matter—and being good with words. And when those things do matter, it's only because people want something from me. Not because they want me."
In all honesty guys, I really have no idea what to say about this book. I'm sure you've heard of Fangirl before, read plenty of reviews, seen promos and stuff – all I can tell you is that this is probably one of the best books I've ever read. It just gets you. It gets the reader, it is the reader – Cath is all of us. Well, she is me and I know she is me.
Cath is a severe introvert who writes fanfiction online. She has a huge following… fanfiction is her life. She doesn't know anything else. She can't go out, she can't be around people, she hates crowds and new things and being in the dining hall because of social anxiety. She is me, in every way possible – only I lose myself in my blog and books. Cath is insecure, she is unsure of herself and everything around her – she is not strong, yet she is oh so strong. You get me? She is, by far, my favorite protagonist in existence simply because is so real.
"There are other people on the Internet. It's awesome. You get all the benefits of 'other people' without the body odor and the eye contact."
Of course, it wouldn't be a contemporary without romance – but this is the special type of romance. Cath and Levi, Levi and Cath… they are so natural. They build and grow together, they compliment each other, they just are. It was subtle, it was sweet, it was everything I ever needed in a contemporary romance and this book just gave it to me. Fangirl is not centered around the romance, don't get me wrong guys – but it is a key part in Cath's journey throughout the book. She has to learn to accept the love he gives despite her own fears about herself. It was truly something beautiful.
Overall, Fangirl – like I said – is one of the best books I have ever read. It breaks the mold, it shatters your expectations and builds them back up to unmentionable heights. This book is simply life in the way life happens and the way we deal it. There are no terrifying climaxes, no plummits, no peaks – it is just life and it was beautiful. By far, Fangirl is superbly written, profound, and everything in between. Go read it… trust me.. go read it.