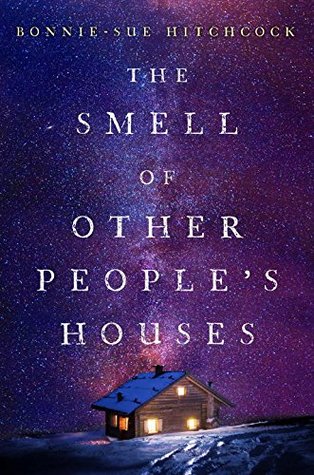 "At some point I stopped waiting for Mama to come back. It's hard to hold on to a five-year-old dream, and even harder to remember people after ten years."
Title: The Smell of Other People's Houses
Author: Bonnie-Sue Hitchcock
Series: Standalone
Publication: February 23rd 2016 by Wendy Lamb Books
Pages: 240
Source: Publisher in exchange for honest review
Summary from Goodreads:
In Alaska, 1970, being a teenager here isn't like being a teenager anywhere else. Ruth has a secret that she can't hide forever. Dora wonders if she can ever truly escape where she comes from, even when good luck strikes. Alyce is trying to reconcile her desire to dance, with the life she's always known on her family's fishing boat. Hank and his brothers decide it's safer to run away than to stay home—until one of them ends up in terrible danger.

Four very different lives are about to become entangled.
My Thoughts:
First things first, the language in The Smell Of Other People's Houses is absolutely stunning and it beautifully illustrates the complexity of the issue at hand. When I was reading this book, I felt like I was actually there while simultaneously watching a carefully crafted masterpiece unfold before my eyes. Each word matters, each sentence is a piece of art that cannot be overlooked – just like the book itself.
The Smell Of Other People's Houses is the story of four Alaskan teens in the nineteen-seventies whom are thrown together through their various secrets and who must learn to live with what they have been given. Each of their individual stories was astounding, not to mention the gorgeous complexity of their lives when they are suddenly thrust together. Ruth, Dora, Alyce, and Hank – each has a secret or something they are running from, and each must learn to rely on someone else to bear the weight of their struggles. The development of the characters, hell, the development of the plot throughout the book as a whole was breathtaking. It was simply stunning. Watching these teens -these real people -work through issues that they shouldn't have to and yet everyone can connect to in some way, brings forth one of the most profound stories in Young Adult fiction I think I've ever seen.
I knew nothing of The Smell Of Other People's Houses when I got it – no synopsis, no prior mention, nada. I went down the rabbit hole that is four teens in Alaska without knowing what I was getting myself into – and boy am I glad I did. In all honesty, I think not knowing made the experience all the more powerful. I had no prior expectations, no idea what it was about – all I knew was that the cover was gorgeous and the title made me giggle. I have to say, this book is one of those rare, inevitably captivating stories that will grab you by the ankles and drag you kicking and screaming into these teen's lives. It will make you stop and think about what your home means to you, it will make you question everything you think you know – and it will make you realize that everyone, and everything, has a story, too.
One thing I really liked, besides the obvious, was the amount of information I learned. I don't know how much is true and just what is fictionalized for the plot of the book, but the complete other-worldliness of Alaska and the different ways these people live just blew my mind. From the very first page, and I'm talking the Prologue here, I found myself undoubtedly and impossibly enraptured with the differences. For example, right off the bat Ruth is explaining how her favorite cut of meat is Backstrap – something I've never heard of – and she describes how her father carving the deer is just as graceful as her mother curling ribbons on presents. Just think about that for a second. Not only is there a beautiful juxtaposition of language, but the whole process of carving a deer carcass within the home has become so normal to her that she compares it with gift wrapping. It blew my mind, to be honest. That isn't the only example, but there are far too many for me to ever accurately explain. Just… read it and see for yourself.
The Smell Of Other People's Houses is, hands down, one of the most interesting books I've had the pleasure of reading so far this year. Not only is the plot unique and interesting, it is specifically centered around a subculture we never pause to think about – hell, it was something I never even knew really existed. The Smell Of Other People's Houses is a heartbreaking tale that isn't afraid to deal with hard hitting issues such as teen pregnancy, death, abandonment, abuse, racism, and poverty. It was breathtaking, plain and simple.