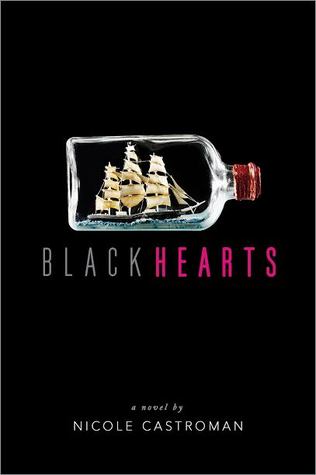 "After Anne's father died, her mother often said that sorrow was the only sun that rose for them."
Title: Blackhearts
Author: Nicole Castroman
Series: Standalone?
Publication:  February 9th by Simon Pulse
Pages: 384
Source: Edelweiss
Summary from Goodreads:
Blackbeard the pirate was known for striking fear in the hearts of the bravest of sailors. But once he was just a young man who dreamed of leaving his rigid life behind to chase adventure in faraway lands. Nothing could stop him—until he met the one girl who would change everything.
Edward "Teach" Drummond, son of one of Bristol's richest merchants, has just returned from a year-long journey on the high seas to find his life in shambles. Betrothed to a girl he doesn't love and sick of the high society he was born into, Teach dreams only of returning to the vast ocean he'd begun to call home. There's just one problem: convincing his father to let him leave and never come back.
Following her parents' deaths, Anne Barrett is left penniless and soon to be homeless. Though she's barely worked a day in her life, Anne is forced to take a job as a maid in the home of Master Drummond. Lonely days stretch into weeks, and Anne longs for escape. How will she ever realize her dream of sailing to Curaçao—where her mother was born—when she's stuck in England?
From the moment Teach and Anne meet, they set the world ablaze. Drawn to each other, they're trapped by society and their own circumstances. Faced with an impossible choice, they must decide to chase their dreams and go, or follow their hearts and stay.
My Thoughts:
Blackhearts was so not what I was expecting, and I loved every damn second of it. What I thought was going to be some cheesy, overly romantic rehash of Pirates of the Caribbean completely blew me out of the water (pun intended).  I was obsessed with this book from the moment I heard about it: pirates, blackbeard, and romance? COUNT ME IN. But, what I found was so much more than what I was expecting.
Going into this, I knew next to nothing about Blackbeard, his origin, or what he did beyond the fact that he was a notorious pirate. Blackhearts is his origin story – and boy did it do a good job. Teach: Son of a merchant. A ladies man. A sarcastic, overly witty class A asshole. Pirate. His real name is Edward Drummond, the son of a wealthy man returned home to get married because that's what his daddy told him to do. But, low and behold, he would rather live in a ship for the rest of his life out at sea rather than marry the woman of his father's choice, Patience. When are thrust into the action right off the bat, though, rather than told through Teach's eyes, we get a glimpse into the life of a maid in his father's household: Anne. They meet, hilarious scene I might add, and they soon find their fates more intertwined than they ever thought possible.
I think I liked Anne more than Teach, actually – I know I did. She was headstrong, smart, and she put up with no one's shit. She knew what she was, she knew that she wasn't supposed to be working as a maid and yet she did it anyway despite her privileged upbringing. Anne was not afraid to do what she had to do in order to survive, be it scrubbing floors or putting up with disgusting sexual  advances from her master's preferred butcher. I also have to commend her on the fact that she didn't waver in her plan or her ideals – she had her game plan, and she stuck to it. I swear, for a maid during the sixteen-hundreds, she had bigger balls than almost every male character in the book. Good for you woman.
Now, Teach. I did like him, I'd be lying if I said his scoundrel tendencies didn't make my heart flutter just a little bit. You should all know by now I have a soft spot for the bad boys. He was hilarious, somewhat standoffish, and a downright rake – the perfect pirate in the making. Though, he also had some killer manners and a strong sense of duty. I have to admit, I really did enjoy the chapters from his point of view. Though he was way higher in station than Anne, and had way more freedoms, he was equally trapped.
THE ROMANCE! Holy crap, thank sweet baby Jesus I read a book without instalove. It was the good kind of romance, the kind that slowly builds up over time in such a way that makes you ache for it so badly that you can't help but squeal and dance around when something finally happens. Anne and Teach basically hate each other for a majority of the book, and rightfully so on her part – that man, I swear I wanted to do more than nail him between the legs with a bucket. Their relationship shifts over time, though, and that was the beautiful part. It builds and grows from something like loathing to a mutual respect, and then so on and so on. It was refreshing, and adorable.
Overall, Blackhearts is something that everyone can pick up and enjoy. If you are a fan of historical fiction, romance, or pirates in general – this is the book for you. Filled with hilarious confrontations, sneaky maid shenanigans, and a romance that will make you melt like a pool of molten lava – Blackhearts certainly shines a new light on an infamous pirate while also creating a name for Debut author Nicole Castroman.