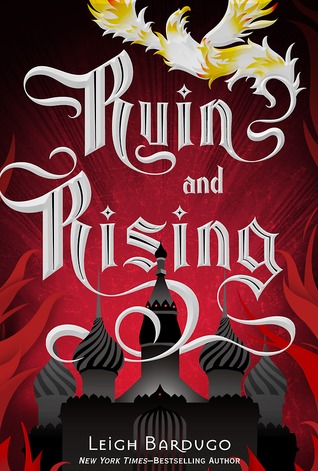 "Beauty was your armor. Fragile stuff, all show. But what's inside you? That's steel. It's brave and unbreakable. And it doesn't need fixing."
Title: Ruin and Rising
Author: Leigh Bardugo
Series: The Grisha Trilogy # 3
Publication: June 17th 2014 by Henry Holt and Co.
Pages: 422
Source: Christmas bookhaul
Summary from Goodreads:
The capital has fallen.
The Darkling rules Ravka from his shadow throne.
Now the nation's fate rests with a broken Sun Summoner, a disgraced tracker, and the shattered remnants of a once-great magical army.
Deep in an ancient network of tunnels and caverns, a weakened Alina must submit to the dubious protection of the Apparat and the zealots who worship her as a Saint. Yet her plans lie elsewhere, with the hunt for the elusive firebird and the hope that an outlaw prince still survives.
Alina will have to forge new alliances and put aside old rivalries as she and Mal race to find the last of Morozova's amplifiers. But as she begins to unravel the Darkling's secrets, she reveals a past that will forever alter her understanding of the bond they share and the power she wields. The firebird is the one thing that stands between Ravka and destruction—and claiming it could cost Alina the very future she's fighting for.
My Thoughts:
Ruin and Rising in one word: painful. This book was brilliant. It was a flawless example of the perfect ending to an amazing series – no matter how much it tore my heart out in the process. I've said it before and I will say it again, Leigh Bardugo is a goddess and a master at crafting breathtakingly beautiful tales that transport you to a whole new universe. Just wow… truly. I cannot find the words to accurately express just how in love with this series I have become.
"I will strip away all that you know, all that you love, until you have no shelter but mine."
Because I can, here is a quick play by play of my reactions to this book.
At the beginning (AKA time with The Apparat):
Reappearance of Nikolai:
Genya vs. The King:
Firebird discovery:
THAT scene with Mal when at the orchard:
Certain point in the battle against The Darkling:
By the end:
"Na razrusha'ya. I am not ruined. E'ya razrushost. I am ruination."
In all honesty, that about covers it. But, in this case a picture is not worth a thousand words. Ruin and Rising is so much more than I could ever hope to convey to you guys – it was a gem, a diamond in the rough as it were (especially when compared to other series conclusions). This book was a no-nonesense, nitty-gritty final show down between light and darkness illustrated through the lives of a cast of characters I have come to love. There is no sugar coating, no "atta boy" or congratulations. It is dark, dirty, and raw. It gives and it takes. Despite the optimism at the end, this is in no way a happy ending.
"Maybe love was superstition, a prayer we said to keep the truth of loneliness at bay."
Ruin and Rising tackles the difficult battle of balancing the intimate exploration of relationships with the hardships and trials of war. There is a delicate beauty in the way things are handled and taken care of throughout the plot – relationships are shattered and new ones forged, people face their fears head on and others tuck tail and run. It was an amazing balancing act, and Bardugo tackled it with awe inspiring ease.
"It's a vow that if I can't be anything else to you, at least I can be a weapon in your hand."
There is never a dull moment in this book – even at the beginning. There might be a lull in the obvious action, but just like with Siege and Storm, Ruin and Rising waged a battle of wits as well as showcased a brutal fight to the death. There are ups and downs, happiness and grief – it's all there.
Ruin and Rising was a beautifully bittersweet conclusion to a fabulous trilogy that will forever be on my recommended list. The Grisha Trilogy is all things – it is everything I ever wanted in a series and more. My love for these books is infinite and I will never forget them. If you haven't read these yet, I suggest you do because they are just that awesome. Leigh Bardugo, thank you for creating something so beautiful and sharing it with the world.