Get ready to add these 12 upcoming young adult novels to your bookshelf! I went down the rabbit hole of Goodreads and my bookshelf so I could share what books I'm most excited for this month!
All We Left Behind by Ingrid Sundberg
Summary:
When Marion Taylor, the shy bookworm, meets sexy soccer captain Kurt Medford at a party, what seems like a sure thing quickly turns into a total mess. One moment they're alone in the middle of a lake, igniting sparks of electricity. The next, they're on dry land, pretending they've never met. But rather than the end, that night is the beginning of something real, terrifying, and completely unforgettable for them both.
As Marion and Kurt struggle to build a relationship from the fractured pieces of their pasts, every kiss they share uncovers memories both would rather keep buried. Marion desperately wants to trust Kurt and share the one secret she's never told anyone—but some truths aren't meant to be spoken out loud. Kurt is also still haunted by his mother's death, by the people he hurt, and by the mistakes he can never take back.
Explosive together and hollow apart, Marion and Kurt seem totally wrong for each other—but could they turn out to be more right than they ever thought possible?
December 1st 2015 by Simon Pulse
2. Oblivion by Jennifer L. Armentrout
Summary:
I knew the moment Katy Swartz moved in next door, there was going to be trouble. Lots of it.
And trouble's the last thing I need, since I'm not exactly from around here. My people arrived on Earth from Lux, a planet thirteen billion light years away. Plus, if there's one thing I know, it's that humans can't be trusted. We scare them. We can do things they only dream about, and honestly, we make them look weak as hell. 'Cuz they are.
But Kat is getting to me in ways no one else has, and I can't stop myself from wanting her—or wanting to use my powers to protect her. She makes me weak, and I'm the strongest of our kind, tasked with protecting us all. So this one simple girl…she can mean the end for us. Because the Luxen have an even bigger enemy—the Arum, and I need to stay on my game.
Falling for Katy—a human—won't just place her in danger. It could get us all killed, and that's one thing I'll never let happen…
December 1st 2015 by Entangled Teen
3. Nexis by A.L. Davroe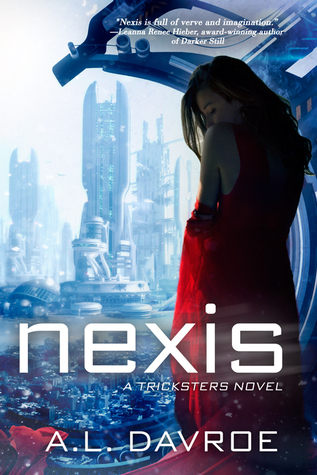 Summary:
In the domed city of Evanescence, appearance is everything. A Natural Born amongst genetically-altered Aristocrats, all Ella ever wanted was to be like everyone else. Augmented, sparkling, and perfect. Then…the crash. Devastated by her father's death and struggling with her new physical limitations, Ella is terrified to learn she is not just alone, but little more than a prisoner.
Her only escape is to lose herself in Nexis, the hugely popular virtual reality game her father created. In Nexis she meets Guster, a senior player who guides Ella through the strange and compelling new world she now inhabits. He offers Ella guidance, friendship…and something more. Something that allows her to forget about the "real" world, and makes her feel whole again.
But Nexis isn't quite the game everyone thinks it is.
And it's been waiting for Ella.
December 1st 2015 by Entangled Teen
4. Their Fractured Light by Aime Kaufman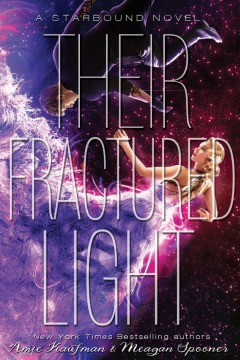 Summary:
A year ago, Flynn Cormac and Jubilee Chase made the now infamous Avon Broadcast, calling on the galaxy to witness for their planet, and protect them from destruction. Some say Flynn's a madman, others whisper about conspiracies. Nobody knows the truth. A year before that, Tarver Merendsen and Lilac LaRoux were rescued from a terrible shipwreck—now, they live a public life in front of the cameras, and a secret life away from the world's gaze.
Now, in the center of the universe on the planet of Corinth, all four are about to collide with two new players, who will bring the fight against LaRoux Industries to a head. Gideon Marchant is an eighteen-year-old computer hacker—a whiz kid and an urban warrior. He'll climb, abseil and worm his way past the best security measures to pull off onsite hacks that others don't dare touch.
Sofia Quinn has a killer smile, and by the time you're done noticing it, she's got you offering up your wallet, your car, and anything else she desires. She holds LaRoux Industries responsible for the mysterious death of her father and is out for revenge at any cost.
When a LaRoux Industries security breach interrupts Gideon and Sofia's separate attempts to infiltrate their headquarters, they're forced to work together to escape. Each of them has their own reason for wanting to take down LaRoux Industries, and neither trusts the other. But working together might be the best chance they have to expose the secrets LRI is so desperate to hide.
December 1st 2015 by Disney-Hyperion
5. Gateway to Fourline by Pam Brondos
Summary:
Strapped for cash, college student Natalie Barns agrees to take a job at a costume shop. Sure, Estos—her classmate who works in the shop—is a little odd, but Nat needs the money for her tuition.
Then she stumbles through the mysterious door behind the shop—and her entire universe transforms.
Discovering there's far more to Estos than she ever imagined, Nat gets swept up in an adventure to save his homeland, an incredible world filled with decaying magic, deadly creatures, and a noble resistance of exiled warriors battling dark forces. As she struggles with her role in an epic conflict and wrestles with her growing affection for a young rebel, Soris, Nat quickly learns that nothing may go as planned…and her biggest challenge may be surviving long enough to make it home.
December 1st 2015 by Skyscape
6. Not If I See You First by Eric Lindstrom
Summary:
The Rules:
Don't deceive me. Ever. Especially using my blindness. Especially in public.
Don't help me unless I ask. Otherwise you're just getting in my way or bothering me.
Don't be weird. Seriously, other than having my eyes closed all the time, I'm just like you only smarter.
Parker Grant doesn't need 20/20 vision to see right through you. That's why she created the Rules: Don't treat her any differently just because she's blind, and never take advantage. There will be no second chances. Just ask Scott Kilpatrick, the boy who broke her heart.
When Scott suddenly reappears in her life after being gone for years, Parker knows there's only one way to react-shun him so hard it hurts. She has enough on her mind already, like trying out for the track team (that's right, her eyes don't work but her legs still do), doling out tough-love advice to her painfully naive classmates, and giving herself gold stars for every day she hasn't cried since her dad's death three months ago. But avoiding her past quickly proves impossible, and the more Parker learns about what really happened–both with Scott, and her dad–the more she starts to question if things are always as they seem. Maybe, just maybe, some Rules are meant to be broken.
December 1st 2015 by Poppy
7. Instructions for the End of the World by Jamie Kain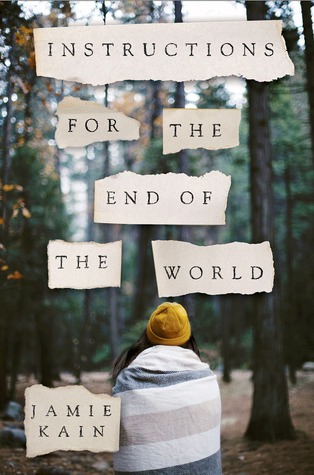 Summary:
He prepared their family for every natural disaster known to man—except for the one that struck.
When Nicole Reed's father forces her family to move to a remote area of the Sierra Foothills, one without any modern conveniences, it's too much too handle for her mother, who abandons them in the middle of the night. Heading out to track her down, Nicole's father leaves her in charge of taking care of the house and her younger sister, Izzy. For a while, Nicole is doing just fine running things on her own. But then the food begins to run out, the pipes crack, and forest fires start slowly inching their way closer every day. Wolf, a handsome boy from the neighboring community, offers to help her when she needs it most, but when she starts to develop feelings for him, feelings she knows she will never be allowed to act on once her father returns, she must make a decision. With her family falling apart, will she choose to continue preparing for tomorrow's disasters, or will she take a chance and really start living for today?
December 8th 2015 by St. Martin's Griffin
8. The Trouble with Destiny by Lauren Morill
Summary:
With her trusty baton and six insanely organized clipboards, drum major Liza Sanders is about to take Destiny by storm—the boat, that is. When Liza discovered that her beloved band was losing funding, she found Destiny, a luxury cruise ship complete with pools, midnight chocolate buffets, and a $25,000 spring break talent show prize.
Liza can't imagine senior year without the band, and nothing will distract her from achieving victory. She's therefore not interested when her old camp crush, Lenny, shows up on board, looking shockingly hipster-hot. And she's especially not interested in Russ, the probably-as-dumb-as-he-is-cute prankster jock whose ex, Demi, happens be Liza's ex–best friend and leader of the Athenas, a show choir that's the band's greatest competition.
But it's not going to be smooth sailing. After the Destiny breaks down, all of Liza's best-laid plans start to go awry. Liza likes to think of herself as an expert at almost everything, but when it comes to love, she's about to find herself lost at sea.
December 8th 2015 by Delacorte
9. Inherit the Stars by Tessa Elwood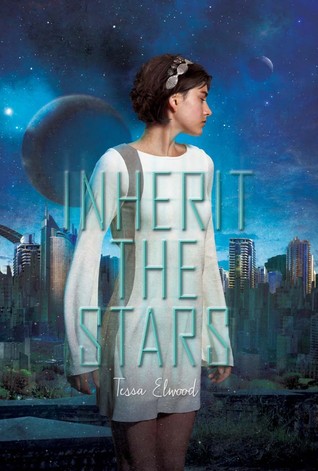 Summary:
Three royal houses ruling three interplanetary systems are on the brink of collapse, and they must either ally together or tear each other apart in order for their people to survive.
Asa is the youngest daughter of the house of Fane, which has been fighting a devastating food and energy crisis for far too long. She thinks she can save her family's livelihood by posing as her oldest sister in an arranged marriage with Eagle, the heir to the throne of the house of Westlet. The appearance of her mother, a traitor who defected to the house of Galton, adds fuel to the fire, while Asa also tries to save her sister Wren's life . . . possibly from the hands of their own father.
But as Asa and Eagle forge a genuine bond, will secrets from the past and the urgent needs of their people in the present keep them divided?
December 8th 2015 by Running Press Kids
10. This Raging Light by Estelle Laure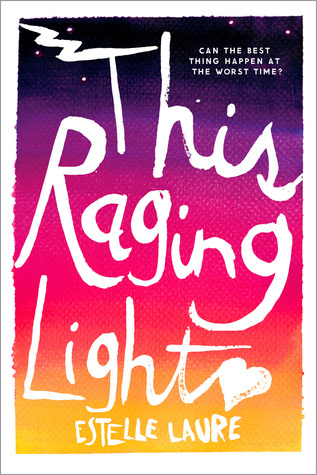 Summary:
Can the best thing happen at the worst time?
Her dad went crazy. Her mom left town. She has bills to pay and a little sister to look after. Now is not the time for level-headed seventeen-year-old Lucille to fall in love. But love—messy, inconvenient love—is what she's about to experience when she falls for Digby Jones, her best friend's brother. With blazing longing that builds to a fever pitch, Estelle Laure's soulful debut will keep readers hooked and hoping until the very last page.
December 22nd 2015 by HMH Books for Young Readers
11. What's Broken Between Us by Alexis Bass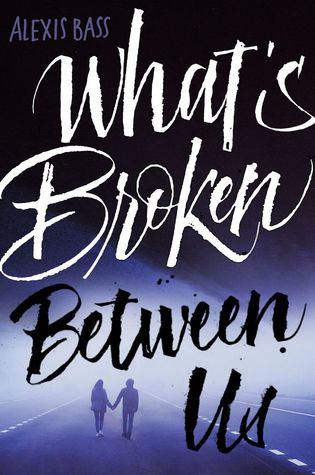 Summary:
A year and a half ago, Amanda Tart's brother got behind the wheel drunk and killed his best friend. Today, he's coming home from prison.
Amanda's been the one living with the fallout, made worse by her brother's recent unapologetic TV interview. People think he's a monster. Still, she loves him. It's her dark secret, until she starts getting close to Henry again–whose sister is paralyzed from the accident.
A year and a half ago, her brother destroyed his life. Now Amanda has to decide if she'll let his choice destroy hers.
December 29th 2015 by HarperCollins
12. Thicker Than Water by Brigid Kemmerer
Summary:
Thomas Bellweather hasn't been in town long. Just long enough for his newlywed mother to be murdered, and for his new stepdad's cop colleagues to decide Thomas is the primary suspect.
Not that there's any evidence. But before Thomas got to Garretts Mill there had just been one other murder in twenty years.
The only person who believes him is Charlotte Rooker, little sister to three cops and, with her soft hands and sweet curves, straight-up dangerous to Thomas. Her best friend was the other murder vic. And she'd like a couple answers.
Answers that could get them both killed, and reveal a truth Thomas would die to keep hidden…
December 29th 2015 by Kensington Books
I'm so excited and I can't wait to get my hands on these! The best part? It's December so that means one thing…