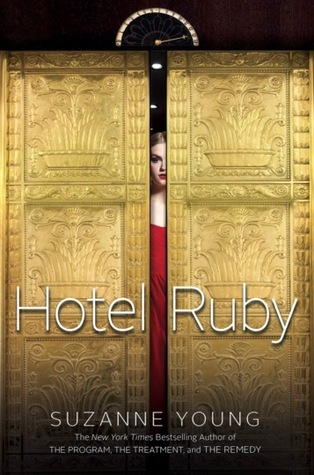 "Mirrors on the ceiling,
The pink champagne on ice
And she said "We are all just prisoners here, of our own device"
And in the master's chambers,
They gathered for the feast
They stab it with their steely knives,
But they just can't kill the beast

Last thing I remember, I was
Running for the door
I had to find the passage back
To the place I was before
"Relax, " said the night man,
"We are programmed to receive.
You can check-out any time you like,
But you can never leave! "
Title: Hotel Ruby
Author: Suzanne Young
Series: Standalone
Publication: November 3rd 2015 by Simon Pulse
Pages: 288
Source: Author signing at ALA
Summary from Goodreads:
Stay Tonight. Stay Forever.
When Audrey Casella arrives for an unplanned stay at the grand Hotel Ruby, she's grateful for the detour. Just months after their mother's death, Audrey and her brother, Daniel, are on their way to live with their grandmother, dumped on the doorstep of a DNA-matched stranger because their father is drowning in his grief.
Audrey and her family only plan to stay the night, but life in the Ruby can be intoxicating, extending their stay as it provides endless distractions—including handsome guest Elias Lange, who sends Audrey's pulse racing. However, the hotel proves to be as strange as it is beautiful. Nightly fancy affairs in the ballroom are invitation only, and Audrey seems to be the one guest who doesn't have an invite. Instead, she joins the hotel staff on the rooftop, catching whispers about the hotel's dark past.
The more Audrey learns about the new people she's met, the more her curiosity grows. She's torn in different directions—the pull of her past with its overwhelming loss, the promise of a future that holds little joy, and an in-between life in a place that is so much more than it seems…
Welcome to the Ruby.
My Thoughts:
Well, the best part of Hotel Ruby was the cover. There, I said it. Shoot me.
This book did absolutely nothing for me other than piss me off. The only reason I kept reading was because I wanted to know if my guess was right – and yes, it was by the way. I loved the idea behind this, a book based off of "Hotel California"? Count me in. Sadly, Hotel Ruby neither lived up to my expectations nor enlightened me to the supposed beauty that is Suzanne Young's writing. I've heard such amazing things about her and her other books, but Hotel Ruby sort of killed it for me. If the other books are told in the same style, you can count me out.
The characters were flat – some were simply there to force some sort of sympathy. There is serious insta-love, and I mean serious. Audrey meets Elias, and BANG! A few chapters into it they're basically having sex in the damn hallway. I mean, really? There was no build up, no relationship building – zip, nada. It was the same way for all of the characters. Basically, we are told that things are the way they are and that's it. All of the characters have a set relationship right from the beginning – and it made me extremely annoyed. I hate it when a book tells us how things are rather than illustrating it through dialogue and character development. Add that on top of the poor plotting, insta-love, and all the other issues I'm not even delving into and it's a miracle I actually finished the book.

The only reason I kept reading was because I wanted to know what the hell was going on at the end. I had an idea, and it was mostly on point. There were no surprises, the "big reveal" was no reveal at all. I saw it coming from a mile away. What caught my attention in the first couple chapters drifted off and left me feeling cold and disengaged.
I can't recommend this book at all. What is meant to be creepy and thought provoking came across as nothing more than a pathetic attempt at turning a famous song into a book. Hotel Ruby is a letdown of epic proportions. If you can't tell by my lack of review, I really have nothing to say to this book other than "how dare you?". I wanted to like it, I wanted to fall into this book like everyone else – but I couldn't. So, how dare Hotel Ruby make me waste my time to figure out something that wasn't even worth it in the end. I've been on a string of bad books lately, it seems as if I find a good one and then I'm stuck in a rut of other books until something amazing comes along and saves me. Ugh. Time to try again.