Waiting on Wednesday is hosted each week by Breaking the Spine and lets us spotlight a book that we are eagerly waiting to be released.
This weeks Waiting On Wednesday is Raging Sea by Michael Buckley!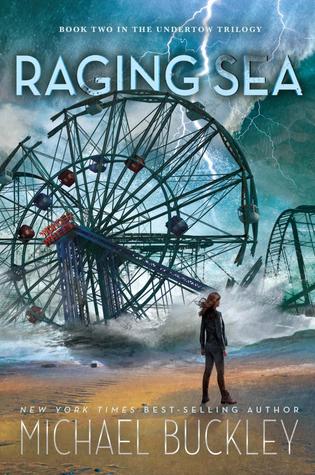 Publication: February 2nd 2016 by HMH Books for Young Readers
Summary from Goodreads:
In the first book of Michael Buckley's Undertow trilogy, the Alpha arrived and the world was never the same. At the start of the second book, most of south Brooklyn is in ruins and the nation is terrified. Nearly everyone that Lyric Walker loves is either missing or presumed dead, including the mesmerizing prince Fathom. It's up to Lyric to unite the Alpha before the second wave of a cataclysmic invasion wipes out mankind for good.
Okkayy, so, I might be fangirlling so hard right now that people are staring at me. A couple of days ago, my mother informed me I had two packages in the mail. Not one, but two! I was expecting the first one, but what I wasn't expecting was for her to open the packages and tell me that this amazing beauty was in one of them.
I read Undertow, the first book in the series, when I was first starting my blog last May – and let me tell you, boy do I freaken love that book. (My review is hyperlinked to the title…. read it!). I have to say, because of that cliffhanger at the end of book one, I have been desperately waiting to get my hands on book two – and now I finally have! *blows kisses to the beautiful people at HMH Kids*.
I'm so excited to dive into this book (haha, see what I did there?). It's back at home right now, but its going to be the first thing I devour when I come home on break.