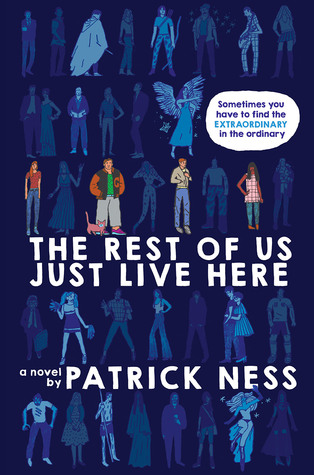 " I felt like I was waiting for something to happen. Which has to be the worst part about being young. So many of your decisions aren't yours, they're made by other people."
Title: The Rest of Us Just Live Here
Author: Patrick Ness
Series: Standalone
Publication: October 6th 2015 by HarperTeen
Pages: 336
Source: Author signing at ALA
Summary from Goodreads:
What if you aren't the Chosen One?
The one who's supposed to fight the zombies, or the soul-eating ghosts, or whatever the heck this new thing is, with the blue lights and the death?
What if you're like Mikey? Who just wants to graduate and go to prom and maybe finally work up the courage to ask Henna out before someone goes and blows up the high school. Again.
Because sometimes there are problems bigger than this week's end of the world, and sometimes you just have to find the extraordinary in your ordinary life.
Even if your best friend is worshiped by mountain lions.
Award-winning writer Patrick Ness's bold and irreverent novel powerfully reminds us that there are many different types of remarkable.
My Thoughts:
What if you weren't the chosen one? If you're not the one who gets to go to Narnia, who doesn't stop the corrupted government, who never gets their acceptance letter to Hogwarts? What if you are perfectly ordinary, just struggling to get through your everyday life? The Rest of Us Just Live Here tackles that idea. It is a poignant satire on Young Adult fiction about finding the extraordinary in your normal, ordinary life – and it was breathtaking.
I've never read a book by Patrick Ness before, I have heard of his other works, I just never had the chance to read them. But, now that I have, I fully plan on hunting down the rest of his books and devouring them. His writing is amazing. It is hilarious, thought provoking, and compelling. His words will make you want to cry and to scream with laughter. It will make you feel at home while simultaneously surrounding you with the unknown. It is beautiful.
The Rest of Us Just Live Here is a story about a boy named Mikey. Mikey lives in a small town, his mother is a politician, his father an alcoholic, his sister someone who has passed on and then come back, and his town is a beacon for supernatural and other strange occurrences that someone special always ends up stopping. Mikey is not your Katniss Everdeen, Tris Prior, or Harry Potter – he is just an ordinary boy struggling through the process of graduating high school and saying goodbye to all of his friends. This book is about him and the trials he faces in his normal life. About him and his OCD, his confusion over who he loves, and his fear of everything changing around him – and it is breathtaking.
I've never read a book like this before, about the normal kid, you know? There is always something amazing about the protagonist of a young adult book; be it special powers, a great destiny, or the will to take down those oppressing others. But, Mikey has none of that. Instead, he is perfectly ordinary, just a boy who wants to graduate and go on to college with his best friend. The only thing extraordinary about him is how much he loves his friends (I guess you can say that makes him a chosen one, in a way, but it really doesn't).
The relationships between the characters in this book are unflinchingly real. They are raw, and a perfect representation of how most people actually are. I felt like I was there with them, like I was a part of the friend group just watching all of this amazing stuff happen. The characters are so multidimensional and Ness beautifully illustrates how every person is different in their own way. Everyone has their flaws, but that doesn't mean we love them any less – and that is truly what this book is about. It is about finding your place, learning how to be comfortable in your own skin, and it is about forgiveness. The best part about this whole book was that I'm not sure if I even liked the characters, but at the same time it was impossible not to. That was how I knew they were real. They weren't perfect, their flaws weren't portrayed as perfect – they were just human beings. They were selfish, cowardly at times, and sometimes downright annoying – but I loved them all the same because they were real.
Patrick Ness has created a complex and layered story here. It deals with realistic issues such as mental illness, sexuality, eating disorders, and overbearing parents – things we all struggle with or have seen someone struggle with. He highlights these things in ways that most authors shy away from. He isn't afraid of saying what most people think, and he does it in such an artistic way that you don't know what you're reading until you're done.
Overall, there is nothing else to say but to tell you to read this book. I feel very privileged to have gotten a copy of this book, but not only that, to have met the genius behind it. This book calmed me, it made me feel as if everything was going to be alright in my life. I don't need something extraordinary in my life in order for my life to be special, my life is already special because of the people I surround myself with. You need to read this book, I am not messing around here. Read it, love it, share it – thou shall not disobey.
Also, one last thing, did you guys see the cover? LOOK AT IT! Not only does it glow in the dark, but if you look really closely, you can see some hidden characters. I know for a fact that Edward Cullen and Katniss Everdeen are in the top row. I think that one of them is the girl from Clueless and one of the others might be Hermione. Then, in the bottom row, there is also a werewolf – take your pick as to who you think he is. Do you guys notice any others? Can you name some of the ones I can't? Let me know in the comments down below.
If you have read this book, what did you think? Did you love it as much as I did? Did you hate it? What other books by Patrick Ness would you recommend?