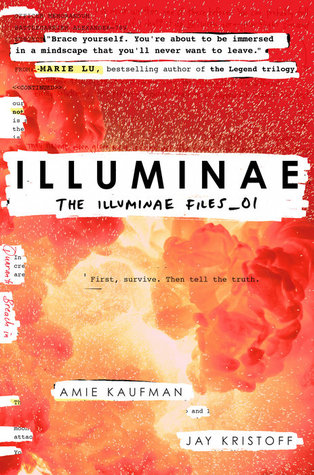 "Perhaps bravery is simply the face humanity wraps around its collective madness."
Title: Illuminae
Author: Aime Kaufman and Jay Kristoff
Series: The Illuminae Files # 1
Publication: October 20th 2015 by Knopf Books for Young Readers
Pages:608
Source: Publisher at ALA
Summary from Goodreads:
This morning, Kady thought breaking up with Ezra was the hardest thing she'd have to do.
This afternoon, her planet was invaded.
The year is 2575, and two rival megacorporations are at war over a planet that's little more than an ice-covered speck at the edge of the universe. Too bad nobody thought to warn the people living on it. With enemy fire raining down on them, Kady and Ezra—who are barely even talking to each other—are forced to fight their way onto an evacuating fleet, with an enemy warship in hot pursuit.
But their problems are just getting started. A deadly plague has broken out and is mutating, with terrifying results; the fleet's AI, which should be protecting them, may actually be their enemy; and nobody in charge will say what's really going on. As Kady hacks into a tangled web of data to find the truth, it's clear only one person can help her bring it all to light: the ex-boyfriend she swore she'd never speak to again.
Told through a fascinating dossier of hacked documents—including emails, schematics, military files, IMs, medical reports, interviews, and more—Illuminae is the first book in a heart-stopping, high-octane trilogy about lives interrupted, the price of truth, and the courage of everyday heroes.
My Thoughts:
God… I just finished the book right before I sat down to do this. I have no idea what to say. I think I'm in shock. This book, this book guys. I have never read anything like that before in my life, and I have to say, it has completely changed me.
I had no idea what this book was about when I started it – and I purposefully kept it that way. I didn't read any reviews, look at anyone's comments, nothing. All I knew was that this book was not told in prose, and that it was supposed to be absolutely, mind-blowingly amazing. Was it? You are currently asking me. All I can say is this: yes, yes it fucking was.
This is going to be a short and sweet review for one simple reason: Illuminae is the kind of book that is worth diving into head first blind. I can't talk about this book and why I loved it without giving it all away. You are not supposed to know anything, and trust me, you don't know what the hell is going on until the damn thing wants you to. I can't make you read this, I can't even make you go out and buy it. All I can do is lead a horse to the water, I can't make it drink. But, dammit, all I want to do right now is shove that water down your throats!
This book is pure genius. It is unique. It is gut-wrenching, heart-pounding, and it will make you go insane.
Although this book is told through the perspective of a bystander, it is done in the most amazing way. We are given a series of translated interviews, surveillance footage, in depth reports, personal messages, official announcements, and all sorts of other unmentionable goodies. Each and every part plays a key role in the story and how it is told, every last detail is important – from the dates and percentages all the way to the smallest words. As a reader, I was able to effortlessly immerse myself in the story and I was utterly consumed by what was going on. From the very first page, I was in love with the characters. Though we never truly get to see interactions the way we would in a normal book, the level of personality that shines through these characters is absolutely astounding. This book shattered my expectations and exceeded them.
This. Book. Is. Brilliant.
Illuminae is a visual and emotional masterpiece. It mixes engaging characters with an extremely unique format and an explosive story line that will leave you clinging to the edge of your seats. This book will make your heart race, will make you cry, and will make you want to sacrifice your first born child for a chance to get the second one early. Aime Kaufman and Jay Kristoff have created a flawless narrative that will captivate you completely. This book is going to be one hell of a phenomenon.
Go buy this book immediately!!