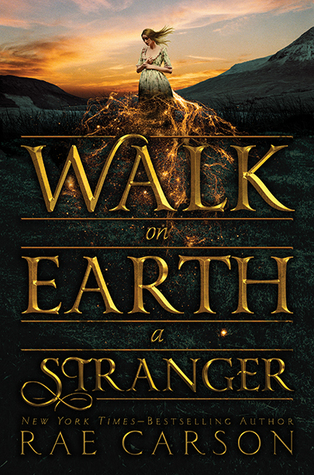 "I'd rather be treated with respect than treated like a lady."
Title: Walk on Earth a Stranger
Author: Rae Carson
Series: The Gold Seer Trilogy # 1
Publication: September 22nd 2015 by Greenwillow Books
Pages: 432
Source: Book signing at ALA Annual
Summary from Goodreads:
Lee Westfall has a strong, loving family. She has a home she loves and a loyal steed. She has a best friend—who might want to be something more.
She also has a secret.
Lee can sense gold in the world around her. Veins deep in the earth. Small nuggets in a stream. Even gold dust caught underneath a fingernail. She has kept her family safe and able to buy provisions, even through the harshest winters. But what would someone do to control a girl with that kind of power? A person might murder for it.
When everything Lee holds dear is ripped away, she flees west to California—where gold has just been discovered. Perhaps this will be the one place a magical girl can be herself. If she survives the journey.
My Thoughts:
I don't even know what to say about this book. If you want a testament to its amazingness, I sat down and started reading this at four pm yesterday and I finished it bright and early this morning. I read this book in less than a whole day, and this is not a small book. It drew me in, tangled me in its webs, and refused to let me go until the last page. This is a prime example of a book that sucks you in so deeply that it will make you ignore all your responsibilities. Marketing exam in two hours? Pshh, let's read about crossing the Oregon Trail. Walk on Earth a Stranger is an amazing Young Adult western about the trials of life, travel, and family during the eighteen hundreds in the United States and relevant territories.
Leah "Lee" Westfall can sense the presence of gold as long as it is relatively close to her. Any type of gold, really. Veins, nuggets, dust on people's skin. It was really quite amazing to read, and I wanted to explore it more – hopefully that comes in the later books. Soon, as the synopsis says, Lee's life is ripped away and she flees for California disguised as a boy.
Leah was a wonderful protagonist. She was smart, kind hearted (most of the time), a hard worker, someone willing to take risks, and completely vulnerable and bad ass all at the same time. She was extremely determined, willing to face danger in order to get to where she needed to go and in order to protect those around her. She was far from perfect; don't get me wrong here, she had some flaws too – but it only made her that much more human. I loved her, I loved her attitude, and I loved her voice in the story. Leah, as we know, is pretending to be a boy, and she doesn't do it half assed. She cuts off her hair, does a man's work, and sleeps in the barn. I do have to give Carson some props here, this is the first book I have ever read where a main character had her period – not just once, but twice. It was a huge struggle for Leah, having to hide the fact that she was a woman was hard enough on its own.
I will say this, though, the summary of the book is somewhat misleading. I was expecting some action, some romance, some serious adventure – but no. I did really like it, though, don't get me wrong. I really love historical fiction, and the latter half of this book reminded me of reading Across The Wide And Lonesome Prairie: The Oregon Trail Diary Of Hattie Campbell. My big issue here was this: I felt like it wasn't going anywhere. As I said, I was expecting some action, maybe some romance, and a hell of a lot more involvement with her special power. Instead, we get a really long, drawn out, day by day road trip. There wasn't anything else, this book starts off really strong and sets the perfect tone – but it went downhill from there. I still loved it, I really did, but I was also disappointed because it wasn't what I thought it was going to be. You would think, since this gold sense is such a big factor (supposedly), that Leah's past would come back to haunt her. That the person/reason she fled for California would come back and kidnap her and force her to find gold. But no. We don't get a confrontation with the so called bad guy until the very last pages off the book, and even that was mediocre. I was expecting it to be so much more, so much bigger and a main point to the story. Otherwise, it seems that there was no logical reason for all of the worrying and fear that Leah felt about this person.
I don't mean to say that his book is boring, it could be to some people – but it was still worth the read, in my opinion. I love historical fiction; I love stories about the Oregon trail. But, this book was a lone traveler on one long road to nowhere. It was all about getting to California, and it ends immediately at that point. See why I was disappointed? There were over four hundred pages in this book, and pretty much all of them are all about putting one foot in front of the other. It wasn't what I expected to read, and for that reason I don't think I love this book as much as I otherwise would have. This book felt like a really long prologue to the sequel.
Walk on Earth a Stranger is a gritty, honest, and brutal book about what it takes to survive the Oregon Trail. Nothing is taken lightly; there are lots of deaths, lots of hardships, and two births. This book has its happy moments, its sad moments, and moments that will make your heart pound so fast that you feel as if you are going to faint. This is one book I will go back and reread multiple times. Walk on Earth a Stranger is pure gold (see what I did there?). You will meet fascinating characters, excruciating circumstances, and beautiful and deadly scenery. You will inhale each and every page; the slow pacing won't even matter the farther into it you get. I loved it, I would highly recommend it.