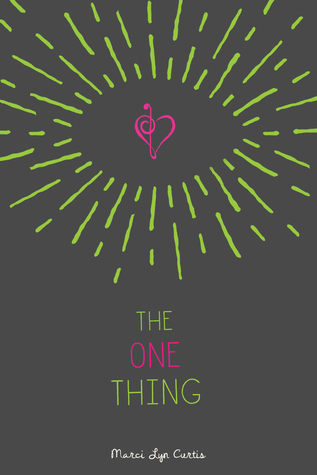 " After all, circumstances don't change us. They reveal us."
Title: The One Thing
Author: Marci Lyn Curtis
Series: Standalone
Publication: September 8th 2015 by Disney-Hyperion
Pages: 336
Source: Publisher at ALA Annual
Summary:
Maggie Sanders might be blind, but she won't invite anyone to her pity party. Ever since losing her sight six months ago, Maggie's rebellious streak has taken on a life of its own, culminating with an elaborate school prank. Maggie called it genius. The judge called it illegal.
Now Maggie has a probation officer. But she isn't interested in rehabilitation, not when she's still mourning the loss of her professional-soccer dreams, and furious at her so-called friends, who lost interest in her as soon as she could no longer lead the team to victory.
Then Maggie's whole world is turned upside down. Somehow, incredibly, she can see again. But only one person: Ben, a precocious ten-year-old unlike anyone she's ever met. Ben's life isn't easy, but he doesn't see limits, only possibilities. After awhile, Maggie starts to realize that losing her sight doesn't have to mean losing everything she dreamed of. Even if what she's currently dreaming of is Mason Milton, the magnetic lead singer of Maggie's new favorite band, who just happens to be Ben's brother.
But when she learns the real reason she can see Ben, Maggie must find the courage to face a once-unimaginable future…before she loses everything she has grown to love.
My Thoughts:
Oh my goodness. I loved this book so much it is ridiculous. Okay, when I first read the synopsis I had a large moment where I had to suspend disbelief and I found myself completely dumbfounded. A book told in first person through the eyes of a blind girl? Does anyone else see how strange that is? And then, my curiosity got the best of me and I knew that I wanted it. None of you, except my family or my friends, know this – but I am completely blind in my right eye. Yup, no bullshit. Blind, optometrist's signature and everything. So, when I saw this book, I knew that I had to have it. I can honestly tell you this, I am so honored to have gotten a copy of this book. It is one of the most beautiful, heartbreaking, and entertaining stories I have read so far this year. There are life lessons, witty commentaries, gut-wrenching moments that will tear you to pieces, and moments that will make you cry simply because they are so beautiful.
The One Thing explored blindness and physical disabilities (though I really don't want to call it that) in a very refreshing way. Though our main character is the stereotypical "reject what is happening until no longer an option" sort of girl, I still felt a very deep connection to this book and the characters within it – especially Maggie. How could I not?
Maggie Sanders is completely blind, as in both eyes and can't see squat. When The One Thing starts off, we are introduced to Maggie sitting in her probation officer's office. She is not the kind of girl to take anything sitting down, even being blind. She is still a firecracker, hence the prank that landed her with a probation officer. That same day, Maggie slips while leaving the office and then she can suddenly see again – but only for a short distance around a young boy named Ben. The story takes off from there and I won't get into it more – I really don't want to spoil it for you. Now, we have no idea as to why Maggie can see around Ben until the end of the novel, so that is one more thing I won't talk about.
Maggie herself is amazing. I couldn't help but to love her. I know, I am extremely biased because I understand what she is going through for the most part – but still. She doesn't take things lightly. Before she lost her eyesight, she was the star of the soccer team and had plans to go to the world finals. But, now all of that has been ripped from her. She is angry, she is broken on the inside, and she has no idea who or what to turn to – until she meets Ben. Maggie is an amazing narrator. Her voice was so real, so tough yet so vulnerable all at the same time. She knew that she was helpless, and yet she desperately tried to fight against it and remain independent. She also had this amazing sass and back talking skill, I swear, it was hilarious. One of my favorite parts of the book was when she explained how she ended up in the principal's office, you'll know it when you read it. Maggie has to be one of the most hilarious characters I've ever met. This girl could teach a class in sarcasm. If you like to be in someone's head who can spin one-liners and sass like no one's business, you'll want to read The One Thing for Maggie alone. I have to say, her relationship with Ben melted my heart into a little itsy bitty puddle. He was so freakin cute! Ben is only ten years old, and in no way the romantic love interest. He is just a young boy who becomes a central part in one of the cutest friendships I have ever seen. He is kind, caring, and thoughtful. Maggie misses the sky? After he finds out she can see around him, he takes her to the beach so she can watch the sunrise. How cute is that? Ben also had this adorably quirky personality. He loves reading encyclopedias, playing a game called Twenty One Stones, and he calls Maggie Thera instead of her real name because that is his favorite, badass heroine of all time. Then we also have Mason, Ben's older brother. Now, he is one character I was unsure of. I liked him, but I also sympathized with Maggie on her thinking he was an asshole. He thinks that Maggie was faking being blind and using Ben to get closer to him, which makes sense when considering that he is both the lead singer of her favorite band and that she can actually see around Ben. But, in the end he redeemed himself. I loved seeing him interact with Ben, it reminded me so much of my relationship with my younger brother – who is just about the same age.
I won't lie to you. This book will ask you to suspend your disbelief for a little bit. I don't know if it was meant to be paranormal or not, but the reason that Maggie can see around Ben takes this book outside of just regular Contemporary novels. It seemed a little bit too far out there for the rest of the book's tone, but it still worked. Don't get me wrong, it was heartbreaking and ultimately a very beautiful component to the story – I just felt as if we were being asked to believe a little bit too much.
This was such a wonderful book on so many different levels. It totally pulled me in from the very first page. Why could Maggie suddenly see again? Why was it only around Ben? Was he a hallucination? A ghost? (Which was my first thought after reading the summary of the book, but I was way wrong). Maggie's anger was beautifully handled, she was full of angst – but not disgustingly so. She had the right amount, you know? There was this perfect balance between her anger at the world, how sad and helpless she felt, and how much she actually wanted to get better. This book takes place fairly recently after she loses her sight, at least in my opinion, so I felt as if it was all more or less justified.
I am running out of words to say. This is one of those books that I loved so much I can't even find something I didn't like. I mean, Mason was kind of an asshat, but that's about it.
Overall, The One Thing is one of the most original ideas I have read yet this year. This book made me cry, made me laugh out loud in class (shh, no one is supposed to know I wasn't actually paying attention), it made me smile, and it made me feel so many different things that I felt sort of like Maggie in the end – so full of emotion that you just want to rip yourself apart and let it all fall out. If you buy one book this season, let it be this one. The One Thing has just become one of my favorite books of all time, and I am sure it will find its way into your heart as well.