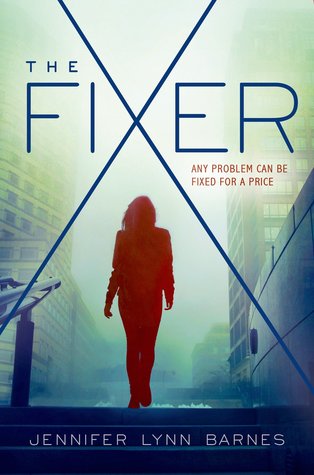 "What are we doing?" Asher helped himself to a seat at my table.
"We aren't doing anything," I told him bluntly.
"My mistake. I thought we were brooding in Henry's general direction. Like so." He adopted stormy countenance, then gestured to me. "Yours is better."
"Go away, Asher."
"You say go away, I hear be my bosom buddy." He gave an elaborate shrug. "Seriously, though: friendship bracelets—yea or nay?"
Title: The Fixer
Author: Jennifer Lynn Barnes
Series: The Fixer # 1
Publication: July 7, 2015 by Bloomsbury USA Childrens
Pages: 384
Source: Publisher at ALA
Summary:
Sixteen-year-old Tess Kendrick has spent her entire life on her grandfather's ranch. But when her estranged sister Ivy uproots her to D.C., Tess is thrown into a world that revolves around politics and power. She also starts at Hardwicke Academy, the D.C. school for the children of the rich and powerful, where she unwittingly becomes a fixer for the high school set, fixing teens' problems the way her sister fixes their parents' problems.
And when a conspiracy surfaces that involves the family member of one of Tess's classmates, love triangles and unbelievable family secrets come to light and life gets even more interesting—and complicated—for Tess.
My Thoughts:
I love Jennifer Lynn Barnes. I don't know when I first found Raised By Wolves, but I have loved her ever since. There are few authors out there that can hold the same power over me that she does. You know which power I am talking about? It's the "A new book? Here, take all my money!" sort of power. I could care less that this book has nothing to do with the world that I fell in love with, as long as Barnes' name is stamped on the cover, I shall call it mine and you will never pry it away from my cold, dead hands. I shouldn't have been surprised with how much I loved this book, if any of the above words were any indication. I started reading this, and I found myself completely immersed into this world of politics, fixing rich kids problems, and Washington D.C.
This book starts off in Montana, which I think is awesome considering that is where I go to school. I also think it is sort of funny that this series starts off in Montana, whereas Raised by Wolves ends in Montana. We learn from the start that Tess has a difficult relationship with her sister, Ivy. They stopped talking a couple of years ago, and then suddenly Ivy shows up at the ranch and yanks Tess off to DC and sends her grandfather off to a nursing home. So, you can imagine the hostility there. Tess goes from caring for the ranch and her grandfather to having to ask to go out to dinner. I will say this, though, Ivy had her faults – but she did try. Soon, as we know from the synopsis, Tess learns what her sister's time consuming job is by way of her classmates expecting the same from her. Her sister is what they like to call a "fixer". She is the kind of person that can make stuff disappear. Scandals, arrest records, DUI's – anything. I found the entire idea of a fixer to be interesting, I mean, have you ever wondered if people are out there that actually do that? There has to be, how else could every one in politics have such a "clean record"?
Now, as for the characters. Tess was amazing. As it is with all of Barnes' protagonists, she is brilliant – nothing short of being a genius – and also very practical. She, fitting into the mold Barnes places on her heroines, is smart – she thinks things through before doing them. I love that about her. I absolutely love having a smart protagonist that isn't completely ruled by her emotions. I mean, having a protagonist like that isn't bad, but I really enjoy the ones who can reason things through. Also, Tess is one tough cookie.She doesn't let her sister break her, she doesn't let the move break her – she has incredibly thick skin, at least until someone she loves is in danger. Tess has this amazing curiosity, she is relentless in the way she questions people and tries to think things through. If something doesn't work the first time, she keeps trying until it finally does.  Now, as is the norm with a Jennifer Lynn Barnes novel, our protagonist is only one spec in the cast of brilliance she creates. Each character is developed, multidimensional, and they all play a key part. There is no detail that doesn't matter. It was like that before in Raised By Wolves, and The Fixer continued on the tradition. I have to say, Asher could rival Devon when it comes to being a kick ass sidekick – but he holds no power over Chase and Bryn's chemistry, not yet at least.
There is one big thing I want to point out, there was no romance! I mean, sure, there was flirting and there is the possibility of romance in the future novels – but the plot had no dependency on a crush or a boy, and I loved it. All of Barnes' novels seem to be this way, the heroine is a strong, independent female that doesn't need a man to get things rolling. In fact, the romantic interest often ends up being some sort of downfall or hindrance to the main character and they realize it. None of her books have a guaranteed happily ever after, be it romance wise or just a happy ending in general.
Did I mention that I really love Jennifer Lynn Barnes and all of her work? Honestly, I cant even begin to describe why I love this book and all of her others so much. It is everything about them and all they contain. Each story, including this one, holds a special magic that I can never withstand. The Fixer was no exception. It was action packed, it was hilarious, it made me cry, it made me want my dad, it made me laugh, it made me wonder. What more can you ask for? Seriously guys, I could go on and on as to why I love this book, but there simply aren't that many words in the English language. Should I break out the Spanish? Este libro es un diamante entre mierda. How about some Welsh? Mae'r llyfr hwn yn diemwnt ymysg cachu. Are you guys getting it yet? Just know this, Barnes is an amazing story teller and that has not changed since her debut.