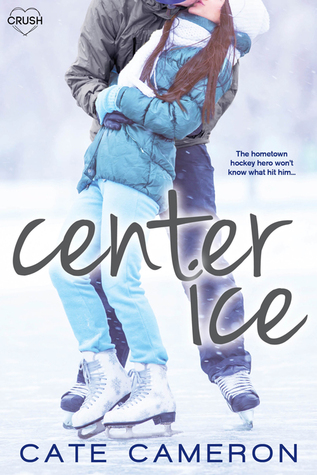 "So you need to make a choice. If you can be the right kind of girlfriend for Tyler? If you can be supportive, someone he comes to for fun and relaxation, someone who knows her place and her role?"
Title: Center Ice
Author: Cate Cameron
Series: Corrigan Falls Raiders # 1
Publication: May 19, 2015 by Entangled Teen
Pages: 196
Source: Netgalley
Summary:
The hometown hockey hero won't know what hit him…
Karen Webber is in small-town hell. After her mother's death, she moved to Corrigan Falls to live with strangers—her dad and his perfect, shiny new family—and there doesn't seem to be room for a city girl with a chip on her shoulder. The only person who makes her feel like a real human being is Tyler MacDonald.
But Karen isn't interested in starting something with a player. And that's all she keeps hearing about Tyler.
Corrigan Falls is a hockey town, and Tyler's the star player. But the viselike pressure from his father and his agent are sending him dangerously close to the edge. All people see is hockey—except Karen. Now they've managed to find something in each other that they both desperately need. And for the first time, Tyler is playing for keeps…
My Thoughts:
Entangled Teen is coming out with a new imprint called Crush, and as the name suggests, the books published through this imprint are very "romantic" reads. Center Ice, the first book I am reviewing from this new imprint, fits that description perfectly while simultaneously destroying my taste buds with its sugary sweetness. The book itself falls just a little short of two-hundred pages, so to me, it seemed very short – but that is just my personal preference. It was a pretty easy read, I flew through it like it was no one's business – which made it somewhat more enjoyable. I don't think I could have handled taking my time with the book, it was cheesy – some parts were better than others – but I felt like I was swimming in a vat of Velveeta. I could have made a grilled cheese out of it if I really wanted to – like, no cheese slices, just the book pages. One thing about this book is that I think it was trying too hard to follow in the footsteps of some well-known contemporary authors such as Sarah Dessen and Katie McGarry by trying to do something far more serious than the general romance genre would give us. Cate Cameron bravely tried and fought, but I think it fell short when compared to what she was trying to piggy back off of. Now, don't get me wrong, despite all of my commentary above, I did actually enjoy it. I just felt as if there was more telling than showing and that it tried too hard to be something it shouldn't have been.
When the book starts off, we learn that our female protagonist's – Karen – mother has recently died, which then forces her to be shipped off and live with the father she has never met, his clueless and bitchy wife, and their three children. One of which I want to bury six feet under and dance on her headstone. Needless to say, Karen's life is in complete shambles and she has no idea how she can possibly fix it. Then we also have Tyler, and to Karen, Tyler MacDonald seems to be the only thing that makes sense in her new whirlwind of a life. I have to say, I found their romance to move a little too quickly and that it sort of came out of nowhere – but I think that was due to the small size of the book. There really isn't much room to work with when trying to write a hard-hitting novel about love and teenagers in less than two-hundred pages. Tyler and Karen's romance was still sweet, sickeningly so, but sweet nonetheless.
There were some things that Cameron did exceptionally well, and I do have to give credit where credit is due. Despite the cheesy romance and the overreaching mechanics behind the plot, the teen characters in Center Ice were very realistic. None of them were perfect, they each had their own quirks and intricacies that seemed very true to a normal teen's life. She didn't hesitate to portray the characters as they actually were. There was no façade, no unrealistic hesitations, and no unrealistic modesty – and I found it to be quite refreshing.
Now, as strange as this is going to sound, I have seen this book before – a really long time ago on Wattpad. Personally, I think the influx of published books coming from that site is absolutely amazing. What clued me in was the team name, where it took place, and the general story line. I absolutely loved the original Wattpad version, and I was slightly disappointed when what I found was something completely different. I still liked the book, but the only similarities to the original was the team name and setting. I would have loved to see the original revamped instead of completely rewritten. Though, that being said, I have no idea if this is the same author writing under a pen name or a completely different person that saw the wonderful idea that was On Ice and rewrote it into this.
Once I got into it, I did enjoy this book more than I thought I was going to. The characters were amusing, the book was quick and easy, and it was perfect for just a quick sit down. Overall, this was a fun and extremely romantic read – exactly the intent of the new imprint. I would recommend taking a few hours out of your day to give this book a shot, especially if you are a hockey fan or you are just looking for a way to mindlessly kill time. I would say this book is for ages fourteen and up, there is some mild cursing and sexual innuendos – as well as the harder themes of infidelity and loss of a parent, but it wasn't too bad. Center Ice was fun, witty, and heartfelt and it will bring a smile to your face while also making you crave some mouthwash to get rid of the sweetness left behind.