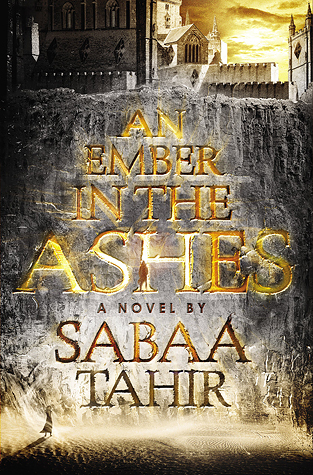 "The field of battle is my temple. The sword point is my priest. The dance of death is my prayer. The killing blow is my release."
Title: An Ember In The Ashes
Author: Sabaa Tahir
Series: An Ember In The Ashes # 1
Publication: April 28, 2015 by Razorbill
Pages: 446
Source: Bookshelf
Summary:
Laia is a slave.
Elias is a soldier.
Neither is free.
Under the Martial Empire, defiance is met with death. Those who do not vow their blood and bodies to the Emperor risk the execution of their loved ones and the destruction of all they hold dear.
It is in this brutal world, inspired by ancient Rome, that Laia lives with her grandparents and older brother. The family ekes out an existence in the Empire's impoverished backstreets. They do not challenge the Empire. They've seen what happens to those who do.
But when Laia's brother is arrested for treason, Laia is forced to make a decision. In exchange for help from rebels who promise to rescue her brother, she will risk her life to spy for them from within the Empire's greatest military academy.
There, Laia meets Elias, the school's finest soldier—and secretly, its most unwilling. Elias wants only to be free of the tyranny he's being trained to enforce. He and Laia will soon realize that their destinies are intertwined—and that their choices will change the fate of the Empire itself.
My Thoughts:
I have been waiting for this book for ages, not only is it dystopian, but the world it takes place in is modeled after Ancient Rome. After entering countless giveaways and contests, I finally got this little beauty into my greedy hands on Tuesday. I actually held off starting the book because I was so excited, how could I not be? It mixed two of my favorite types of books together and had a synopsis and cover that left me salivating. It was that feeling of fear, you know? The one where you are too afraid to start what you know will be a wonderful book because you don't want it to be over? This spurred from the fact that I had heard it ended on a huge cliffhanger and there was no word of a sequel, in fact, there are rumors it is going to be a standalone novel. Well, I finally started it – and then I devoured it.
This fast paced story is told from two perspectives: Elias and Laia. Elias is a Martial, but not only that, he is also a Mask. The Mask's train at the infamous Blackcliff academy and are taught millions of ways to maim and kill while their humanity is basically sucked out of them through various degrading and horrific tasks. The Masks are terrifying, let me tell you – even Elias. Elias' perspective was absolutely amazing to read, the way he thinks through his choices, the way he forces himself to choose and then torments himself with the guilt afterwards is absolutely heart wrenching. At first, I didn't know if I hated him or if I liked him, but he slowly dug a little tunnel into my heart and then refused to let go. By the end, I absolutely loved him. Laia is a Scholar, part of a race of people who were invaded and enslaved by the Martials years before the story began. When the book starts she is not a slave, but she also does not lived a cushioned life. She lives with her grandparents, called Nan and Pop, because her parents are dead – I won't talk about them, I don't want to spoil the book for those who haven't read it yet. When her home is raided by a Mask and a group of Legionaries, her brother is arrested for treason and she barely escapes with her life. She seeks the help of the Resistance to get him back, and as payment for their help Laia is forced to assume the position of slave and go to Blackcliff. She is forced to spy on the most dangerous person alive in this novel, the Commandant – who happens to be Elias' mother.
The world they live in is brutal, and it terrified me to read about it. The characters, besides the two main ones and a select few individuals, are horrible human beings. The Commandant is evil incarnate and a complete sociopath, even her own son hates her. She tortures people for the fun of it, maimed a five year old to punish someone else, and allows the students at Blackcliff to rape her slaves as long as it doesn't keep them from their duties. This book is full of torture, child abuse, the constant threat of rape, and a brutal attempted rape as well. But it works, it tears your heart out and makes you catch your breath. The stakes are higher, you feel the fear the character's feel because the world is so cruel. It's hard to not grind your teeth at the unfairness because you feel so powerless to stop it.
I enjoyed pretty much everything about this book. I liked the varied cast of characters and that Laia wasn't a typical badass heroine but a scared girl going against her every instinct to save her brother. She is no Rose Hathaway, Tris, or Katniss Everdeen – but she holds her own in a way relatable to every girl out there without some special fighting skill or super power. I loved the use of prophecies and the way Elias has to try and understand what they mean in order to do the right thing. I loved the Augurs – a bunch of hooded holy men who claim to deliver prophecies. They reminded me of the Silent Brothers from Cassandra Clare's Mortal Instruments. I love how you never know what the hell is actually going on until it is too late. I love the suspense, the anger and frustration it made me feel – everything. I can't even find anything to be nitpicky about while writing this review it was just that good. The writing was flawless, certain statements thought provoking, and the setting as vivid and terrifying as your worst nightmares yet beautiful at the same time.
If I had to choose one thing to sort of nag about, it was how there was sort of a love square. Not like the love square in The Host, this was between the two main characters and then two secondary characters from each respective point of view. It didn't bother me because of the way it played into the story, both love triangles are significant enough to the plot that it was just another part of the story. The romance is not a driving force behind any of this book, so that made it tolerable. The story was so much more than choosing between two hot, drool-worthy guys. Each choice, each action, and every mistake had a cost that I would be terrified to pay. There were far bigger things at stake here, this wasn't some book about picking between two guys or two girls – it was a brutal tale of surviving, no matter what it takes to do so.
An Ember in the Ashes made me angry. No, not angry – furious. I raged. I panicked. I hated. But I loved every single second of it. You know those rare books that make your heart pound and your breath shallow? Those books that the very thought of picking up to read makes you break out in goosebumps and want to faint from excitement? Those book where they take you so far out of your world and what you are used to that you have to remind yourself it isn't real? For me, this was one of those books. Sabaa Tahir does not write like a debut author at all. Her writing is graceful and she takes the time to connect the characters with the readers, her descriptions are beautiful and the action scenes are powerful and aesthetically pleasing. An Ember in the Ashes was achingly beautiful despite the ending, which – with no clear word of a sequel – enraged me even more. I would recommend being fifteen, if not older, to read this book. Because of the violence, sexual assault, murders, and other sensitive topics – I don't think this book is a good read for anyone under the age of fifteen. It has some hard hitting subjects in it, but that was the point. I can't wait to see what happens next, that is, if we get to see what happens next.