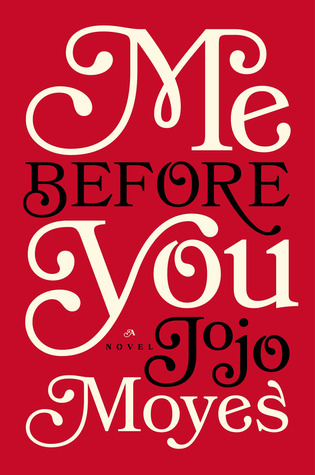 "Some mistakes… Just have greater consequences than others. But you don't have to let the result of one mistake be the thing that defines you. You, Clark, have the choice not to let that happen."
Title: Me Before You
Author: Jojo Moyes
Series: Me Before You # 1
Publication: December 31st 2012 by Pamela Dorman Books/Viking
Pages: 409
Source: Purchased
Summary from Goodreads:
Lou Clark knows lots of things. She knows how many footsteps there are between the bus stop and home. She knows she likes working in The Buttered Bun tea shop and she knows she might not love her boyfriend Patrick.
What Lou doesn't know is she's about to lose her job or that knowing what's coming is what keeps her sane.
Will Traynor knows his motorcycle accident took away his desire to live. He knows everything feels very small and rather joyless now and he knows exactly how he's going to put a stop to that.
What Will doesn't know is that Lou is about to burst into his world in a riot of colour. And neither of them knows they're going to change the other for all time.
---
My Thoughts:
Although I adored Me Before You, it also illustrates the dangers of an over-hyped book. All I have heard for the past few months is how Me Before You is a sob story, a heart-breaking and gut-wrenching love story about a quirky young woman and a man who has lost his will to live after a terrible accident. And while the novel delivered on the quirkiness of Lou and the dreadfull Will, I found it to be sorely lacking in the romance and sobbing department. Well, there is one part where I cried – but it's not what you're thinking. I cried when Lou went back to the maze for the first time, and that was it.
See, the problem here is a simple one: the book is marketed as a romance but, in reality, that is not what it is at all. The romance is miniscule and barely there. The first inklings of it don't appear until near the very end. I did not like Me Before You because it was a heart-felt romance. Nor did I like it because it handles the delicate topic of assisted suicide with poise and grace. No, I fell in love with Me Before You for one very singular reason – Louisa Clark.