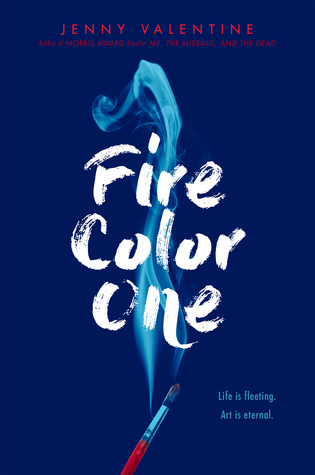 "Haven't you worked it out yet?" Margot asked him.
"What?"
"Life's big secret. If a thing's not dangerous, it's hardly worth doing."
Title: Fire Color One
Author: Jenny Valentine
Series: Standalone
Publication: January 31st 2017 by Philomel Books
Pages: 240
Source: Publisher in exchange for a honest review
Summary from Goodreads:
Sixteen-year-old Iris itches constantly for the strike of a match. But when she's caught setting one too many fires, she's whisked away to London before she can get arrested—at least that's the story her mother tells. Mounting debt actually drove them out of LA, and it's greed that brings them to a home Iris doesn't recognize, where her millionaire father—a man she's never met—lives. Though not for much longer.
Iris's father is dying, and her mother is determined to claim his life's fortune, including his priceless art collection. Forced to live with him as part of an exploitive scheme, Iris soon realizes her father is far different than the man she's been schooled to hate, and everything she thought she knew—about her father and herself—is suddenly unclear. There may be hidden beauty in Iris's uncertain past, and future, if only she can see beyond the flames.
---
My Thoughts:
Sometimes an impact can be made in a short amount of space. Like poetry, Fire Color One uses its small size to pack each page full of imagery and deeper meaning. It might be a short, quick read – but it leaves a lasting impact. Fire Color One stays with you, lingering like the crisp aftertaste of a ripe apple or the scent of turpentine after painting a masterpiece. This book is art celebrating other art. It's fresh, beautiful, and full of meaning. Fire Color Once is a magically brief glimpse into something more than normal.