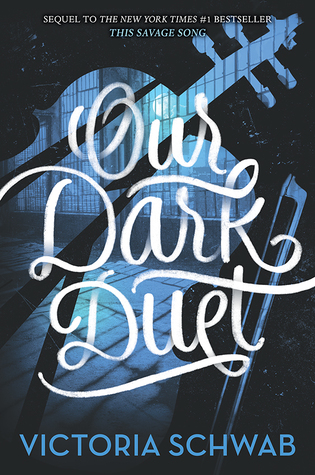 People were messy. They were defined not only by what they'd done, but by what they would have done, under different circumstances, molded as much by their regrets as their actions, choices they stood by and those they wished they could undo. Of course, there was no going back – time only moved forward – but people could change. 
Title: Our Dark Duet
Author: Victoria Schwab
Series: Monsters of Verity # 2
Publication: June 13th 2017 by Greenwillow Books
Pages: 510
Source: Library
Summary from Goodreads:
THE WORLD IS BREAKING. AND SO ARE THEY.
KATE HARKER isn't afraid of monsters. She hunts them. And she's good at it.
AUGUST FLYNN once yearned to be human. He has a part to play. And he will play it, no matter the cost.
THE WAR HAS BEGUN.
THE MONSTERS ARE WINNING.
Kate will have to return to Verity. August will have to let her back in. And a new monster is waiting—one that feeds on chaos and brings out its victims' inner demons.
Which will be harder to conquer: the monsters they face, or the monsters within?
---
All The Feels:
My gosh. I adored This Savage Song. I loved it, loved it, loved it. It was brilliant, thoughtful, and heart pounding. I've been waiting for a year to get my hands on the sequel and conclusion to the duology, Our Dark Duet.  Damn was it worth it.