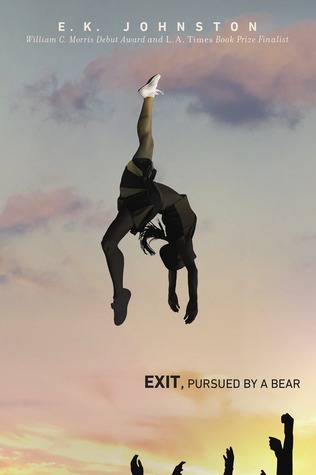 "You're okay with asking a nice girl who was wearing a pretty dress and had nice hair, who went to the dance with her cabin mates, who drank from the same punch bowl as everyone else – you're okay with asking that girl what mistake she made, and you wouldn't think to ask a boy how he would avoid raping someone?"
Title: Exit, Pursued by a Bear
Author: E.K Johnston
Series: Standalone
Publication:  March 15th 2016 by Dutton Books for Young Readers
Pages: 248
Source: Library
Summary from Goodreads:
Hermione Winters is captain of her cheerleading team, and in tiny Palermo Heights, this doesn't mean what you think it means. At PHHS, the cheerleaders don't cheer for the sports teams; they are the sports team—the pride and joy of a tiny town. The team's summer training camp is Hermione's last and marks the beginning of the end of…she's not sure what. She does know this season could make her a legend. But during a camp party, someone slips something in her drink. And it all goes black.
In every class, there's a star cheerleader and a pariah pregnant girl. They're never supposed to be the same person. Hermione struggles to regain the control she's always had and faces a wrenching decision about how to move on. The assault wasn't the beginning of Hermione Winter's story and she's not going to let it be the end. She won't be anyone's cautionary tale.
---
My Thoughts:
I have a lot of feelings about this book. Not only was Exit, Pursued by a Bear more than I was expecting, it was also everything I hoped it would be. It was powerful, poignant, and it brought a viewpoint on sexual assault that I've never seen in a book before. Exit, Pursued by a Bear is a hard book to read, and I had to get up on multiple occasions and walk away simply because I felt too much. This is a book I will never forget.
"Of course, if I were dead, they could just bury me, and move on. Broken is harder to deal with."