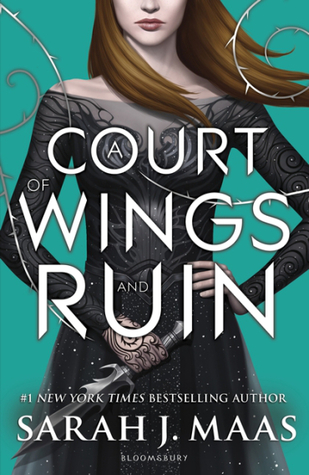 "Remember that you are a wolf. And you cannot be caged."
Title: A Court of Wings and Ruin
Author: Sarah J. Maas
Series: ACOTAR #3
Publication: May 2nd 2017 by Bloomsbury Childrens Books
Pages: 699
Source: Purchased
Summary from Goodreads:
Feyre has returned to the Spring Court, determined to gather information on Tamlin's maneuverings and the invading king threatening to bring Prythian to its knees. But to do so she must play a deadly game of deceit-and one slip may spell doom not only for Feyre, but for her world as well.
As war bears down upon them all, Feyre must decide who to trust amongst the dazzling and lethal High Lords-and hunt for allies in unexpected places.
In this thrilling third book in the #1 New York Times bestselling series from Sarah J. Maas, the earth will be painted red as mighty armies grapple for power over the one thing that could destroy them all.
---
All the Feels:
It's taken me almost a full month and two full rereads of A Court of Wings and Ruin before I could even fathom the idea of sitting down to write this. It's always hard saying goodbye to a book series that you love, even though this one isn't really goodbye to Prythian but only goodbye to Feyre and Rhys. This series, from ACOTAR and ACOMAF, has created a whole new feeling of home. The series has pulled me up, made me smile, made me rage. The ACOTAR series has been there through the ups and downs, through my younger brother's football games when I was stuck for hours, and even through finals week. I was terrified to start reading A Court of Wings and Ruin. I had it preordered, and I was laying in bed May 1, just waiting. It was like Christmas morning when midnight hit – it took all my self restraint to save it for the morning. Reading it on my Kindle that Tuesday was like walking through the doors of a dream reality. I couldn't believe it was real.