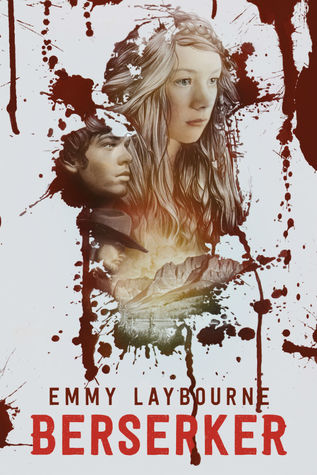 Title: Berserker
Author: Emmy Laybourne
Series: Berserker # 1
Publication: October 10th 2017 by Feiwel & Friends
Pages: 288
Source: Netgalley
Summary from Goodreads:
Are Hanne's powers a gift from the old Norse gods, or a curse?
Her brother Stieg swears their powers are a gift from the old gods, but Hanne Hemstad knows she is truly cursed. It's not Stieg's fault that their father is dead, their mother has left, and their brother Knut has been accused of a crime he didn't commit.
No, the fault lies with Hanne and her inability to control her murderous "gift"–she is a Berserker. When someone she loves is threatened, she flies into a killing state. The siblings must leave Norway for the American frontier or risk being brought to justice.
Aided by a young cowboy who agrees to be their guide, Hanne and her siblings use their powers to survive the perilous trail, where blizzards, wild animals, and vicious bounty hunters await.
Will they be able to reach their uncle, the one man Hanne believes may be able to teach her how to control her drive to kill? With Berserker, Emmy Laybourne, the author of Monument 14, presents her vision of an American west studded with Viking glory.
---
My Thoughts:
I had a hard time wrapping my head around Berserker. This is one of those books where I wanted to fall head-over-heels in love with it, but I ended up being so confused at points that it tore me out of the reading experience. I had a hard time coming to terms with the historical fiction meets fantasy because it was so… strange seeing them melded together in this way. Now, don't get me wrong, I enjoyed the book – I just don't think I got all that I needed to from it, and that's sad.