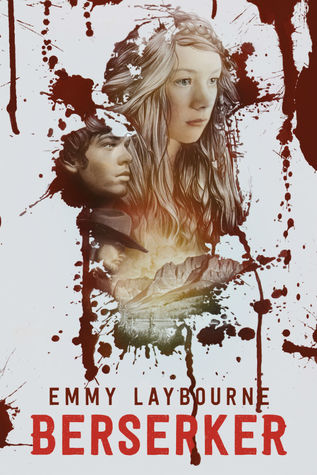 Title: Berserker
Author: Emmy Laybourne
Series: Berserker # 1
Publication: October 10th 2017 by Feiwel & Friends
Pages: 288
Source: Netgalley
Summary from Goodreads:
Are Hanne's powers a gift from the old Norse gods, or a curse?
Her brother Stieg swears their powers are a gift from the old gods, but Hanne Hemstad knows she is truly cursed. It's not Stieg's fault that their father is dead, their mother has left, and their brother Knut has been accused of a crime he didn't commit.
No, the fault lies with Hanne and her inability to control her murderous "gift"–she is a Berserker. When someone she loves is threatened, she flies into a killing state. The siblings must leave Norway for the American frontier or risk being brought to justice.
Aided by a young cowboy who agrees to be their guide, Hanne and her siblings use their powers to survive the perilous trail, where blizzards, wild animals, and vicious bounty hunters await.
Will they be able to reach their uncle, the one man Hanne believes may be able to teach her how to control her drive to kill? With Berserker, Emmy Laybourne, the author of Monument 14, presents her vision of an American west studded with Viking glory.
---
My Thoughts:
I had a hard time wrapping my head around Berserker. This is one of those books where I wanted to fall head-over-heels in love with it, but I ended up being so confused at points that it tore me out of the reading experience. I had a hard time coming to terms with the historical fiction meets fantasy because it was so… strange seeing them melded together in this way. Now, don't get me wrong, I enjoyed the book – I just don't think I got all that I needed to from it, and that's sad.
Berserker focuses on Hanne, a farm-girl with special powers gifted to her from the Norse gods. I loved this part of the book.  I think, beyond Owen and his dog Daisy, the whole mythology behind these special gifts was the most interesting part of the book. It is these gifts and the mythology, however, that gave me pause when combined with the historical portrayal of the West. For some reason, the two simply did not mix in my mind – it was like trying to eat applesauce or something after brushing your teeth.
Another issue I had was the pacing. The plot was great, its delivery speed was more like choosing two day shipping for Amazon check out and instead not getting your package till a month later. The set up is sudden, readers are thrown right into Hanne using her gift to help butcher a pig… but then, it sinks into a lull. Stuff happens, but the slow unpacking of information about Hanne gift and the other gifts like it weigh the book down. Once they meet Owen, my precious dog owning cowboy, it picks up. Honestly, Owen and Daisy pretty much make the entire book worth it.
One thing Berserker does well is its characters. While the constant self-depreciating monologue from both Hanne and Owen was a bit much, the characters themselves were well thought out and portrayed. These guys aren't one-trick ponies, and I can honestly say that I look forward to seeing more of them in the coming series.
Overall, Berserker sucked me in with the promise of an "Old Norse Gods" based fantasy, but ultimately the combination of said fantasy and the Old West simply didn't sit right. I really wanted to like it, and I did enjoy it, but it was all a bit… much? Berserker is a book of too much but also not enough. There wasn't enough depth to anything but the characters, and, for a plot driven book, it did not end well.