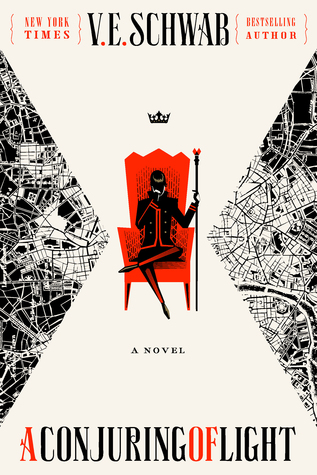 "Love and loss," he said, "are like a ship and the sea. They rise together. The more we love, the more we have to lose. But the only way to avoid loss is to avoid love. And what a sad world that would be."
Title: A Conjuring of Light
Author: V.E Schwab
Series: Shades of Magic # 3
Publication: February 21st 2017 by Tor Books
Pages: 624
Source: Library
Summary from Goodreads:
THE BALANCE OF POWER HAS FINALLY TIPPED…
The precarious equilibrium among four Londons has reached its breaking point. Once brimming with the red vivacity of magic, darkness casts a shadow over the Maresh Empire, leaving a space for another London to rise.
WHO WILL CRUMBLE?
Kell – once assumed to be the last surviving Antari – begins to waver under the pressure of competing loyalties. And in the wake of tragedy, can Arnes survive?
WHO WILL RISE?
Lila Bard, once a commonplace – but never common – thief, has survived and flourished through a series of magical trials. But now she must learn to control the magic, before it bleeds her dry. Meanwhile, the disgraced Captain Alucard Emery of the Night Spire collects his crew, attempting a race against time to acquire the impossible.
WHO WILL TAKE CONTROL?
And an ancient enemy returns to claim a crown while a fallen hero tries to save a world in decay.
---
Basically Me By the End:

This series has been a whirlwind of adventure, and I wouldn't trade it for the world. I fell in love with Kell and Lila and all my precious murder babies. I was happy for them, I cried, I screamed, and I laughed. It's nearly impossible for me to explain the emotional journey that this series is; and there is no possible way for me to say goodbye. These books will stay with you, and rightfully so. I can't believe I took so long to get into these books, and – boy – am I glad I did now. Read these, that's all I have to say.
---