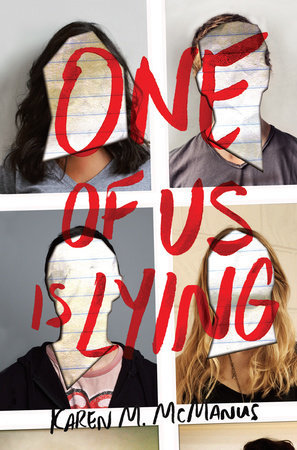 I put my other hand in the air. "Bronwyn Rojas, I solemnly swear not to murder you today or at any point in the future. Deal?"

"You're ridiculous," she mutters, going even redder.

"It concerns me you're avoiding a promise not to murder me."
Title: One of Us is Lying
Author: Karen McManus
Series: Standalone
Publication: May 30th 2017 by Delacorte Press
Pages: 368
Source: Netgalley
Summary from Goodreads:
Pay close attention and you might solve this.
On Monday afternoon, five students at Bayview High walk into detention.
Bronwyn, the brain, is Yale-bound and never breaks a rule.
Addy, the beauty, is the picture-perfect homecoming princess.
Nate, the criminal, is already on probation for dealing.
Cooper, the athlete, is the all-star baseball pitcher.
And Simon, the outcast, is the creator of Bayview High s notorious gossip app.
Only, Simon never makes it out of that classroom. Before the end of detention Simon's dead. And according to investigators, his death wasn t an accident. On Monday, he died. But on Tuesday, he d planned to post juicy reveals about all four of his high-profile classmates, which makes all four of them suspects in his murder. Or are they the perfect patsies for a killer who s still on the loose?
Everyone has secrets, right? What really matters is how far you would go to protect them.
---
A Listical of Thoughts:
New tagline: detention has never been so deadly. (No, seriously)
WHAT! I want to punch that teacher, I really, really do.
You know what they say about assuming guys, come on. Make an ass out of you and me, etc.
I quite like what I see about stereotypes not being stereotypes so far. Blondie is smart, Jock is not the jock at all, bad boy isn't actually a jerk. Right on.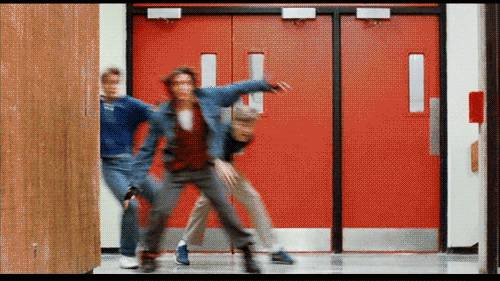 The different perspectives take a bit to get used to, it's a few chapters before it cycles back around – BUT IT'S SO INTERESTING. Everyone has different opinions, ideas, and theories about what happened. Everyone saw different things and remembers varying details. Great commentary on perspectives.
I find myself pleasantly surprised by the depth of the characters and their personalities as a whole.
The social media aspect is awesome. A lot of contemporary novels seem to forget that Twitter and Instagram and Snapchat, all those goodies, are actually a thing and a means of communication. Seeing it implemented is both terrifying and wonderful.
Cooper needs a hug. He needs lots of hugs and a lot of love. He's precious.
I saw the reveal coming, but it was still sort of surprising to have it confirmed? I was constantly going "No…. that can't be right? Can it?" You question yourself, you question the characters, and then BAM!
This book is so much more than a mystery novel, I didn't expect that from this. It covers some hard-hitting issues.
Basically me after reading this: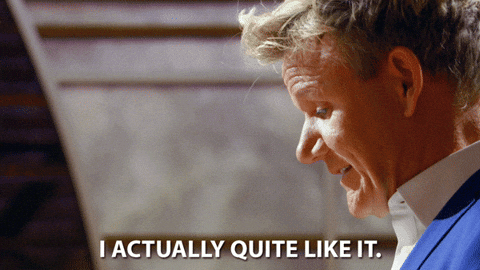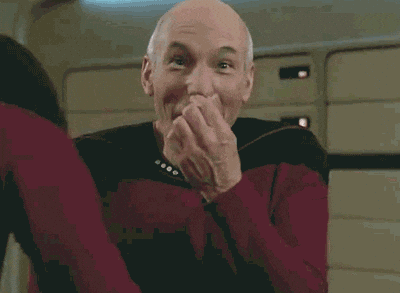 ---