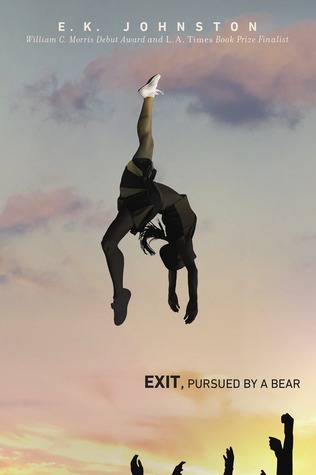 "You're okay with asking a nice girl who was wearing a pretty dress and had nice hair, who went to the dance with her cabin mates, who drank from the same punch bowl as everyone else – you're okay with asking that girl what mistake she made, and you wouldn't think to ask a boy how he would avoid raping someone?"
Title: Exit, Pursued by a Bear
Author: E.K Johnston
Series: Standalone
Publication:  March 15th 2016 by Dutton Books for Young Readers
Pages: 248
Source: Library
Summary from Goodreads:
Hermione Winters is captain of her cheerleading team, and in tiny Palermo Heights, this doesn't mean what you think it means. At PHHS, the cheerleaders don't cheer for the sports teams; they are the sports team—the pride and joy of a tiny town. The team's summer training camp is Hermione's last and marks the beginning of the end of…she's not sure what. She does know this season could make her a legend. But during a camp party, someone slips something in her drink. And it all goes black.
In every class, there's a star cheerleader and a pariah pregnant girl. They're never supposed to be the same person. Hermione struggles to regain the control she's always had and faces a wrenching decision about how to move on. The assault wasn't the beginning of Hermione Winter's story and she's not going to let it be the end. She won't be anyone's cautionary tale.
---
My Thoughts:
I have a lot of feelings about this book. Not only was Exit, Pursued by a Bear more than I was expecting, it was also everything I hoped it would be. It was powerful, poignant, and it brought a viewpoint on sexual assault that I've never seen in a book before. Exit, Pursued by a Bear is a hard book to read, and I had to get up on multiple occasions and walk away simply because I felt too much. This is a book I will never forget.
"Of course, if I were dead, they could just bury me, and move on. Broken is harder to deal with."
Exit, Pursued by a Bear is different in the fact that, rather than the protagonist being consumed by her rape, Hermione doesn't remember a thing about what happened to her and she feels as if it happened to someone else. I think this was one of the most powerful aspects of the book. I've read a lot of stories featuring sexual assault because it is a topic I am very, very invested in – but this book? This book did something I have never seen before. Hermione is living day by day, one step at  a time – she knows what happened to her, but she doesn't remember it. She describes it to herself like it happened to a close friend. Hermoine's journey was profound. Not only did she have to acknowledged what happened to her as something that had happened to her, she had to try and learn how to heal without knowing what she needed to heal from. Her internal narrative ripped my heart to shreds. She felt like she should have been acting a certain way, like she should have been acting like what she thought a rape victim would be – but she was simply herself. There is no one way to react to being raped. There is no single way to heal. That is why this book is so, so important.
"I didn't used to overthink my choices quite so much. Then someone made what I've always been told is a very important choice for me, and now I tend to overthink everything else."
I think people forget that, sometimes. In the media, we see a lot of what we think a rape victim should act like. For once, with this book, we get a girl just trying to be a girl. She has moments, she breaks down and is struggling – but she doesn't feel as if those break downs and struggles belong to her because her trauma isn't good enough. It was this mixed mentality of "some other girls have had it worse, so I'm not that special." and her not truly knowing what happened to her. There is a difference between being told what was done to your body, and knowing what was done to you. She was drugged, she doesn't even remember leaving to find a trash can.
The second most powerful part of this book was the friendship. The friendship between Hermione and Polly… just, wow. I needed a friendship like that. It has been far too long since I have seen two women stand up for each other, and truly be friends without an ulterior motive or hidden animosity in a book. Hermione needed Polly, and Polly was there – simple as that. Their friendship might just be the strongest part of this book, beyond everything else. It is so important to see a friendship that young women can aspire to, to see a book portraying two cheerleaders as nothing other than best friends, sisters. I can't even explain it, at least I don't think I can. Read this book, cherish it. Frame it.
"If you think I'm going to apologize for being drugged and raped, you have another thing coming."
Exit, Pursued by a Bear was a hard book to read, but I am so glad I took the time to read it. I cannot tell you anything else, because there is nothing left to say. You need to find a way to read this, to share it with your daughters and friends. Exit, Pursued by a Bear is a powerful force to be reckoned with.
---