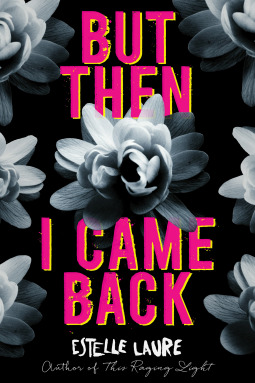 "We do have to rescue ourselves in the end, no matter how much we learn to lean on other people."
Title: But Then I Came Back
Author: Estelle Laure
Series: Companion to This Raging Light, can be read as a standalone
Publication:  April 4th 2017 by Houghton Mifflin Harcourt Books for Young Readers
Pages: 288
Source: Netgalley
Summary from Goodreads:
Eden: As far as coma patients go, Eden's lucky. She woke up. But still, she can't shake the feeling that she might have dragged something back from the near-afterlife.
Joe: Joe visits the hospital every day, hoping that Jaz, his lifelong friend, will wake up. More than anything, he wants to hear her voice again. But he's not sure anyone can reach her.
Eden & Joe: Even though she knows it sounds crazy, Eden tells Joe that they might be able to talk to Jaz. Opening themselves up to the great unknown—and each other—Eden and Joe experience life: mysterious and scary, beautiful and bright.
---
My Thoughts:
I read This Raging Light back in December of 2015, yet I still remember the vividness of the emotions that book dragged from my body. Estelle Laure is a master of crafting heartbreaking, hopeful, and utterly destroying contemporary novels – and But Then I Came Back is no different. But Then I Came Back is unique, charming, and surprisingly profound.
Eden fell, hit her head, and was in a comma for a month. Eden wakes up, but she hasn't entirely shaken her experiences while unconscious. Eden's path to recovery is so much more than just physical. It's more than learning how to walk and eat and talk like she did before – she is trying to remember how to live a life that continued without her. More than that, Eden must remember the things that matter the most – who she is, who she has become, and who she wants to be. Eden's journey is breathtakingly emotional. Her struggle is thought provoking and emotional. Her battle to rejoin the world she left behind, to rejoin the living and to rejoin her family, brought tears to my eyes and hope to my heart.
I loved Eden as a character. She was strong, humorous, yet also surprisingly profound in her words and thoughts. She is determined and focused and trying to navigate just what it means to be herself. I found her journey to be inspiring for many reasons. She didn't give up, she did her best not to forget that it was more than her, and she never forgot the people around her. Perhaps what I liked the most about Eden was how internalized her battle was. There was no greater obstacle than herself, and watching her overcome her own ideas about her limitations was inspiring beyond words.
But Then I Came Back shines with perseverance, self-discovery, and choice. It is about choosing to find yourself even when you think you are lost. This book will make you cry, laugh and rage against that dying light. It's bittersweet and wonderful and definitely worth the read if you have the time or if you loved This Raging Light as much as I did.
---