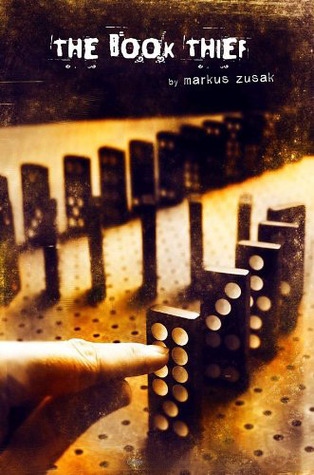 "I have hated words and I have loved them, and I hope I have made them right."
Title: The Book Thief
Author: Markus Zusak
Series: Standalone
Publication: March 14th 2006 by Knopf Books for Young Readers
Pages: 552
Source: Library
Summary from Goodreads:
It's just a small story really, about among other things: a girl, some words, an accordionist, some fanatical Germans, a Jewish fist-fighter, and quite a lot of thievery. . . .
Set during World War II in Germany, Markus Zusak's groundbreaking new novel is the story of Liesel Meminger, a foster girl living outside of Munich. Liesel scratches out a meager existence for herself by stealing when she encounters something she can't resist–books. With the help of her accordion-playing foster father, she learns to read and shares her stolen books with her neighbors during bombing raids as well as with the Jewish man hidden in her basement before he is marched to Dachau.
This is an unforgettable story about the ability of books to feed the soul.
---
Thoughts I'm Still Processing:
The writing is so unfathomably beautiful. It's like honesty, sarcasm, and lyricism had a love child and it grew up to be its own masterpiece.
IT'S NARRATED BY DEATH! How awesome is that? I mean, it's terrible and it hurts sometimes but it's so beautiful and poignant. It's unexpected.
I cried a lot. Not only is the book just very emotional, THE ENDING! I won't spoil it. Not like Death does, he spoils everything – literally and figuratively, mind you.
Characters are ridiculously real. I didn't expect the level of depth this book carried. Both the subject matter and the development of the characters was so mature, but it also clung true to that predominant voice that makes Young Adult Literature so special.
It's the Holocaust and World War Two through the perspective of death watching a child… which is appropriately creepy, I think? The part I loved the most about this book, besides the writing, was Liesel's discovery and understanding of the persecution of the Jewish and the start of the war. Her innocence was captured perfectly, but there was also so much more there that authors often forget to show in their children protagonists.
Death is like an angsty teenager sometimes and it shouldn't be funny but it really is.
Annnnd…. I don't know what else to say because this book is amazing and you should read it, yes?
---