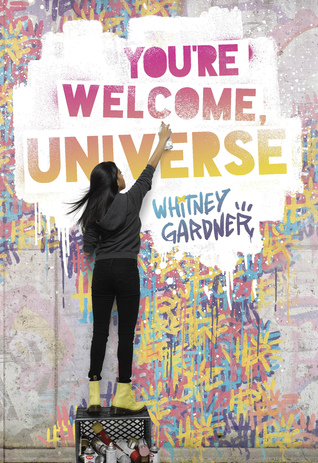 "My old art teacher told me I draw like a man. I've never forgiven him. I don't draw like anything, I draw like everything. I draw like me."
Title: You're Welcome, Universe
Author: Whitney Gardner
Series: Standalone
Publication:  March 7th 2017 by Knopf
Pages: 304
Source: Netgalley
Summary from Goodreads:
When Julia finds a slur about her best friend scrawled across the back of the Kingston School for the Deaf, she covers it up with a beautiful (albeit illegal) graffiti mural.
Her supposed best friend snitches, the principal expels her, and her two mothers set Julia up with a one-way ticket to a "mainstream" school in the suburbs, where she's treated like an outcast as the only deaf student. The last thing she has left is her art, and not even Banksy himself could convince her to give that up.
Out in the 'burbs, Julia paints anywhere she can, eager to claim some turf of her own. But Julia soon learns that she might not be the only vandal in town. Someone is adding to her tags, making them better, showing off—and showing Julia up in the process. She expected her art might get painted over by cops. But she never imagined getting dragged into a full-blown graffiti war.
Told with wit and grit by debut author Whitney Gardner, who also provides gorgeous interior illustrations of Julia's graffiti tags, You're Welcome, Universe introduces audiences to a one-of-a-kind protagonist who is unabashedly herself no matter what life throws in her way.
---
Things I loved:
Inclusion of the artwork throughout. It tells its own story.
Deaf culture.
All of the things in this book were handled in a way in which they were highlighted, but not the billboard. Julia was Deaf, she has two moms, and she is Indian. But that's just her, there was no big point trying to be made about all those things – it was amazing.
FRIENDSHIP! This book is about friendship, and I am oh so happy. No romance. None whatsoever. YAY!
Name signs! and other signs! and a sketchbook dictionary of signs!
Characters are not perfect. Nope. I actually disliked Julia for a lot of the book.  I don't think she made good choices and I think used things that happened to her as an excuse to be a bitch. But I totally love her at the same time, because she owns it? REAL PEOPLE ALERT. No one is ever just one thing.
First time I've ever read a book from someone who is Deaf's POV. Communication was so difficult to understand, it felt so raw and real to read.
Real friendships. Nothing was sugarcoated. Even the closest of friends want to rip each other's hair out sometimes, and a lot of book either forget that or use it as an excuse to make enemies. None of that here.
Julia's moms. Their appearances in the book are hands down some of the best parenting I've ever seen – unfairness and all. Undeniably realistic.
Did I already mention the friendship? Cause I could go on and on about how much I love it.
YOGA PANTS.
The Not-So-Liked:
Donovan and Kyle
The R-Word. I wanted to do lots of violent things. Never acceptable.
Overall: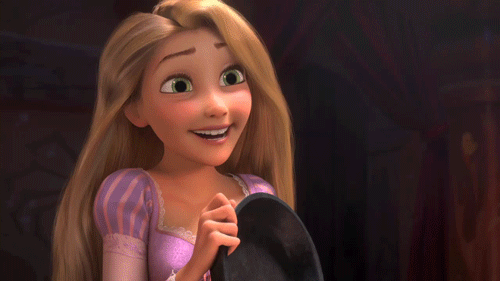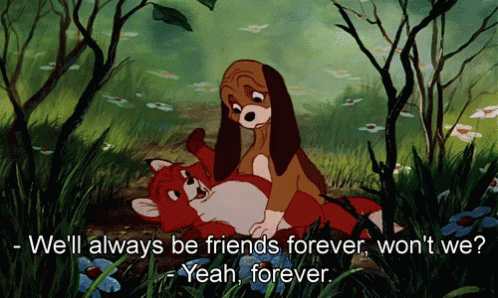 ---