It's been too long since I've done one of these. Who else is ready for ALL THE BOOKS!
Books are amazing, unique packages of magic and every month there is a whole slew of new additions to the fold. Here are some of my most anticipated books coming out this upcoming month.
You're Welcome, Universe by Whitney Gardner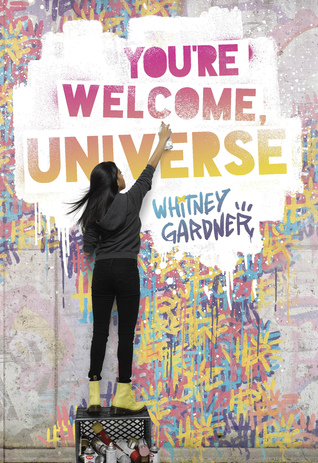 Summary from Goodreads:
When Julia finds a slur about her best friend scrawled across the back of the Kingston School for the Deaf, she covers it up with a beautiful (albeit illegal) graffiti mural.
Her supposed best friend snitches, the principal expels her, and her two mothers set Julia up with a one-way ticket to a "mainstream" school in the suburbs, where she's treated like an outcast as the only deaf student. The last thing she has left is her art, and not even Banksy himself could convince her to give that up.
Out in the 'burbs, Julia paints anywhere she can, eager to claim some turf of her own. But Julia soon learns that she might not be the only vandal in town. Someone is adding to her tags, making them better, showing off—and showing Julia up in the process. She expected her art might get painted over by cops. But she never imagined getting dragged into a full-blown graffiti war.
Told with wit and grit by debut author Whitney Gardner, who also provides gorgeous interior illustrations of Julia's graffiti tags, You're Welcome, Universe introduces audiences to a one-of-a-kind protagonist who is unabashedly herself no matter what life throws in her way.
March 7th 2017 by Knopf
Traitor to the Throne by Alwyn Hamilton
Summary from Goodreads:
Mere months ago, gunslinger Amani al'Hiza fled her dead-end hometown on the back of a mythical horse with the mysterious foreigner Jin, seeking only her own freedom. Now she's fighting to liberate the entire desert nation of Miraji from a bloodthirsty sultan who slew his own father to capture the throne.
When Amani finds herself thrust into the epicenter of the regime—the Sultan's palace—she's determined to bring the tyrant down. Desperate to uncover the Sultan's secrets by spying on his court, she tries to forget that Jin disappeared just as she was getting closest to him, and that she's a prisoner of the enemy. But the longer she remains, the more she questions whether the Sultan is really the villain she's been told he is, and who's the real traitor to her sun-bleached, magic-filled homeland.
Forget everything you thought you knew about Miraji, about the rebellion, about djinni and Jin and the Blue-Eyed Bandit. In Traitor to the Throne, the only certainty is that everything will change.
March 7th 2017 by Viking Books for Young Readers
Seven Days of You by Cecilia Vinesse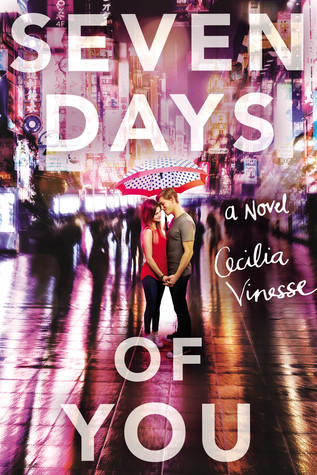 Summary from Goodreads:
Sophia has seven days left in Tokyo before she moves back to the States. Seven days to say good-bye to the electric city, her wild best friend, and the boy she's harbored a semi-secret crush on for years. Seven perfect days…until Jamie Foster-Collins moves back to Japan and ruins everything.
Jamie and Sophia have a history of heartbreak, and the last thing Sophia wants is for him to steal her leaving thunder with his stupid arriving thunder. Yet as the week counts down, the relationships she thought were stable begin to explode around her. And Jamie is the one who helps her pick up the pieces. Sophia is forced to admit she may have misjudged Jamie, but can their seven short days of Tokyo adventures end in anything but good-bye?
March 7th 2017 by Little, Brown Books for Young Readers
The Inexplicable Logic of My Life by Benjamin Alire Sáenz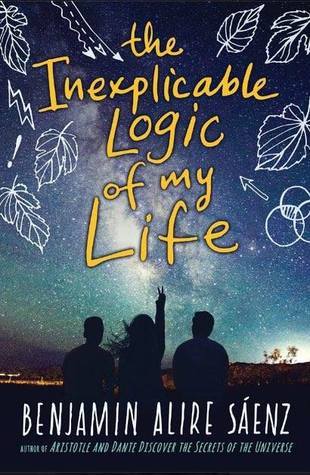 Summary from Goodreads:
From the multi-award-winning author of Aristotle and Dante Discover the Secrets of the Universe comes a gorgeous new story about love, identity, and families lost and found.
Sal used to know his place with his adoptive gay father, their loving Mexican-American family, and his best friend, Samantha. But it's senior year, and suddenly Sal is throwing punches, questioning everything, and realizing he no longer knows himself. If Sal's not who he thought he was, who is he?
This humor-infused, warmly humane look at universal questions of belonging is a triumph.
March 7th 2017 by Clarion Books
Goodbye Days by Jeff Zentner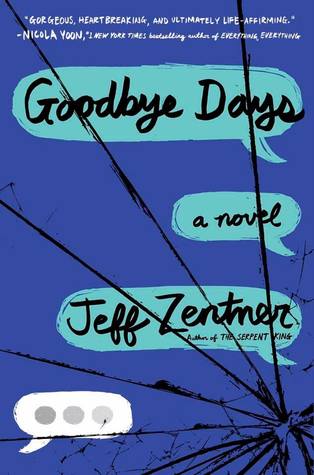 Summary from Goodreads:
Can a text message destroy your life?
Carver Briggs never thought a simple text would cause a fatal crash, killing his three best friends, Mars, Eli, and Blake. Now Carver can't stop blaming himself for the accident and even worse, there could be a criminal investigation into the deaths.
Then Blake's grandmother asks Carver to remember her grandson with a 'goodbye day' together. Carver has his misgivings, but he starts to help the families of his lost friends grieve with their own memorial days, along with Eli's bereaved girlfriend Jesmyn. But not everyone is willing to forgive. Carver's own despair and guilt threatens to pull him under into panic and anxiety as he faces punishment for his terrible mistake. Can the goodbye days really help?
March 7th 2017 by Crown Books for Young Readers
Hunted by Meagan Spooner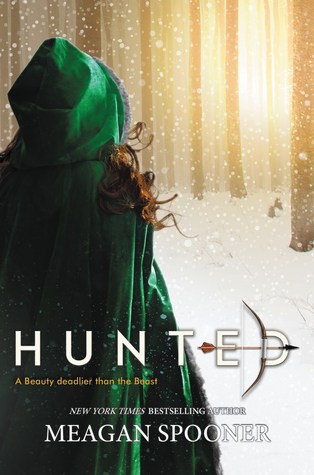 Summary from Goodreads:
Beauty knows the Beast's forest in her bones—and in her blood. Though she grew up with the city's highest aristocrats, far from her father's old lodge, she knows that the forest holds secrets and that her father is the only hunter who's ever come close to discovering them.
So when her father loses his fortune and moves Yeva and her sisters back to the outskirts of town, Yeva is secretly relieved. Out in the wilderness, there's no pressure to make idle chatter with vapid baronessas…or to submit to marrying a wealthy gentleman. But Yeva's father's misfortune may have cost him his mind, and when he goes missing in the woods, Yeva sets her sights on one prey: the creature he'd been obsessively tracking just before his disappearance.
Deaf to her sisters' protests, Yeva hunts this strange Beast back into his own territory—a cursed valley, a ruined castle, and a world of creatures that Yeva's only heard about in fairy tales. A world that can bring her ruin or salvation. Who will survive: the Beauty, or the Beast?
March 14th 2017 by HarperTeen
Queens of Geek by Jen Wilde
Summary from Goodreads:
When BFFs Charlie, Taylor and Jamie go to SupaCon, they know it's going to be a blast. What they don't expect is for it to change their lives forever.
Charlie likes to stand out. SupaCon is her chance to show fans she's over her public breakup with co-star, Jason Ryan. When Alyssa Huntington arrives as a surprise guest, it seems Charlie's long-time crush on her isn't as one-sided as she thought.
While Charlie dodges questions about her personal life, Taylor starts asking questions about her own.
Taylor likes to blend in. Her brain is wired differently, making her fear change. And there's one thing in her life she knows will never change: her friendship with Jamie—no matter how much she may secretly want it to. But when she hears about the Queen Firestone SupaFan Contest, she starts to rethink her rules on playing it safe.
March 14th 2017 by Swoon Reads
The Hidden Memory of Objects by Danielle Mages Amato
Summary from Goodreads:
Megan Brown's brother, Tyler, is dead, but the cops are killing him all over again. They say he died of a drug overdose, potentially suicide—something Megan cannot accept. Determined to figure out what happened in the months before Tyler's death, Megan turns to the things he left behind. After all, she understands the stories objects can tell—at fifteen, she is a gifted collage artist with a flair for creating found-object pieces. However, she now realizes that her artistic talent has developed into something more: she can see memories attached to some of Tyler's belongings—and those memories reveal a brother she never knew.
Enlisting the help of an artifact detective who shares her ability and specializes in murderabilia—objects tainted by violence or the deaths of their owners—Megan finds herself drawn into a world of painful personal and national memories. Along with a trusted classmate and her brother's charming friend, she chases down the troubling truth about Tyler across Washington, DC, while reclaiming her own stifled identity with a vengeance.
March 21st 2017 by Balzer + Bray
Nemesis by Brendan Reichs
Summary from Goodreads:
It's been happening since Min was eight. Every two years, on her birthday, a strange man finds her and murders her in cold blood. But hours later, she wakes up in a clearing just outside her tiny Idaho hometown—alone, unhurt, and with all evidence of the horrifying crime erased.
Across the valley, Noah just wants to be like everyone else. But he's not. Nightmares of murder and death plague him, though he does his best to hide the signs. But when the world around him begins to spiral toward panic and destruction, Noah discovers that people have been lying to him his whole life. Everything changes in an eye blink.
For the planet has a bigger problem. The Anvil, an enormous asteroid threatening all life on Earth, leaves little room for two troubled teens. Yet on her sixteenth birthday, as she cowers in her bedroom, hoping not to die for the fifth time, Min has had enough. She vows to discover what is happening in Fire Lake and uncovers a lifetime of lies: a vast conspiracy involving the sixty-four students of her sophomore class, one that may be even more sinister than the murders.
March 21st 2017 by G.P. Putnam's Sons Books for Young
Strange the Dreamer by Laini Taylor
Summary from Goodreads:
The dream chooses the dreamer, not the other way around— and Lazlo Strange, war orphan and junior librarian, has always feared that his dream chose poorly. Since he was five years old he's been obsessed with the mythic lost city of Weep, but it would take someone bolder than he to cross half the world in search of it. Then a stunning opportunity presents itself, in the person of a hero called the Godslayer and a band of legendary warriors, and he has to seize his chance to lose his dream forever.
What happened in Weep two hundred years ago to cut it off from the rest of the world? What exactly did the Godslayer slay that went by the name of god? And what is the mysterious problem he now seeks help in solving?
The answers await in Weep, but so do more mysteries—including the blue-skinned goddess who appears in Lazlo's dreams. How did he dream her before he knew she existed? and if all the gods are dead, why does she seem so real?
In this sweeping and breathtaking new novel by National Book Award finalist Laini Taylor, author of the New York Times bestselling Daughter of Smoke & Bone trilogy, the shadow of the past is as real as the ghosts who haunt the citadel of murdered gods. Fall into a mythical world of dread and wonder, moths and nightmares, love and carnage.
March 28th 2017 by Little, Brown Books for Young Readers
Blood Rose Rebellion by Rosalyn Eves
Summary from Goodreads:
Sixteen-year-old Anna Arden is barred from society by a defect of blood. Though her family is part of the Luminate, powerful users of magic, she is Barren, unable to perform the simplest spells. Anna would do anything to belong. But her fate takes another course when, after inadvertently breaking her sister's debutante spell—an important chance for a highborn young woman to show her prowess with magic—Anna finds herself exiled to her family's once powerful but now crumbling native Hungary.
Her life might well be over.
In Hungary, Anna discovers that nothing is quite as it seems. Not the people around her, from her aloof cousin Noémi to the fierce and handsome Romani Gábor. Not the society she's known all her life, for discontent with the Luminate is sweeping the land. And not her lack of magic. Isolated from the only world she cares about, Anna still can't seem to stop herself from breaking spells.
As rebellion spreads across the region, Anna's unique ability becomes the catalyst everyone is seeking. In the company of nobles, revolutionaries, and Romanies, Anna must choose: deny her unique power and cling to the life she's always wanted, or embrace her ability and change that world forever.
March 28th 2017 by Knopf Books for Young Readers
100 Hours by Rachel Vincent
Summary from Goodreads:
A decadent spring break getaway on an exotic beach becomes a terrifying survival story when six Miami teens are kidnapped and ransomed.
Maddie is beyond done with her cousin Genesis's entitled and shallow entourage. Genesis is so over Miami's predictable social scene with its velvet ropes, petty power plays, and backstabbing boyfriends.
While Maddie craves family time for spring break, Genesis seeks novelty—like a last-minute getaway to an untouched beach in Colombia. And when Genesis wants something, it happens.
But paradise has its price. Dragged from their tents under the cover of dark, Genesis, Maddie, and their friends are kidnapped and held for ransom deep inside the jungle—with no diva left behind. It all feels so random to everyone except Genesis. She knows they were targeted for a reason. And that reason is her.
Now, as the hours count down, only one thing's for certain: If the Miami hostages can't set aside their personal problems, no one will make it out alive.
March 28th 2017 by Katherine Tegen Books
Things I Should Have Known by Claire LaZebnik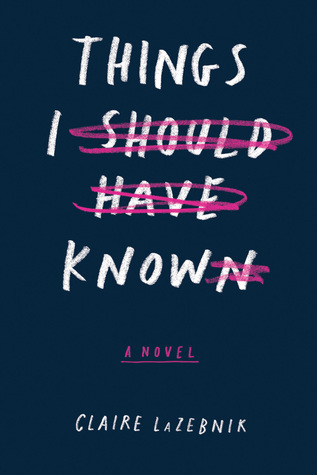 Summary from Goodreads:
From the author of Epic Fail comes the story of Chloe Mitchell, a Los Angeles girl on a quest to find love for her autistic sister, Ivy. Ethan, from Ivy's class, seems like the perfect match. It's unfortunate that his older brother, David, is one of Chloe's least favorite people, but Chloe can deal, especially when she realizes that David is just as devoted to Ethan as she is to Ivy.
Uncommonly honest and refreshingly funny, this is a story about sisterhood, autism, and first love. Chloe, Ivy, David, and Ethan, who form a quirky and lovable circle, will steal readers' hearts and remind us all that it's okay to be a different kind of normal.
March 28th 2017 by HMH Books for Young Readers
---
What are some of your most anticipated releases for this month?