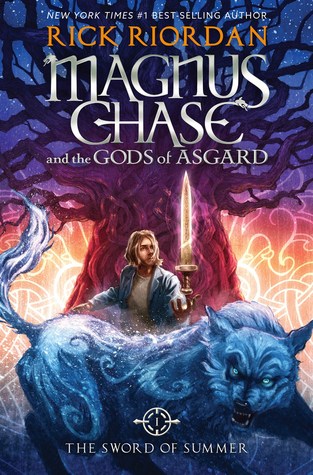 "…even if we can't change the big picture, our choices can alter the details. That's how we rebel against destiny"
Title: The Sword of Summer
Author: Rick Riordan
Series: Magnus Chase and the Gods of Asgard
Publication: October 6th 2015 by Disney – Hyperion Books
Pages: 499
Source: Purchased
Summary from Goodreads:
Magnus Chase has always been a troubled kid. Since his mother's mysterious death, he's lived alone on the streets of Boston, surviving by his wits, keeping one step ahead of the police and the truant officers.
One day, he's tracked down by a man he's never met—a man his mother claimed was dangerous. The man tells him an impossible secret: Magnus is the son of a Norse god.
The Viking myths are true. The gods of Asgard are preparing for war. Trolls, giants and worse monsters are stirring for doomsday. To prevent Ragnarok, Magnus must search the Nine Worlds for a weapon that has been lost for thousands of years.
When an attack by fire giants forces him to choose between his own safety and the lives of hundreds of innocents, Magnus makes a fatal decision.
Sometimes, the only way to start a new life is to die
---
My Thoughts:
The Sword of Summer, the first book in Rick Riordan's new series Magnus Chase and the Gods of Asgard, is a complex novel that illustrates the difficulties of believing in oneself through a highly imaginative voice. Furthermore, there are a multitude of diverse themes such as racism, poverty, and disability. In addition, there are larger themes of acceptance, friendship, family, and fighting for what you believe in rather than what people tell you is right. Magnus' journey from homeless in Boston to esteemed einherji in Valhalla was an inspiring tale of bravery, sacrifice, and pushing the boundaries of destiny.
Riordan's young adult characters are self aware, witty, and believable. While Magnus and Sam might have some special powers, they are ultimately human in a way that makes them more than relatable.They struggle, they fail, they end up in epic failure clips on the Valkyrie Vision or Valhalla YouTube. Paired with the narrative voice, the content of the book itself speaks to the readers as a story of redemption and bravery. Magnus is dead certain he will fail because destiny wills it so – but he is determined and steadfast in his view of his friends. He will not let them down. Hearth, Blitz, and Sam have sacrificed so much that Magnus refused to give up on them because they would never turn their backs on him. Riordan treats his readers with respect. It is clear he believes in our intelligence, emotions, and opinions as those of actual human beings rather than a typical teen. There is a care to his words that creates a level of understanding between the reader, the characters, and the narrative in a way that highlights individuality in a time when that fight matters most.
The characters are the ones primarily responsible for that. It is almost impossible to not see yourself in one, if not all, of the characters Riordan presents. They come from a variety of backgrounds, have different struggles and thoughts, they all have different goals – yet, they're a family. Magnus Chase has grown up for the last two years on the street and on the run after his mother was murdered. Samirah al-Abbas is a Muslim female trying to balance high school, tutoring, and moonlighting as a Valkyrie. She not only has to deal with the racism in her everyday life, but she is also constantly discriminated against because she is a daughter of Loki. Then we have Blitzen, a dwarf who doesn't want to craft in metal but in cloth. His idea of crafting isn't recognized by the dwarves, and he has endured years of ridicule for his desire to participate in fashion rather than building. Finally, we have Hearthstone, an elf who is deaf. Hearthstone's parents despised him for his deafness, for being imperfect, and he had to work his way through life on his own. There are copious threads in this wild tapestry, threads that at least one person can match their own colors to.
Teens and adults alike would benefit from reading The Sword of Summer because it is so diverse and unexpected. It is an eye-opening experience for all involved. The Sword of Summer reaches beyond the surface and delves deeply into believing in oneself and in the bond of friends and family. It highlights differences and similarities between a wide range of characters and supernatural beings; leaving one to wonder just what makes being different in our society a bad thing if differences are celebrated across Nine Worlds.