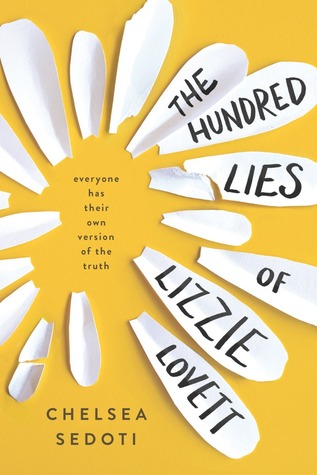 "Cities let you blend in. There are so many people that it doesn't matter if you're weird or if no one likes you, because there's probably someone even worse off. And if you're really lucky, you might even meet people who are weird in the exact same way you are and feel like you've finally found a place where you fit in."
Title: The Hundred Lies of Lizzie Lovett
Author: Chelsea Sedoti
Series: Standalone
Publication:  January 3rd 2017 by Sourcebooks
Pages: 398
Source: Netgalley
Summary from Goodreads:
A teenage misfit named Hawthorn Creely inserts herself in the investigation of missing person Lizzie Lovett, who disappeared mysteriously while camping with her boyfriend. Hawthorn doesn't mean to interfere, but she has a pretty crazy theory about what happened to Lizzie. In order to prove it, she decides to immerse herself in Lizzie's life. That includes taking her job… and her boyfriend. It's a huge risk — but it's just what Hawthorn needs to find her own place in the world.
---
My Thoughts:
The Hundred Lies of Lizzie Lovett is a book that can only be described like an itch you can't quite get rid of. You can scratch at it, feel momentary relief and pleasure, and then you go right back to having your skin crawling. The Hundred Lies of Lizzie Lovett suffers from a mixture of uninteresting plot points and characters, plot holes, a dreadfully slow pace, and a cringe worthy attempt at romance. The one redeeming factor was that Hawthorn, our protagonist, had just enough kick to keep things floating at the surface rather than drowning entirely.
Hawthorn's voice is very authentic. She seems real – a normal girl just trying to escape her own reality by focusing on someone else's problems. I've been there, done that, got the tee shirt. Hawthorn takes responsibility for finding a local missing girl, Lizzie Lovett. However, the further we delve into the story, the more confusing and convoluted the clues become. Hawthorn was interesting, albeit a bit bratty at points, but I wouldn't lift a pinky finger in agreement with caring about Lizzie Lovett. I found the plot to be bordering on ridiculous. Hawthorn's sheer unwillingness to give up saved this book for me. I felt as if I couldn't give up on it because she refused to give up on Lizzie, and that my quitting would be cheating her somehow. Does that make sense?
As I said, the plot was pretty bizarre.  Lizzie magically disappears, everyone blames boyfriend, Hawthorn randomly takes interest without ever having known anyone involved. Hawthorn sort of runs with it, too. Her theories are wild and completely unbelievable, which only adds to the overall sense of uncertainty that runs rampant in the book. Things don't add up, clues are missing, and Hawthorn is a borderline stalker more so than an investigator.
I think The Hundred Lies of Lizzie Lovett doesn't know what kind of book it wants to be. It has elements of a mystery (duh, with the whole who-dun-it plot), elements of romance, and just enough spice to be a comedy – there are even paranormal elements. The Hundred Lies of Lizzie Lovett took a bite that was just a bit too big to chew and swallow. There is too much going on and not enough focus on the things that matter. The Hundred Lies of Lizzie Lovett was a case of mistaken identity, and it's not one I'm going to try and solve.