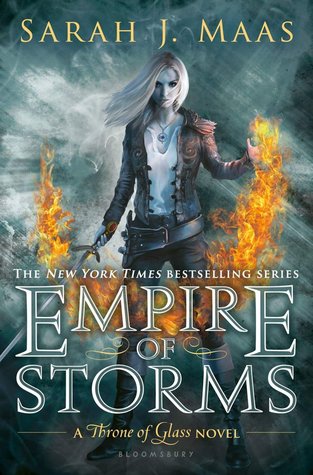 Aelin Galathynius, Queen of Terrasen, knew the time would soon come to prove just how much she'd bleed for Erilea.
Title: Empire of Storms
Author: Sarah J. Maas
Series: Throne of Glass # 5
Publication: September 6th 2016 by Bloomsbury USA Childrens
Pages: 693
Source: Purchased
Summary from Goodreads:
The long path to the throne has only just begun for Aelin Galathynius. Loyalties have been broken and bought, friends have been lost and gained, and those who possess magic find themselves at odds with those don't.
As the kingdoms of Erilea fracture around her, enemies must become allies if Aelin is to keep those she loves from falling to the dark forces poised to claim her world. With war looming on all horizons, the only chance for salvation lies in a desperate quest that may mark the end of everything Aelin holds dear.
Aelin's journey from assassin to queen has entranced millions across the globe, and this fifth installment will leave fans breathless. Will Aelin succeed in keeping her world from splintering, or will it all come crashing down?
---
Sooooo…. that just happened. You know you've just finished a Sarah J. Maas book when you find yourself at a loss for words. I am speechless, uncontrollably emotional, and a complete wreck. She has done it once again, folks. Maas is the wondrous, evil queen of ripping out all of your feels and dancing on their ashes. I don't know what else to tell you, nor do I want to dive into details and spoil everything. Trust me when I say this: Empire of Storms is the type of book you survive, barely, by hanging onto any shred of hope left within the pages of the masterpiece. e
Aelin is at it again – master plans, schemes, and sheer badassery run rampant through the pages of this book. Aelin and her Court are desperately fighting to reclaim their homeland despite every obstacle thrown in their way.  Aelin, Rowan, Aedion, Lysandra and other new strays along the way come together to fight for what is right, for the kingdom, and for Erilea – and boy do they take us for one hell of a ride.
One of my favorite things in Sarah's books, and it has been consistent so far, is the individual growth each character experiences in the book. Things change, people change, and events unfold in ways that will simultaneously tear you to shreds and rebuild the remnants.  There are journeys of love, of self discovery, of history and fate. The scale and undertakings of each and every novel have never ceased to amaze me, and Empire of Storms is no different. There isn't much to say beyond my telling you to mentally prepare yourself to the full extent possible (and even then you won't be ready).
Empire of Storms was everything I didn't know I needed. There were plenty of laughs, plenty of holy shit moments, and plenty of everything else. It was sugar, spice, and everything nice – sort of. Empire of Storms was a whirlwind of adventure, feels, and hilarious characters I have come to know and love. What a beautiful addition to my favorite series.
---