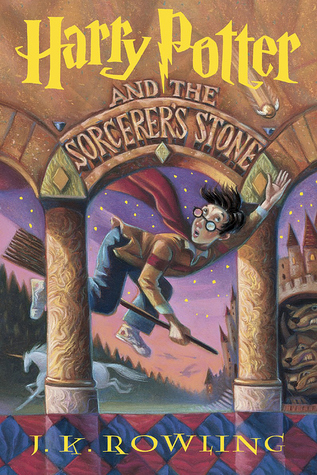 "The truth." Dumbledore sighed. "It is a beautiful and terrible thing, and should therefore be treated with great caution."
Title: Harry Potter and the Sorcerer's Stone
Author: J.K Rowling
Series: Harry Potter # 1
Publication:  June 26th 1997 by Arthur A. Levine Books
Pages: 320
Source: Library
Summary from Goodreads:
Harry Potter's life is miserable. His parents are dead and he's stuck with his heartless relatives, who force him to live in a tiny closet under the stairs. But his fortune changes when he receives a letter that tells him the truth about himself: he's a wizard. A mysterious visitor rescues him from his relatives and takes him to his new home, Hogwarts School of Witchcraft and Wizardry.
After a lifetime of bottling up his magical powers, Harry finally feels like a normal kid. But even within the Wizarding community, he is special. He is the boy who lived: the only person to have ever survived a killing curse inflicted by the evil Lord Voldemort, who launched a brutal takeover of the Wizarding world, only to vanish after failing to kill Harry.
Though Harry's first year at Hogwarts is the best of his life, not everything is perfect. There is a dangerous secret object hidden within the castle walls, and Harry believes it's his responsibility to prevent it from falling into evil hands. But doing so will bring him into contact with forces more terrifying than he ever could have imagined.
Full of sympathetic characters, wildly imaginative situations, and countless exciting details, the first installment in the series assembles an unforgettable magical world and sets the stage for many high-stakes adventures to come.
---
My Thoughts:
Boy am I behind on the Harry Potter bandwagon. I remember reading a few of them when they were first coming out, I think I was five or six when I started – and then they sort of got away from me. For years, I've had people yelling at me to "just read the books already!" Personally, I hadn't started because I feared I was now too old. I was afraid I wouldn't be able to get into the mindset necessary to truly enjoy and understand some of the finer workings of the novel. I am ten years older than the protagonist, see the difficulty? However, I can honestly tell you I was wrong. Maybe when I first started I felt my opinion was justified on the simplicity, but then I found myself falling more and more in love with everything that was happening as the pages kept flying through my fingers.
Everyone who has been clamoring for me to read this series can thank my younger brother for finally pushing me to do it. My family came and visited for Thanksgiving last week, and lo and behold, my little brother was reading a book – a very special book at that. I don't think I've ever been as proud as seeing him read and get excited about things in a book (it goes against everything in his nature to do so). So, I decided to read the books with him — sort of, because I read much faster than he does. (Also, he'll probably never see this, but I want to thank him for being so awesome).
Anyways, back to the subject at hand: Harry Potter. The story pulled me in even though I already know it like the back of my hand. I did read the first book when I was younger, and I've seen the first two films millions of times. However, reading Harry Potter and the Sorcerer's Stone was a new experience entirely (Yes, yes, I know. Books are always better than the movies. Shh.) For once, I finally felt this deep connection I had been lacking – and all of a sudden, I realized what I had been missing all these years and it finally clicked. It was like coming home and smelling fresh baked cupcakes or something.
Contrary to most people, I didn't identify with Harry. I mean, I guess I sort of did. But, honestly, I clung tightly to Ron and Hermione (mostly my favorite little know it all). Ron and Hermione are my favorite underdogs of the bunch. I have always been that kid, you know? The one who liked to sit in the corner and read. The one who knew too much. The one who wasn't cool. The teacher's pet. I could go on. Surprisingly, there aren't a lot of characters like her – at least not that I know of. Seeing her was refreshing, it was like I finally found myself (though I wish I were a witch like her). Hermione made the book for me. Honestly, I love all of the characters. Seeing them grow, even just the little bit in this part of the series, was fantastic and a wonderful journey.
In addition, one of my main reasons I think I fell head over heels was the sheer wonder of the world J.K Rowling has created. I've never read anything like it in my life. Some books have come close to creating this type of magical escape, but Rowling is the Queen of the hill. Everything is so layered and complex, and we as readers can pick up on things Harry cannot at his age. The beauty is subtle, and sometimes not so much, but it is beauty all the same. I have no idea how Rowling came up with all of this amazing stuff, but it is truly magical.
Harry Potter and the Sorcerer's Stone is the type of book to completely transport you somewhere new. It's the book to run to when you want to escape, when you want to laugh, when you want to see the good in the world triumph over evil. It is excellently written and absolutely sublime. There will never be anything like Harry Potter in this lifetime, of that I am certain.
---