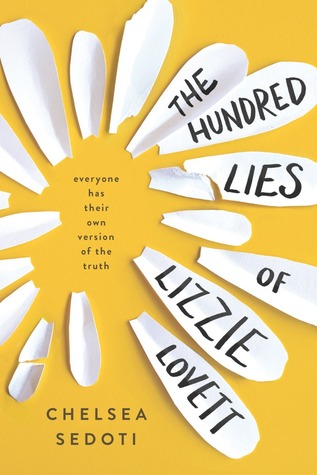 "Cities let you blend in. There are so many people that it doesn't matter if you're weird or if no one likes you, because there's probably someone even worse off. And if you're really lucky, you might even meet people who are weird in the exact same way you are and feel like you've finally found a place where you fit in."
Title: The Hundred Lies of Lizzie Lovett
Author: Chelsea Sedoti
Series: Standalone
Publication:  January 3rd 2017 by Sourcebooks
Pages: 398
Source: Netgalley
Summary from Goodreads:
A teenage misfit named Hawthorn Creely inserts herself in the investigation of missing person Lizzie Lovett, who disappeared mysteriously while camping with her boyfriend. Hawthorn doesn't mean to interfere, but she has a pretty crazy theory about what happened to Lizzie. In order to prove it, she decides to immerse herself in Lizzie's life. That includes taking her job… and her boyfriend. It's a huge risk — but it's just what Hawthorn needs to find her own place in the world.
---
My Thoughts:
The Hundred Lies of Lizzie Lovett is a book that can only be described like an itch you can't quite get rid of. You can scratch at it, feel momentary relief and pleasure, and then you go right back to having your skin crawling. The Hundred Lies of Lizzie Lovett suffers from a mixture of uninteresting plot points and characters, plot holes, a dreadfully slow pace, and a cringe worthy attempt at romance. The one redeeming factor was that Hawthorn, our protagonist, had just enough kick to keep things floating at the surface rather than drowning entirely.