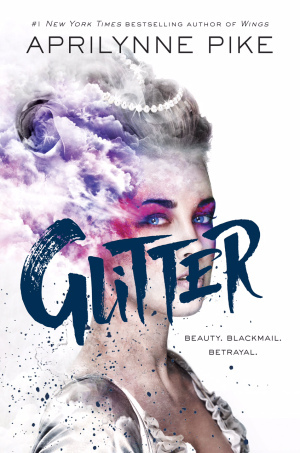 On Wednesdays I'm now required to enter the grand assembly in the Hall of Mirrors on his arm like a glowing trophy. Not the kind of trophy one wins for completing a challenge, the kind one stuffs and hangs on the wall after killing it.
Title: Glitter
Author: Aprilynne Pike
Series: Standalone
Publication: October 25th 2016 by Random House Books for Young Readers
Pages: 384
Source: Netgalley
Summary from Goodreads:
---
My Thoughts:
My gosh. My head is spinning so quickly I cannot begin to fathom what to say. Perhaps "Glitter… a novel that sparkles and shines much in the same way as its namesake". Or maybe "Glitter the high stakes fairy tale that is made from the glimmering dust of nightmares." You get the idea. Glitter is the type of book that just builds, and builds, and builds itself up so high on the most unstable foundation in existence. It is the epitome of anxiety inducing bliss, as it were. High stakes, indeed.