I'm not screaming, you're screaming. Actually, we're all screaming.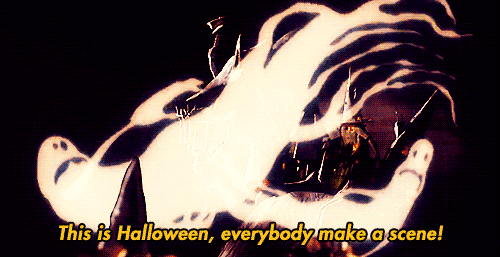 IT'S OWLCRATE TIME!
In case you don't know what the glorious OwlCrate is, it's just like Fandom of the Month only.. better? I don't know, I love them both. OwlCrate gives you a new release in the Young Adult world and a bunch of bookish stuff centered around a specific theme. It's a subscription box that is worth every little penny – count on that. (You guys can sign up here)
The theme for October was Once Upon a Dream, which was perfect because it's so not Halloween. Once Upon a Dream brings to mind princesses, fairy tales, and Disney… which can be pretty darn scary (especially those silly little demon things from Sleeping Beauty *shudders*)
Isn't it amazing? We've got a castle, a pirate ship, the spindle wheel and a teensy weensy blue fairy, not to mention the yellow brick road and Dorothy wearing some sort of badass overalls. I love, love, love this month's theme – and I haven't even gotten to the good stuff yet.
The first little goodies I pulled out were this bracelet and small pin. LOOK AT THE BRACELET! Can't you tell I'm screaming? This is like my childhood fit into a perfect little circlet paired with sparkly doodads. YAY!
Up next, feast your eyes on my favorite piece of the whole box (besides the book).
It's a Peter Pan beanie. A. PETER.PAN.BEANIE. I am so dead. I screamed, yes I did – and I'm not ashamed to admit it. I love Peter Pan, I really do. So yeah, I died and went to heaven and now you'll never pry this thing away from me – not even from my cold, dead hands.
Following that masterpiece came a cute little notebook. I'm really grateful for all these cute little notebooks they keep giving us, cause I use them constantly. Random idea pops into my head? Oh, lookie here, I have a cute ass notebook and feather pen to write it in. Boom.
Yes, it is pretty, isn't it?
Then I pulled out the coolest little bookmark ever. It's like a paperclip! But cuter, so much cuter. I cannot wait to use it in my books. I've got quite the bookmark collection now, and I wouldn't have it any other way. I'm halfway to my goal of giving them out to stop the horribleness of dog-earring pages. *cringes* Not today, page folders, not today.
It's book time! I have to say, I am super duper excited. Seriously. I'm so excited to read this! I've heard amazing things about Vassa in the Night and I am so happy I got my hands on a copy.
Summary from Goodreads:
In the enchanted kingdom of Brooklyn, the fashionable people put on cute shoes, go to parties in warehouses, drink on rooftops at sunset, and tell themselves they've arrived. A whole lot of Brooklyn is like that now—but not Vassa's working-class neighborhood.
In Vassa's neighborhood, where she lives with her stepmother and bickering stepsisters, one might stumble onto magic, but stumbling out again could become an issue. Babs Yagg, the owner of the local convenience store, has a policy of beheading shoplifters—and sometimes innocent shoppers as well. So when Vassa's stepsister sends her out for light bulbs in the middle of night, she knows it could easily become a suicide mission.
But Vassa has a bit of luck hidden in her pocket, a gift from her dead mother. Erg is a tough-talking wooden doll with sticky fingers, a bottomless stomach, and a ferocious cunning. With Erg's help, Vassa just might be able to break the witch's curse and free her Brooklyn neighborhood. But Babs won't be playing fair…
---
Russian folklore, magical kingdom of Brooklyn, and a play on Baba Yaga? Oh my goodness gracious yes.