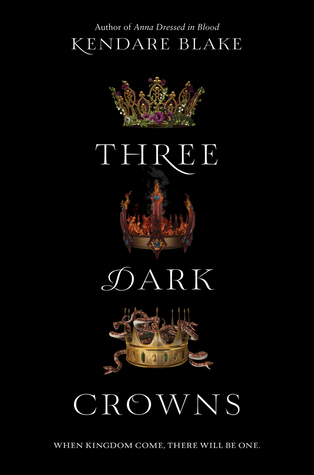 "Three dark queens
Are born in a glen,
Sweet little triplets
Will never be friends

Three dark sisters
All fair to be seen,
Two to devour
And one to be Queen"
Title: Three Dark Crowns
Author: Kendare Blake
Series: Three Dark Crowns # 1
Publication: September 20th 2016 by HarperTeen
Pages: 416
Source: OwlCrate
Summary from Goodreads:
Every generation on the island of Fennbirn, a set of triplets is born: three queens, all equal heirs to the crown and each possessor of a coveted magic. Mirabella is a fierce elemental, able to spark hungry flames or vicious storms at the snap of her fingers. Katharine is a poisoner, one who can ingest the deadliest poisons without so much as a stomachache. Arsinoe, a naturalist, is said to have the ability to bloom the reddest rose and control the fiercest of lions.
But becoming the Queen Crowned isn't solely a matter of royal birth. Each sister has to fight for it. And it's not just a game of win or lose…it's life or death. The night the sisters turn sixteen, the battle begins. The last queen standing gets the crown.
If only it was that simple. Katharine is unable to tolerate the weakest poison, and Arsinoe, no matter how hard she tries, can't make even a weed grow. The two queens have been shamefully faking their powers, taking care to keep each other, the island, and their powerful sister Mirabella none the wiser. But with alliances being formed, betrayals taking shape, and ruthless revenge haunting the queens' every move, one thing is certain: the last queen standing might not be the strongest…but she may be the darkest.
---
My Thoughts:
I'm dead. Yupp, I'm dead – or I am dying. I can't quite tell yet. All I know right now is that my mind is spinning, my heart hurts, and I just got the crap kicked out of me by this amazing book. Three Dark Crowns, wow. I expected it to be good, but I didn't expect it to completely turn my world upside down with nothing more than a few sentences and  single revelation. Three Dark Crowns is fantastic, there is no other word for it. Well, maybe that's not true. It is mesmerizing, terrifying, and uniquely fascinating.
For me, the characters were not the highlight of the story – not in the way I wanted them to be. Arisnoe, Katharine, and Mirabella are compelling within their own narratives, but I simply enjoyed the magnificently disturbing world they lived in so much more. It was brutal, dark, and gritty. It scared me, and the mechanics of a world doesn't normally have that type of power – that's just how vibrant and amazing the world of Fennbirn was. The whole idea of three people born specifically to kill each other, who are raised knowing they are going to kill each other even though they are sisters by blood, was morbidly wonderful. The central dynamics of the book itself added a whole new layer of meaning and power to an already amazing tale.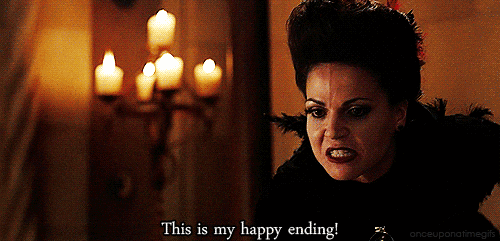 As I said, the characters were pretty awesome, too. At the beginning, I couldn't possibly tell you who my favorite was – but now I honestly think it's a tie between Arsinoe and Katharine. Mirabella wasn't bad, she just simply wasn't my favorite out of the bunch. Arsinoe and Katharine are told to be the weak Queens, the ones without gifts, and maybe that is why I liked them the most. They are not weak, not by any means, but they are not the obvious chosen winner. I've always had a soft spot for the underdogs, always. Katharine, as a character, was more of the silent simpering type – which made perfect sense with her upbringing. Mirabella was a bit more out there. She was vocal about her dislikes and she actively disobeyed at multiple turns. Arsinoe was the wildest of the bunch, and I adored her for it. Her friendship with Jules and Joseph and Billy was a beautiful breath of fresh air into the otherwise dark world.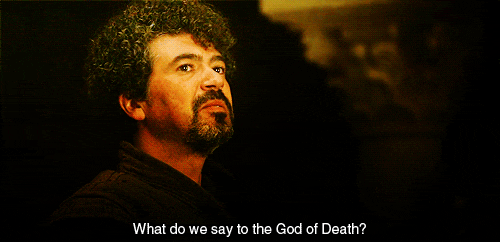 Three Dark Crowns was an intoxicating cocktail of darkness and brutality. It was a feather-light touch of friendship and family bonds. Three Dark Crowns was alluring, seductive, and it will completely trap you within its grasp. If you love Game of Thrones, Throne of Glass, or Six of Crows, you will fall headfirst into the depths of Fennbirn and all it's secrets.
---