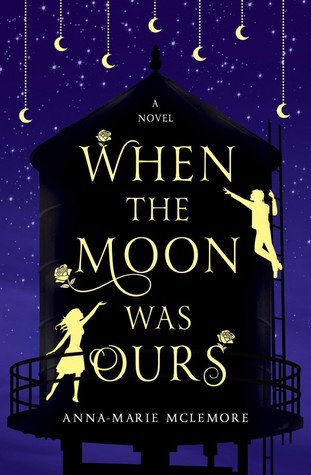 "But there was everything else. The idea of being called Miss or Ms. or, worse, Mrs. The thought of being grouped in when someone called out girls or ladies. The endless, echoing use of she and her, miss and ma'am. Yes, they were words. They were all just words. But each of them was wrong, and they stuck to him. Each one was a golden fire ant, and they were biting his arms and his neck and his bound flat chest, leaving him bleeding and burning."
Title: When the Moon was Ours
Author: Anna-Marie McLemore
Series: Standalone
Publication: October 4th 2016 by Thomas Dunne
Pages: 288
Source: Publisher in exchange for a honest review
Summary from Goodreads:
When the Moon Was Ours follows two characters through a story that has multicultural elements and magical realism, but also has central LGBT themes—a transgender boy, the best friend he's falling in love with, and both of them deciding how they want to define themselves.
To everyone who knows them, best friends Miel and Sam are as strange as they are inseparable. Roses grow out of Miel's wrist, and rumors say that she spilled out of a water tower when she was five. Sam is known for the moons he paints and hangs in the trees, and for how little anyone knows about his life before he and his mother moved to town.
But as odd as everyone considers Miel and Sam, even they stay away from the Bonner girls, four beautiful sisters rumored to be witches. Now they want the roses that grow from Miel's skin, convinced that their scent can make anyone fall in love. And they're willing to use every secret Miel has fought to protect to make sure she gives them up.
---
My Thoughts:
If you don't know this already, I adored Anna-Marie McLemore's first novel, The Weight of Feathers. I mean, I have an obsessive love over this book. So, of course, when I was offered the chance to read her new novel, When the Moon was Ours, I jumped ten feet high at the chance. I am happy to tell you that yes, When the Moon was Ours is just as astounding, if not better than, The Weight of Feathers.
One of the most beautiful things about McLemore's novels is the effortlessly lyrical quality the language possesses. It sucks you in, enchants you, and weaves a passionately poignant tale. The magical qualities of the writing only adds to the overall sense of other-worldliness the novel carries throughout. It highlights the ups and downs, the inner thoughts and feelings of the characters, and it makes for such a vivid setting you'll forget it's not real.
When the Moon was Ours is a powerful tale and an unforgettable experience. It is full of love, struggle, magic, and discovery. The veil of mystery surrounding certain characters and objects cloaks the plot in the softest velvet. It simply makes it possible to burrow deeper within the mysticism.
Love and family pervade this novel. Much like in The Weight of Feathers, falling in love and internal struggles with family and beliefs provide much of the central conflict. It works. Part of the beauty of McLemore's writing is that she takes such care with the smallest of details. Everything is important in some way, even if the meaning doesn't come to light till the end. As a whole, the most hard hitting aspect of When the Moon was Ours is that it ultimately deals with accepting and loving oneself. We are our harshest critics in every sense of the word, and McLemore highlights that beautifully.
The whole of When the Moon was Ours is unique. I have never read anything like it, and I probably never will again. When the Moon was Ours is a singular and emotionally agonizing exploration of some of our deepest fears – mostly the ones pertaining to ourselves that we bury so deep we have forgotten they existed at all. McLemore has created something wonderful once again, and I am so privileged to have been a part of the adventure.
---